Dr Hutch: Hardriders events are strictly for the soft-headed
Hardriders events are strictly for the soft-headed, says the Doc, who has suffered through a few himself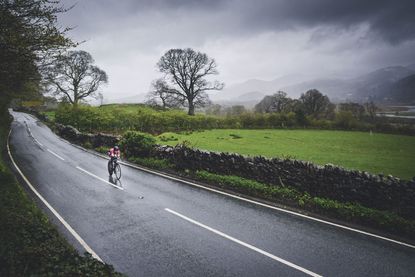 The concept behind the Classics season is a simple one. You take all the elements that ruin a good bike ride — horrible road surfaces, mud, rain, cold, wind, ice, nasty little hills and Belgian industrial-estate access roads. You find somewhere where they all occur in the same place. And you stage a bike race.
This is also the idea behind UK time triallists' traditional season-opener — the hardriders event.
>>> Who's quicker? Experience vs talent in the CW time trial challenge
Riders suffer though the Classics for the glory, the money and the fame. Time triallists suffer though the hardriders for reasons understood only by clinical psychologists, but which for want of a better name we're going to call 'self-perpetuating stupidity'.
No one should race when the temperatures are below zero. The North Road Hardriders is always cold, for example, but it's still very popular among those whose higher brain functions have been badly eroded by too much time trialling.
My last North Road event was in February 2006, as I was preparing for the Commonwealth Games in March, and I resolved to avoid all risk by going very fast in straight lines only, and creeping round corners. One corner was sheet ice — it was in a dip, and you could see the sheen across the road as you descended towards it at 40mph.
I literally got off and walked. As I did so, a tricyclist I'd overtaken on the descent re-passed me. He was upright. But he was going backwards. "Dig in, lad," I said. "Cheers!" he replied. He crashed backwards into the ditch on the outside of the corner.
Mission creep
At a previous North Road Hardriders they cancelled the race. But only after the first rider had started. The timekeepers watched him vanish into a blizzard, and told the rest of us to go home.
He was discovered weeks later, still on his bike, frozen in a block of ice like a mammoth.
What makes hardriders events even worse than the Classics is that Classics riders are smart enough to dress and equip themselves appropriately.
But paranoia and pride combine to undo the hardrider. I've turned up to events, determined to use a training set-up, nice thick tyres, forgiving shallow-rimmed wheels, and a base layer and leg-warmers.
Then I see someone with a disc wheel and I panic.
The fear that maybe I'm not as fit as I should be takes over — this was much more of a risk in the days when power meters were £3,000 a go and most of us had to guess how fit we were.
Did I want to risk a bad result? Dare I ride a second-rate set-up? Suddenly I was preparing as if for a championship race in June.
Several riders from my club rode an event in the fens years ago in -4°C, and 50mph gusts. My friend Bernard wore a short-sleeved skinsuit with no layer beneath it, because he believed it was more aerodynamic. He went blue, and almost died.
Another team-mate went off course because, he said, "It was too windy to turn left." He was right. At the same junction I tried to turn left, and I got blown over. Not blown off the road, with time for swerving and panic braking, just instantaneously flicked horizontal like a duck in an old shooting gallery.
But the moment I gave up on hardriders races was when I rounded a corner and found a fallen tree across the road. Three riders were clambering through the branches with their bikes to get to the far side and keep racing.
That was it. That was too much. I turned round and rode gently back to the race HQ, and put my race bike away till the spring came.
It was the most sensible thing I ever did.
Thank you for reading 20 articles this month* Join now for unlimited access
Enjoy your first month for just £1 / $1 / €1
*Read 5 free articles per month without a subscription
Join now for unlimited access
Try first month for just £1 / $1 / €1