Why moving the Cauberg in Amstel Gold Race will show that tradition isn't always best
Comment: Tradition is vital to the Classics, but unpredictability is what makes these races really special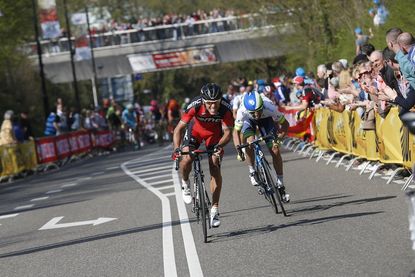 (Image credit: Yuzuru SUNADA)
Tradition is one of the pillars of professional cycling, and woe betide those who thumb their nose at it.
The latest is Amstel Gold Race organiser Leo van Vliet, who has been criticised in some quarters for dropping the traditional finish of his event, just beyond the Cauberg climb out of Valkenburg, with the aim of making it a more open contest.
>>> Pros warn against changes to Flanders, Roubaix, and San Remo routes after Amstel Gold alteration
The Cauberg is, for traditionalists, Amstel's raison d'être. The Dutch Classic builds up over climb after climb, more than two dozen of them, including two early ascents of the Cauberg, to culminate with one all-out sprint up the iconic kilometre-long hill with a puncheur in the mould of Philippe Gilbert the almost certain victor.
It's thrilling, but also predictable. Van Vliet wants thrilling, but unpredictable, and all power to him for making that decision. His move once again raises the question of the extent to which race organisers should stick to tradition.
Sitting above Amstel in cycling's one-day hierarchy, the five monuments of the sport – San Remo, Flanders, Roubaix, Liège and Lombardia – all more or less follow a traditional route.
Yet each of them has been adapted considerably over the century or more they've been in existence to ensure they remain spectacular and, therefore, legitimate as contests.
For more than half of its existence San Remo didn't feature the Poggio or Cipressa, while Flanders began as a huge loop that included not a single cobbled berg, and for decades Roubaix's most critical location was the hill coming out of Doullens.
For most of its history Liège finished on the flat in the centre of that city, while Lombardia's route changes almost every year, a passage over the Ghisallo its only tradition.
Each one of these great races has changed as the sport and the roads on which they're contested have changed.
Yet, in most cases, their character has been respected, obvious exceptions being the near-permanent loss of Roubaix's cobbles in the 1960s and Lombardia's brief 1980s dalliance with a finale on an industrial estate.
Of this quintet, Liège is arguably most in need of an Amstel-like makeover. ASO tinkers with the route each year, but is effectively hamstrung by the uphill finish in the Liège suburb of Ans, which pays for that privilege.
The result is a race where most of the main contenders hold their fire until the very final kilometre, in a similar way to Amstel, and where there is stalemate on the climbs that have traditionally been Liège's proving ground – the Côte de Wanne, Stavelot and La Redoute, much to the frustration of fans out on the course and many of the riders competing.
Once crucial, they've become little more than hurdles that must be negotiated on route to Saint-Nicolas, Roche-aux-Faucons or whatever novelty ASO has unearthed in the final 20 kilometres.
A return to the city centre finish in Liège would undoubtedly change this. It would bring new faces into contention, ask questions of the specialist climbers who now dominate and, as van Vliet hopes with Amstel, add some unexpected spice.
Rather than adhering to the usual strategic template, riders would have to rethink their tactics and come up with something new.
This would surely be better than sticking with tradition come what may.
Thank you for reading 20 articles this month* Join now for unlimited access
Enjoy your first month for just £1 / $1 / €1
*Read 5 free articles per month without a subscription
Join now for unlimited access
Try first month for just £1 / $1 / €1