Contador slams Astana for lack of support during clenbuterol case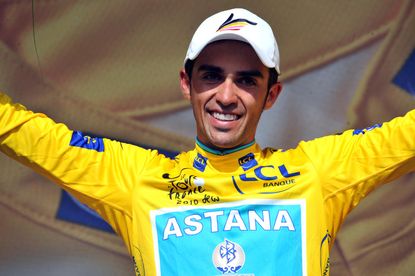 Alberto Contador broke a month's silence late Thursday evening both to criticise his current team, Astana, for their failure to support him during the clenbuterol case and also to confirm that he may well not continue racing if he receives a full two-year ban.
Speaking on Spanish television, Contador said "Everybody behaves in different ways and Astana have not shown me enough respect."
"In the last few years I've worked my finger to the bone for the team, winning them two Tours, a Giro and a Vuelta."
"But they weren't even capable of bringing out a four-line press release to deny something allegedly said by somebody in their team." - a reference to the Belgian magazine Humo, and its article published in October, which claimed to interview an un-named Astana member of staff accusing Contador of doping.
"It's a pity I wasn't in a team like Saxo Bank last year. I'd have got a lot more support," Contador concluded.
Asked if he would retire if he was suspended for two years, Contador replied, "I'm only thinking about everything being resolved favourably."
"It's too soon to go into everything in detail, but I can't assure you that I would continue if I was suspended for two full years."
Contador also confirmed that he will be attending Saxo Bank's first training camp for 2011, which is due to start this Sunday in the Canary Islands.
"It's good for everybody. All 24 riders in the team will be together and these training camps are good to form a team."
Today (Friday) is a crucial day in the Spanish Cycling Federation's disciplinary hearing against Contador. His lawyers will present his defense to the committee overseeing the case, a defense which remains 100 percent based on the argument that he ate contaminated meat.
Asked if he had any comment on the criticisms made of him recently by some Spanish agricultural associations - although he has received the support of others - Contador said simply "the only thing I want to say is that my case is a case of contaminated foodstuffs, bought in a Spanish shop."
Related links
WADA dismisses Contador's clenbuterol claims
Contador welcomes disciplinary hearing into clenbuterol case
Contador strengthens defence team in clenbuterol case
What next for Contador?
Spain's sports minister urges patience in Contador case
Saxo Bank to continue team sponsorship with or without Contador
Riis has a plan B is Contador is banned
How does clenbuterol testing work
Contador considers quitting cycling due to doping scandal
Tension rises over Contador's clenbuterol case
Contador case splits experts' opinions
Alberto Contador: The clenbuterol, the beef excuse and traces of plastic
Spanish authorities investigate source of Contador's mystery meat
McQuaid quiet on Contador case but says Spain can do more
Did Contador have a transfusion during the Tour?
Contador points finger at imported meat for clenbuterol positive
Contador tests positive for clenbuterol says governing body
Thank you for reading 20 articles this month* Join now for unlimited access
Enjoy your first month for just £1 / $1 / €1
*Read 5 free articles per month without a subscription
Join now for unlimited access
Try first month for just £1 / $1 / €1