Contador's clenbuterol case in brief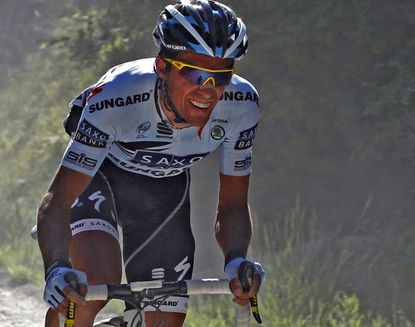 On November 21, 2011, Alberto Contador's positive test for banned substance clenbuterol at the 2010 Tour de France was brought before a panel at the Court of Arbitration for Sport (CAS) in Lausanne, Switzerland, to determine whether the Spaniard should be suspended from competition.
As positive dope tests go, the case has been a complicated one. Contador tested positive for a minute dose of clenbuterol and has staunchly maintained that he must have ingested the substance unwittingly via a beef steak tainted with the substance.
However, clenbuterol is not a naturally-occurring substance and is banned at any level by the World Anti-Doping Agency (WADA). Currently, the onus is also on the athlete to be responsible for any substance that enters their body.
Although originally suspended by cycle sport's governing body, the Union Cycliste Internationale (UCI), pending an investigation, Contador was eventually cleared by the Spanish cycling federation (RFEC) and returned to racing in February.
He has since won the 2011 Giro d'Italia, Vuelta a Murcia and Volta a Catalunya, and placed fifth overall at the Tour de France.
The CAS panel will study all of the supporting material put in front of them by the UCI and WADA on one side, and RFEC and Contador's defence team on the other to decide whether Contador should be suspended for the positive test.
If the suspension is back-dated to the time of the positive test in July 2010, Contador stands to lose all results obtained since then.
Here we present a timeline of the case, with links to relevant news articles.
Alberto Contador clenbuterol case timeline
Wednesday, July 21 2010: Second rest day of 2010 Tour de France. Alberto Contador submitted to an anti-doping control in Pau, France
Sunday, July 25 2010: Alberto Contador wins the 2010 Tour de France overall News article>>
Tuesday, August 3 2010: Saxo Bank team boss Bjarne Riis announces that he has signed Contador for the 2012 season News article>>
Thursday, September 30 2010: UCI announces that Contador tested positive for clenbuterol during second rest day of 2010 Tour de France. Amount found was 50 picograms per millilitre News article>>
Thursday, September 30 2010: Contador holds press conference and claims that he must have ingested clenbuterol from tainted beef steak brought from Spain to France by a friend News article>>
Friday, October 1 2010: French newspaper L'Equipe publishes article claiming that Contador's urine sample from Tour also contained traces of plasticizers, a substance that can be found in blood transfusion bags News article>>
Saturday, October 1 2010: Spanish media report that authorities are investigated the source of Contador's 'tainted' meat in Spain News article>>
Tuesday, October 5 2010: Comment: Contador, the clenbuterol, the beef excuses and the traces of plastic>>
Wednesday, October 6 2010: Expert opinion is divided on the two sides of the Contador case News article>>
Tuesday, October 12 2010: Contador says that he is considering quitting cycling over the case News article>>
Wednesday, October 13 2010: How does clenbuterol testing work?>>
Thursday, October 14 2010: Head of World Anti-Doping Agency David Howman dismisses Contador's tainted meat claim News article>>
Tuesday, November 2 2010: Spain's top sports minister, Jaime Lissavetzky, urged that the public wait before jumping to conclusions about Alberto Contador's positive test News article>>
Wednesday, November 10 2010: Spanish cycling federation undertake disciplinary hearing for Contador's case News article>>
Wednesday, January 26 2011: Contador is handed a one-year ban by Spanish cycling federation, and can appeal against the decision News article>>
Tuesday, February 15 2011: Contador cleared of clenbuterol charges by Spanish cycling federation and is free to race News article>>
Wednesday, February 16 2011: Contador returns to racing at the Tour of the Algarve in Portugal, he goes on to finish fourth overall

Thursday, March 24 2011: UCI announces that it will apeal to CAS against the Spanish cycling federation's decision to clear Contador News article>>
Sunday March 27 2011: Contador wins the Volta a Catalunya overall News article>>
Wednesday, March 30 2011: WADA also lodges appeal with CAS against the Spanish cycling federation's decision to clear Contador. CAS later announces that the two appeals will be heard as one News article>>
Thursday, March 31 2011: CAS announces that it will reach a verdict in the Contador case before the Tour de France in July 2011 News article>>
Thursday, May 26 2011: CAS confirms that Contador's hearing will be delayed until after the Tour, leaving him free to take part in the race News article>>
Sunday, May 29 2011: Contador wins the 2011 Giro d'Italia overall News article>>
Sunday, July 24 2011: Contador finishes the 2011 Tour de France in fifth place overall News article>>
Tuesday, July 26 2011: CAS announces that Contador's hearing will take place in November to allow "a second round of written submissions" News article>>
Wednesday, September 28 2011: WADA publishes 2012 banned substances list and declares that clenbuterol will still be banned at any level quashing rumours that a threshold level would be introduced News article>>
Thursday, October 13 2011: WADA withdraws two non-related clenbuterol appeals after it accepted that they could have been caused by the ingestion of tainted meat in Mexico News article>>
November 21-24 2011: Scheduled hearing at Court of Arbitration for Sport for UCI/WADA versus Alberto Contador and Spanish cycling federation News article>>
January 23-29 2012: Contador takes part in the Tour of San Luis in Argentina, South America. He wins two stages and takes mountains classification News article>>
January 30 2012: Court of Arbitration for Sport due to issue verdict on clenbuterol case, but issued statement saying it would be delivered on February 6. Contador returns to Europe from competing in Argentina News article>>
February 6 2012: Court of Arbitration for Sport deliver verdict: Two-year suspension for testing positive for clenbuterol; suspension will end August 5 2012. Fine to be determined at later date News article>>
Related links
Alberto Contador: Rider Profile
Thank you for reading 20 articles this month* Join now for unlimited access
Enjoy your first month for just £1 / $1 / €1
*Read 5 free articles per month without a subscription
Join now for unlimited access
Try first month for just £1 / $1 / €1