Cycling UK calls on government to punish unsafe drivers
The National cycling is asking the government to increase the use of driving disqualifications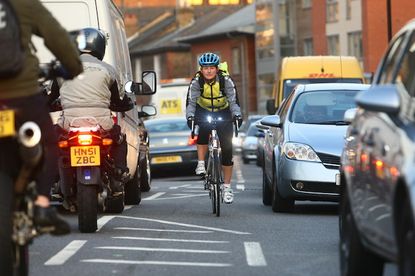 (Image credit: Cycling Weekly/IPC)
National cycling charity Cycling UK is asking the government to end what it calls 'road traffic injustice.'
The charity - with the support of road safety charity Brake and Roadpeace - wants authorities to clarify the legal definitions for unsafe driving behaviour and review traffic laws.
It's asked for the government to increase the use of driving disqualifications and to close the 'exceptional hardship' loophole - where a person does not lose their license if repercussions are considered too great.
It also wants drivers who fail to stop to receive more than a six month maximum prison sentence.
The charity is asking people who agree with its demands to sign up for further information on how to support the campaign.
https://www.youtube.com/watch?time_continue=4&v=cumysDnK8mA
The call comes after Department for Transport (DfT) published plans to consult on a new offence for cyclists, equivalent to causing death by dangerous driving.
Cycling UK says that the government is overlooking the "real cause of road danger" - in a country where 99.4 per cent of pedestrian deaths in 2017 involved a motor vehicle.
Duncan Dollimore, Head of Campaigns, said: "Every death or serious injury is a tragedy but too often families are also being let down by loopholes and a legal system that victims and bereaved relatives don't think treats road crime seriously.
"Road crime is real crime, and today we're calling on the government to take action and carry out the full review of road traffic offences, as it promised four years ago."
The DfT's decision to consult on introducing a 'causing death by careless or serious cycling' offence was motivated by the case of cyclist Charlie Alliston, who was successfully persecuted for "wanted and furious driving" when he knocked over and killed 44-year-old Kim Briggs whilst cycling without brakes.
He was sentenced to eighteen months in prison.
In its campaign, Cycling UK draws on the case of Lee Martin, who in 2015 was killed by driver Christopher Gard who had been texting behind the wheel of his van.
Matin had been convicted on six previous occasions of using his phone while driving but was allowed to keep his licence
In 2014, Michael Mason died after he was hit from behind by a driver on Regent Street in London. The driver claimed she didn't see him.
The police declined to press charges, and a private prosecution was brought for causing death by careless driving.
Cycling UK says that the DfT's plans to introduce new legislation are "tinkering around the edges."
"In 2016, the last full year we have full casualty figures for, 445 pedestrians died in collisions with motor vehicles, and three in collisions with cyclists, but the government plan to review cycling offences and ignore the main cause of road danger," said Mr Dollimore.
"This is a serious issue being overlooked by the government, especially when you consider that in the last ten years 99.4 per cent of all pedestrian deaths involved a motor vehicle.
"It's time the government took this problem seriously and ended the injustice suffered by far too many families who are being let down by the system."
Thank you for reading 20 articles this month* Join now for unlimited access
Enjoy your first month for just £1 / $1 / €1
*Read 5 free articles per month without a subscription
Join now for unlimited access
Try first month for just £1 / $1 / €1