Deloitte Ride Across Britain: Ride all or part of route in 2013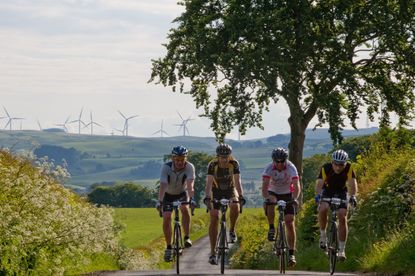 Organisers of the 2013 Deloitte Ride Across Britain will be offering a new set of regional packages for those who can only spare four days rather than the whole nine days to travel from John O'Groats in Scotland to Land's End in Cornwall.
In what will be its fourth edition, you can elect to ride the full route of the Deloitte RAB, or a four-day Scottish excursion or a four-day England ride. There's also a team relay option for those wishing to take on the challenge as a team where three groups of three riders complete three consecutive days each.
All options include full support, including accommodation, meals, baggage transfer, medical support, electronic timing and much more.
The full-length Deloitte RAB includes the classic end-to-end route, from the Highlands of Scotland, through the Peak District and down to Cornwall. It's 960 miles in all, taking nine days of riding and costs £1750.
The Scotland package travels fro the start in John O'Groats down to the border with England over four days, covering 420 miles and costing £950. The England package commences in Carlisle and then down to the finish in Land's End, travelling 540 miles and costing £1150.
Entries for the 2012 ride open on Wednesday September 19. Online entry and further information can be found on the Deloitte Ride Across Britain website.
This year's Deloitte Ride Across Britain takes place from September 8-16 2012.
Thank you for reading 5 articles this month* Join now for unlimited access
Enjoy your first month for just £1 / $1 / €1
*Read 5 free articles per month without a subscription
Join now for unlimited access
Try first month for just £1 / $1 / €1