Downing third in Castilla y Leon stage two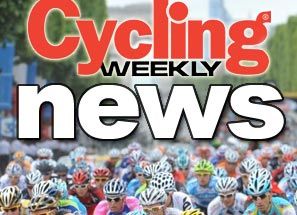 Russell Downing hit the podium on the second stage of the Vuelta a Castilla y Leon today with a third place finish.
Sky controlled the race well for the last ten kilometers, with the peloton led into Salamanca by a string of Sky riders eight long. However, Francisco Ventoso (Movistar) was sitting on Downing's wheel and kicked past him just before the finish.
"It was a really hard finish," Russell Downing told Cycling Weekly. "We did a great lead out. We went a bit early yesterday, but it was better today so we really showed that we're getting it together. There's another sprint day [for the last stage] so hopefully we can do something there."
Downing's third place puts him second in the race's overall classification behind Ventoso with Manuel Benneti (Colnago-CSF Inox) in third.
The race organizers picked an odd route for the finishing section of the course, with the peloton having to navigate a 360 degree turn around a roundabout two kilometers from the finish. It interrupted Sky's lead-out and it looked as though they had been
swamped by the other teams, but they re-formed well to deliver Downing
to the line.
"I got a bit lost on the roundabout. I had to chase back on the leadout that gassed me a little bit," recalled Downing.
Today's stage was flat all the way from the start. A five-man break that led the race from early on was swallowed up in the last ten kilometres.
The race now heads into a mountainous stage tomorrow with two first category climbs from Benavente to Fish Lake. Saturday sees an 11.2km time trial before the last, flatter stage on Sunday.
Results
Vuelta a Castilla y Leon 2011, stage 2: Valladolid to Salamanca, 213km
1. Francisco José Ventoso (Movistar) 5-06.23
2. Sergio Miguel Vieira Ribeiro (Barbot-Efapel)
3. Russell Downing (Team Sky)
4. Aitor Galdos Alonso (Caja Rural)
5. Ruben Perez Moreno (Euskaltel-Euskadi)
6. Matteo Pelucchi (Geox-TMC)
7. Egoitz Garcia Echeguibel (Caja Rural)
8. Pablo Lastras Garcia (Movistar)
9. Jaime Alberto Castaneda Ortega (EPM-UNE)
10. Manuel Belletti (Colnago-CSF Inox) all at st
General Classification
1. Francisco José Ventoso (Movistar)
2. Russell Downing (Team Sky)
3. Manuel Belletti (Colnago-CSF Inox)
4. Ruben Perez Moreno (Euskaltel-Euskadi)
5. Luke Roberts (Saxo-Bank Sunguard) all at st
Thank you for reading 20 articles this month* Join now for unlimited access
Enjoy your first month for just £1 / $1 / €1
*Read 5 free articles per month without a subscription
Join now for unlimited access
Try first month for just £1 / $1 / €1