Emma Pooley: A women's Tour de France would not "harm anybody"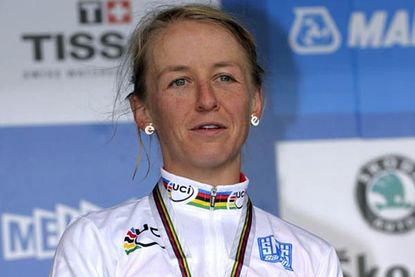 Emma Pooley says she cannot understand why there is not a women's Tour de France, saying it would not "harm anybody".
Pooley and reigning world and Olympic road race champion Marianne Vos are among those behind a petition asking Tour organiser ASO to put on a women's race from 2014.
Launched online last Friday, the petition (tinyurl.com/p7w3swh) has already been signed over 31,000 times, and Pooley believes it would be a vital step in reducing the gender equality gap within the sport.
"Women's cycling has gone down hill in recent years, so this would be a positive step for the sport. I cannot see why there would be opposition to it, because it is not harming anybody," the 30-year-old told Cycling Weekly.
"OK, there may be a few chauvinist males who think women should stay at home in the kitchen and cook their husband's dinner, but I believe a women's Tour would be great for the sport, great for the fans on the roadside and great for women's cycling.
"There are a lot of problems in women's cycling, but I think the root of the problem is that our races do not get TV and media coverage. Why would sponsors be interested in the sport? It's clear that when people do watch women's racing, they find it exciting, as the Olympic road races [in London] showed."
"Logistically possible"
Pooley, who won the last edition of the La Grande Boucle Féminine - widely considered to be the closest equivalent to the men's Tour - in 2009, believes that from a logistical point of view, staging a women's race is more than do able.
"ASO can make themselves look the like good guys, and they can reach out to a completely different market. It wouldn't be simple [to put on], but the Tour isn't anyway, it's a massive logistical operation. If the biggest problem is the lack of hotel rooms, then get caravan companies involved and give the women's teams a couple of those for the race!
"I agree you can't race [a men's and women's event] at the same time, but the roads are closed for hours before the men pass through. Some people suggested doing it a women's race a day in advance, which doesn't really help because the media are not there to cover it. Fans spend hours on the roadside, often for a quick glimpse of the race, so at least with a women's Tour they would get two quick glimpses!"
One big stumbling block comes in the form of an existing UCI rule, which limits women's stage races to have an average length of 100km per stage.
Therefore, Pooley's initial proposal to the ASO is to initially run a women's race with shorter stages, before holding a full-length women's event once the differences in quality within the peloton reduce.
"It is the case that the women's peloton is not at a similar standard, so if you had a 250-kilometre mountain stage right now, there would be vast time gaps. That's because women's sport cannot be fully professional at the moment because of the financial limitations. It's not that the women are lazy, but at the moment the sport isn't fully developed enough for 120 or 150 riders to finish the Tour.
"That's not me saying I don't want to ride the full Tour - I do - but right now I just cannot see them allowing it and the UCI changing their rule. I want to do the whole thing to prove it is possible. Think about it - Marianne Vos can climb better than some of the riders in the Tour de France."
*To read more of CW's interview with Emma Pooley, see this week's issue (July 18).


Thank you for reading 10 articles this month* Join now for unlimited access
Enjoy your first month for just £1 / $1 / €1
*Read 5 free articles per month without a subscription
Join now for unlimited access
Try first month for just £1 / $1 / €1
Nick Bull is an NCTJ qualified journalist who has written for a range of titles, as well as being a freelance writer at Beat Media Group, which provides reports for the PA Media wire which is circulated to the likes of the BBC and Eurosport. His work at Cycling Weekly predominantly dealt with professional cycling, and he now holds a role as PR & Digital Manager at SweetSpot Group, which organises the Tour of Britain.