Fan-first, gamified bike racing: the NCL readies for its debut as domestic teams get on board
Fount Cycling, Mike's Bikes, Voler Factory Team, Texas Roadhouse, Roxo Racing among teams to take on the NCL this inaugural year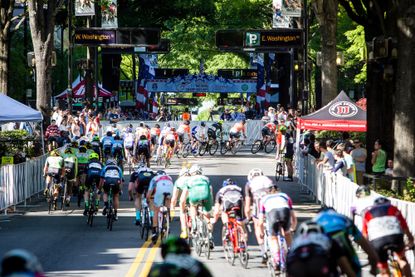 (Image credit: Getty Images)
Ever since the National Cycling League (NCL) announced its formation last fall, the big question has been: who will race in this all-new approach to American bike racing?
The NCL formed its own two professional teams, the Miami Nights and Denver Disruptors, stacked with international talent, yet some of America's most prominent pro teams bowed out. Teams like L39ion of Los Angeles, the Miami Blazers, Team Twenty24 and DNA Pro Cycling announced their non-participation earlier this year. Some cited scheduling conflicts, while others remained mum about their reasoning.
Well, the wait is over. With the debut looming on April 8th, domestic teams, including Mike's Bikes, Voler Factory team, Texas Roadhouse, Roxo Racing, Fount Cycling, Monarch Racing, Goldman Sachs ETFS Racing and CCB-Alpine Carbon P/B Levine Law Group have all signed up to be part of the inaugural NCL Cup.
The Inaugural NCL Cup
Kicking off on April 8th in Miami, Florida, the NCL is an effort to reignite America's road cycling fandom with an all-new approach to bike racing. The NCL Cup is a four-race, points-based championship series unlike anything else.
The criterium-style races will be held in four of the country's biggest cities — Miami, Atlanta, Denver and Washington DC. Each race consists of a qualifier the night before the criterium to determine the race starting order.
The criterium itself consists of 60 laps of approximately 1 mile in length and points are scored each and every lap. The same ten teams will compete at every race and have an equal number of male and female riders. For some existing teams, this means partnering up with a team of the opposite gender to field a co-ed cohort to take on the NCL Cup.
While the men's and women's field race separately, the points are aggregated. The team's points are a combination of both the men's and women's races. The team with the most points at the end of both races wins the race.
Up for grabs is the largest prize purse in the history of American criterium racing. The individual event prizes, overall series awards and competition bonuses make up a total prize purse of more than $1 million.
Each race is a festival in the heart of the hosting city and for those off-site, GCN will be streaming the races and what's more, fans can ride along virtually in the metaverse to see how they stack up against the pros.
The fans come first
In an interview with Cycling Weekly, David Richter, a former pro cyclist and co-founder of the Fount Cycling Guild, shared that he'd initially been skeptical about the NLC but was won over by the League's mission, its fan-first approach, the exposure and team support.
"Why I like the NCL concept is that it's structured for the fan, not the rider. It's certainly more entertaining and, like basketball, baseball or the NFL, it's not about the individual. It's the team that wins," he said.
"Yes, a lot of it is for show. But that's not a bad thing. The League is an opportunity for the fans."
As a longtime bike racer, he has seen first-hand the demise of American professional bike racing. While the NCL has yet to prove itself, Richter hopes that this is exactly the boost road cycling needs to revamp its popularity in the U.S.
"Honestly, the first thing that popped into my head was Drive to Survive and how that brought people that did not care about F1 into the sport and got them super interested. You follow the same dudes race after race, and this is kind of like that," Richter said. "Fans will get to see the same 10 teams compete race after race. You get to know these players a little bit and you pick a team to root for."
The fans will be treated to a 120-minute show that blends the continuous action of a points race with the varied surfaces and spectator-friendly downtown criterium venue. For those off site, GCN will be live-streaming the races.
The TV coverage is critical to the League's fan-first approach, commented Richter, who shared that their team's club members in Seattle are already planning watch parties for the NCL Cup's four races.
"I think that behind the scenes, the NCL is made up of a good balance of people from cycling and business people. I think they were really smart to make it so that it's entertaining for fans, innovative but also true to cycling's roots," Richter said.
For Jennifer Wheeler, Fount Cycling's other co-founder and former pro, the NCL is a welcomed break from traditional racing and also a big opportunity to give women's cycling the spotlight it deserves.
The League's unique co-ed format values the men's and women's races equally.
"As a woman cyclist, having an event where you have to have a men's team and a women's team, and work together toward a common goal is really cool," said Wheeler.
"Your women's team is just as important as your men's team. Personally, I want to support that effort to bring us together and put women's racing on even ground."
Wheeler also lauded the NCL for its support of the participating teams. One of the significant advantages is that in addition to the "largest prize in the history of American criterium racing," the NCL offers a stipend for the teams to travel to the four different locations throughout the country.
"When you have to pay $2,000 just to enter your team in the race and then fly everyone in from across the country, it puts a really high expectation on performance to win some of that prize purse. The stipend is a huge help," said Wheeler.
Richter echoed Wheeler's sentiment stating, "every team walks away with a little bit of money. Sure, if you win, you get more but even if you don't, the money is enough that it keeps you going. So for us, we're excited to go and just have fun. And that, in turn, translates to better racing, you know, we're gonna take more risks and are gonna go for it."
All in all, Wheeler and Richter are excited about joining the NCL Cup and welcoming of the break from traditional bike racing.
"Yes it's gamified bike racing but the overall impression is that It's going to be super well-run and everything about this seems fun to the whole team," said Wheeler.
Thank you for reading 10 articles this month* Join now for unlimited access
Enjoy your first month for just £1 / $1 / €1
*Read 5 free articles per month without a subscription
Join now for unlimited access
Try first month for just £1 / $1 / €1
Cycling Weekly's North American Editor, Anne-Marije Rook is old school. She holds a degree in journalism and started out as a newspaper reporter — in print! She can even be seen bringing a pen and notepad to the press conference.
Originally from The Netherlands, she grew up a bike commuter and didn't find bike racing until her early twenties when living in Seattle, Washington. Strengthened by the many miles spent darting around Seattle's hilly streets on a steel single speed, Rook's progression in the sport was a quick one. As she competed at the elite level, her journalism career followed, and soon she became a full-time cycling journalist. She's now been a cycling journalist for 11 years.