Faster: The cycling podcast from Dr Hutch
Cycling Weekly columnist Dr Hutch is back with season two of his podcast Faster as he speaks to the worlds best riders about how they go.... well, faster.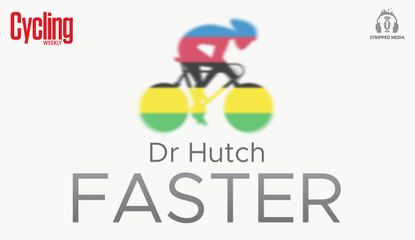 (Image credit: Stripped media)
The rise of esports has been the most important change we've seen in bike racing in the last 20 years. Zwift and similar platforms have begun a revolution, not just in how racing happens, but in who can compete.
>>>> Listen here: Dr Hutch speaks to eRacers about this new form of racing
Zwift is open to anyone, from anywhere. It's the very opposite of professional road racing in terms of accessibility and expense.
From a performance point of view, Zwift means that any of us can race against the best, and it means that talented riders from outside mainstream pro cycling can get themselves noticed.
In this edition of Faster, I talk to two of the world's most successful Zwifters.
Aussie Jay Vine is the current UCI Esports World Champion, and also races on the road at the highest level. Riding for the Alpecin Deceuninck team, he's been second in the Tour of Norway, and was unlucky not to take a stage of the 2020 Vuelta a Espana. We look at how racing online in and in real life can benefit each other, and how he's used them together to get the best out of himself.
In contrast with Jay's twin-track career, Kristen Kulchinsky from the US is a full-on esports specialist. She has been the top-ranked Zwift woman for much of the last couple of years, and while she's dominant online, she barely rides in the real world at all, even in training. There's no one who knows more about the physical and mental demands of this very pure form of bike racing.
And coach and former pro-racer Dan Fleeman tells me about the Zwift Academy, a talent search programme that finds some of the best esports riders (including Jay Vine himself) contracts with top pro road teams.
Season 2 of Faster
Catch up with all episodes from season two
Episode 2: Inside the mind and body of a sprinter, with Sir Chis Hoy
Episode 1: Ellen van Dijk and Victor Campenaerts on the Hour record
Season 1 of Faster
Catch up with all of season one.
Episode 1: Steve Cummings on engineering wins
Episode 2: Katie Archibald on training through an ever changing pandemic
Episode 3: Stepping up to the senior ranks
Episode 4: How ultra endurance riders keep going
Episode 5: Dan Bigham's relentless search for more speed
Episode 6: Olympic champion Alastair Brownlee on keeping your focus
The weekly show is produced with Stripped Media, and will be available on Spotify and all the usual podcast sources, just search 'Faster with Dr Hutch' in you podcast app of choice
Thank you for reading 5 articles this month* Join now for unlimited access
Enjoy your first month for just £1 / $1 / €1
*Read 5 free articles per month without a subscription
Join now for unlimited access
Try first month for just £1 / $1 / €1
Michael Hutchinson is a writer, journalist and former professional cyclist. As a rider he won multiple national titles in both Britain and Ireland and competed at the World Championships and the Commonwealth Games. He was a three-time Brompton folding-bike World Champion, and once hit 73 mph riding down a hill in Wales. His Dr Hutch columns appears in every issue of Cycling Weekly magazine
As a writer, he wrote the award winning The Hour about his attempt on the sport's most famous and sought-after record. He followed that up with Faster, about the training, the science the genetics and the luck behind the world's fastest riders, and Re:Cyclists, a history of cyclists from 1816 to the present day.
He's written for outlets ranging from Cycling Weekly to the New York Times, and has presented and and commentated for the BBC, Eurosport, Channel 4, and Sky Sports.
Before he did any of that he was a legal academic at Cambridge and Sussex universities. He now lives with far too many bicycles in London and Cambridgeshire.