Graham Watson's photos of 2011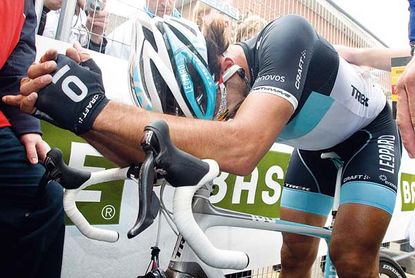 Top race photographer Graham Watson chooses his favourite images of 2011, and takes us 'behind the lens' as he relives each magical shutter-click.
Still pals
If you really believe Mark Renshaw and Mark Cavendish are no longer mates now that they are on separate teams for 2012, think again. Cavendish had a tough time in the Tour of Qatar, where team-mate Renshaw took a well-deserved stage win after Cavendish was delayed by bike trouble. I had to wait quite a while to get this shot of Cav ruffling Renshaw's hair the way only a friend could. Genuine friendship is hard to find, and even harder to lose...
I'll drink to that
David Millar won the TT stage of the 2010 Critérium International, and I was in a mild state of nerves in this year's event, believing Millar would try to repeat his feat. An early starter in the afternoon, I had to quickly wolf down my pizza in order to be on course when Millar began his ride. Then the strangest thing happened: forfeiting his warm-up ride, Millar spotted me in the cafe and joined me for a coffee, less than 20 minutes before his ride. "So, it's safe to assume you're not taking the TT seriously?" I asked. Nevertheless, Millar was only 44 seconds down on the winner - a class act, even with a coffee swirling around inside him.
Lunge for the line
My best sprint photo of the year came on stage five of Paris-Nice, when Andreas Klöden just got the better of Sammy Sanchez at the end of the race's first hilly stage. Klöden went on to win the Critérium International, two weeks later, and ended up having one of his best seasons ever. It was a shame, then, that he had to abandon the Tour de France with a crash - I reckon he would have been a top-10 finisher in Paris.
Spartacus crushed
Fabian Cancellara will be pleased to see the back of 2011 - and maybe the back of Leopard-Trek as well. Almost nothing went right for the Swiss powerhouse, and this image of him after 'losing' the Tour of Flanders to Nick Nuyens and Sylvain Chavanel seemed to sum up his entire season as one to forget.
Liège before beauty
The pictorial highlight of Liège-Bastogne-Liège is still the 'wall' of the Côte de Saint Roche, in Houffalize. But due to the Luxembourger fans of the Schleck brothers, getting a decent shot is almost impossible. The fans' blue-and-white-striped flags act as a mighty curtain over the peloton, spoiling what for me was once the best shot of the Ardennes Classics. In this year's event, the Luxembourg flags forced Italian and Belgian fans down the hill, virtually covering the whole peloton.
Brad's mad
The look on Bradley Wiggins's face says it all - he ain't too happy. This was stage four of the Dauphiné, just after the start of his first day as race leader, and not a time to have an annoying mechanical problem with your bike. It's also not a time to be hanging around taking photos, as there was a lot of stress 'chez Sky'. Wiggins is a cool dude, a real star, used to such dramas in a decade spent track racing. But the look on his face while waiting at the roadside made me think twice about getting too close to him.
Nose job
I almost had my nose chopped off on stage 15 of the Giro - by a Lampre team car. I was trying to get a scenic shot of the Marmolada pass with a very wide-angle lens when I spotted the car out of the corner of my eye. It was trying to overtake Alberto Contador's group and move up to the winning escape. I'm used to close encounters with team cars, but this near-incident served to remind me how dangerous it must be for spectators wanting to cheer on their heroes. Maybe next time I won't use such a wide-angle lens.
Easy does it
Alberto Contador won one of the toughest Giros ever, but he won it in a very matter-of-fact way, making my imagery of him less than satisfying. He was happy to take a few stages, sit in the pink jersey for almost two weeks, and then let his Spanish mates win stages, so I struggled to capture a decent stock of 'Contador in full-on attacking mode' images. At Grossglockner, in the rain, and again at Val di Fassa, one action and one podium shot seem to be my best images of the Giro. If Contador is judged free to race in 2012, I'll be hoping to make a better job of photographing him in the Tour and Vuelta - the races Contador is most likely to compete in. After all, the Spaniard is a very photogenic cyclist.
Downing's a Giro hero
I'll miss Russell Downing in the elite peloton in 2012. He's a true hero, always fighting to stay in contention, never ever giving up - and always making his Sky team-mates laugh. On one stage of the Giro, I feared he would be out of the time limit, as it had been an intensely tough start to the day. It was worth waiting five or 10 minutes to get this shot, which depicts perfectly Downing's gutsy character. I couldn't have imagined he would later crash into a ravine on a descent and scare the heck out of a Giro already spooked by Weylandt's death. Downing recovered and finished his first-ever Giro in 140th place.
Tough Tyler
I went to the GP Scheldeprijs expecting to see Tyler Farrar repeat his win of 2010, only to instead capture the American crashing to the ground after a nasty series of crashes in the finishing straight. Farrar then lost one of his best friends, Wouter Weylandt, in a Giro crash, before recovering his morale to win a first-ever Tour stage in July. He abandoned the Vuelta after another nasty fall in a sprint finish - what a tough guy.
Steep and narrow
The Tour de Suisse gave me my most treasured shot of the season, as it often does. This time, it was the Grosse Scheidegg, a climb rarely used in the race, as special permission is required to allow motorised vehicles to use the narrow road. It is like entering a private kingdom, with sheer rock cliffs towering above you, their spires disappearing into the thick clouds that hide the Wetterhorn and Eiger mountains. You'll never see a full peloton pass here, the road is too steep at the end of a stage and its descent too narrow to use at the beginning of a stage. But even a group of six or seven riders is enough to make the image worthwhile -I cannot wait until the next time we pass here.
Hell of a ride
Maurico Soler provided me with one of my better Tour de Suisse images - racing up the Grosse Scheidegg as race leader. But it's the man next to him that made this shot memorable - 'the Devil'. He was so out of breath on this sheer ascent that I couldn't resist capturing Soler's majesty - and the Devil's agony. Soler suffered a near-fatal crash a few days later, and has only just returned to Colombia after five months in hospital.
Here Wiggo again
My saddest moment of the year was undoubtedly the death of Wouter Weylandt on stage three of the Giro - and it made it harder to photograph crashes in later races. Although Bradley Wiggins was not seriously injured in his Tour de France crash, it was nevertheless a horrible thing to see: Britain's great hope for a podium place in Paris being taken to hospital with a cracked collarbone. Having seen how he almost won the Vuelta a month later, I'm even more convinced Wiggins can win the 2012 Tour. Now wouldn't that be nice?
A champion effort
I think the greatest stage win of the season was Andy Schleck's solo ride to the summit of the Col du Galibier in the Tour de France. Imagine attacking halfway up the Col d'Izoard, driving your body along the exposed Col du Lautaret - before launching yourself up the 10km-long Galibier. This was the one day that Schleck lost his inhibitions and rode like a true champion; he deserved to win the Tour because of his courageous effort. But Cadel Evans's dogged pursuit was equally brave. The Australian almost matched the length of Schleck's escape but, more than that, he did it two minutes faster - saving the Tour with two 'real' days still to go. So, if this was the best stage win of the season, it was also probably the best day of the season - the day the Tour was actually decided.
Make a pass or two
Only Switzerland has its mountain passes so perfectly connected. The Tour de Suisse is climbing the Grimsel Pass on its way to Grindelwald via the mighty Grosse Scheidegg, but as the race climbed the Grimsel the backdrop revealed another famous climb - the Furka Pass. All I ever want when I reach such a stunning environment is to get out on my own bike and climb the way the pros do. Then I always wake up from my dream and get back to work... Maybe in my next life!
Stannard's on the rise
My favourite Team Sky image is not of Boasson Hagen, Froome or Wiggins. It is a shot of Ian Stannard leading a furious pursuit on stage 14 of the Tour of Spain. Sky won some famous victories in 2011, and often it was thanks in no small part to the work of its domestiques. Stannard has come of age in 2011, and I believe he will one day challenge for victory in a Classic like Paris-Roubaix. The sight of him pummelling away at the head of the Vuelta peloton, his team-mates and 130 others stretched out like unwanted passengers, made for quite a memory.
Hammering it
I've yet to discover why Dutch champion Pim Ligthart is carrying a plastic hammer in his jersey pocket on the monster ascent of the Angliru. It could be that an artful fan shoved it there, or maybe it's a lucky charm that means a lot to Ligthart - or one of his team-mates planted it there as a joke. Maybe a rival put it there to weigh Ligthart down? Whatever the reason, it made for a great shot.
Friends and relatives
Dan Martin is English-born, Nicolas Roche is French-born -
yet both claim Ireland as their country of citizenship. Stranger still, they are cousins, a result of Stephen Roche's marriage to a Frenchwoman, and Neil Martin's marriage to Stephen Roche's sister. Either way, this pair amused me no end in the 2011 Vuelta, a race that gave Martin (r) a great stage win. I took this simple image after the Pena Cabarga stage, the last uphill battle of the Vuelta, and the moment when these two could become true friends again - they are extremely competitive.
Calculating Cadel
I had the chance to witness a series of training tests by Cadel Evans just before the Giro. I watched amazed and a bit confused as Evans circled the track under the guidance of his and BMC's technical team - the result being that his most perfect, potent, riding position could be finalised for the Tour. And didn't it pay off in Grenoble? The velodrome and wind-tunnel tests were another sign of how well Evans had planned for his Tour victory, and how immaculate he'd been in his preparations. Just imagine if the final GC result had been closer - that track session would have been even more important.
Related links
See more of Graham Watson's photos in our gallery section
Thank you for reading 20 articles this month* Join now for unlimited access
Enjoy your first month for just £1 / $1 / €1
*Read 5 free articles per month without a subscription
Join now for unlimited access
Try first month for just £1 / $1 / €1