How some of the most innovative tech in gravel racing actually originated from triathlon
Triathlon bikes and gravel bikes are completely different, or are they?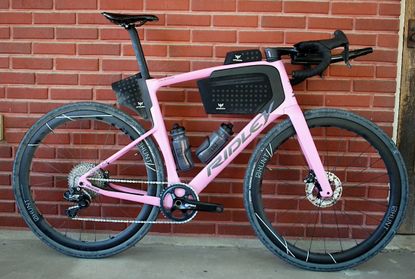 (Image credit: Anne-Marije Rook // Future)
Get The Leadout Newsletter
The latest race content, interviews, features, reviews and expert buying guides, direct to your inbox!
Thank you for signing up to The Pick. You will receive a verification email shortly.
There was a problem. Please refresh the page and try again.
Gravel may be cycling's newest race discipline, but its innovative tech is often borrowed from cycling's other disciplines, some more surprising than others. Certainly a lot of the technology — i.e. knobby tires and gear ranges— comes from the mountain bike world but if you're racing gravel and looking for ways to eke out every last watt, you should also look to the perhaps unlikely place of triathlon and time trialling.
Yes, triathlon. Sure, multisport is a solo endeavor more than it is a team sport and group tactics are wildly different due to drafting penalties, but a lot of gravel riding occurs solo as well.
The fastest triathletes, like Ineos-Grenadier's Cameron Wurf, know how to get every last bit of speed from bikes that also offer just enough comfort when racing solo for more than four hours in Iron-distance triathlons. Many gravel bike designs incorporate some of the best features and design elements of TT bikes, with optimizations for off-road riding, for many of the same reasons. Here's some gravel tech that originated in triathlon.
Aerobars and an aerodynamic position
Nearly a decade ago, a Specialized marketing campaign declared "aero is everything." Bikes designed to minimize aerodynamic drag now dominate road racing and multisport events. Triathletes plunk down significant money for aerodynamic bikes and for time spent in wind tunnels to get into the fastest positions possible on the slipperiest bikes. Aero setups—which put cyclists in a forward position over the bottom bracket—mean using accessories like clip-on aero bars to enable getting into low-drag positions. And gravel racers and bike manufacturers have taken notice.
Until 2023, pros racing in Unbound Gravel were permitted to use aero bar extensions on their gravel bikes. These bar extensions enable riders to get into positions on their bikes similar to those used by Olympic triathletes. While bar extensions are now prohibited in the pro ranks at some gravel races, you might still leverage bar extensions to your aero advantage, and faster with the same effort.
Frame design and tube shapes
Late model triathlon and time trial bikes feature designs that homologized around Computational Fluid Dynamics (CFD) models with dropped seatstays, wide head tubes, and flat top tops tubes that have proven slipperiest in the wind and fastest against the clock. Tube sections that are rounded in front and squared on the trailing edge ("Kamm tail") are the norm, as they are as effective as wider, longer and flatter shapes, but with less material required. This saves on weight and production costs.
While aerodynamics are significant at speeds in excess of 40kph, reducing aero drag at lower speeds is still effective at shaving seconds and effort. Gravel bikes feature tube shapes and overall frame designs that not only reduce drag coefficient, but also provide more comfort; dropped stays are not only aero and allow some intentional frame flex for a smoother ride. Tube wall thickness is tuned to for stiffness and to lessen road vibrations in both TT and gravel bikes.
Frame Geometry
Tri bikes with steep head and seat tube angles of 71.5 - 72.5 degrees and 77.5 - 78 degrees respectively position riders over the bottom bracket for optimal pedaling efficiency in a stretched-out position.
Gravel bikes are designed for rider comfort over longer events that may last longer than a full-distance triathlon, so there's some divergence between the design of gravel and TT bikes.
Some gravel bikes with a 73 or 74 degree seat tube angle perform very well when traversing tricky terrain. Gravel bikes saddles are positioned slightly further behind the bottom bracket than a standard road bike ( 73.7 degree seat angle for a Trek Madone), which also adds to comfort and control for gravel riders. While frame geometry similarities may not extend from tri to gravel bikes, the "horses for courses" principle applies, which means lessons learned from designing one type of bike are adapted for engineering a different type of bike.
Aerodynamic wheels
Just as faster frame designs and tube shapes allow bikes to go faster with no increase in power, so can deep section wheels add speed and/or reduce effort. The latest innovations in wheel design are low drag and rims with sinusoidal profiles are more stable and offer superior handling when wind comes from any direction.
Triathletes benefit from wheel designs that reduce handling-induced fatigue as well as the amount of energy needed to maintain race speeds, and so can gravel riders.
Wide tires
Wider wheels can accept wider tires, which are aerodynamically faster and have lower rolling resistance than skinny setups. To accept wider tires, bike frame and fork designs are wider, which in recent aero testing is faster than designs with ultra-tight tolerances.
Many gravel racers are likely to be more concerned with durability and tire grip, and, of course, similar tire rolling resistance principles apply. Wider tires need lower inflation pressures, which offers more comfort and a cushioned ride for gravel riding.
Tire pressure
One of the most-asked questions of cyclists is: What tire pressure are you running? This is where gravel racers learned more quickly than triathletes the importance of how much air to add pre-ride. Racing on smooth surfaces that are relatively similar over an entire race course, triathletes have only to manage optimal inflation for tire size and their weight. Experienced and tech savvy multisport athletes riding recent generation tubeless tires often follow what road racers do, and go with the lowest tire pressure possible. Lower tire pressure offers a forgiving ride, and can be faster on smooth asphalt.
Tire pressure is a closely guarded secret for some pro gravel riders. Like team mechanics in the pits, pro gravel racers and privateers often smile and nod, but offer an imprecise response when asked what tire pressure, while they ready their bikes next to camper vans. But the principle is the same as road and triathlon: Use the lowest tire pressure possible considering combined rider and bike weight, while also accounting for grip on varying surfaces.
Drivetrain
A relatively recent trend in triathlon and multisport bikes is the use of a single chainring to reduce aerodynamic drag caused by a front derailleur. A single chainring setup also creates a relatively straighter chain line. Marginal reductions in aero drag and friction between the chain and cassette can add up to minutes over a 180km bike segment of a full-distance tri.
Gravel riders can opt for a 1x-chainring setup for similar watt-saving rationale. But a very real concern that most multisport athletes won't have is reducing the chance of mechanical failure if one's drivetrain gets choked in mud.
Concealed cockpits
Integrated cockpits—bars and stems with internally routed hoses and cables—are near the top of the list of features that offer meaningful benefits. Exposed brake lines and shifter cables might appear to be too small to create drag, but over the duration of an hours-long event the grams of drag saved can mean minutes saved, especially when using aero parts.
Gravel racers who use cockpits with internal routing gain the aero edge that triathletes have been using for years. An added bonus for gravel riders using concealed cables: Fewer exposed brake lines mean easier clean up.
Integrated storage
Triathletes used to tape gels and other snacks directly to their bikes (some athletes still do) for quick and easy access to calories while racing. Many multisport racers stuff a few spare CO2s and tire plugs into a small bag mounted behind the saddle. Modern multisport bikes feature integrated and aero-shaped storage options that offer snack storage on the top tube, and compartments behind the seat tube or above the bottom bracket for keeping tire repair necessities. Another watt-saving feature are integrated hydration compartments—bladders are crammed into compartments in the down tube or behind the saddle—and have a hose and drinking straw that allows riders to grab a drink without coming out of an aero position.
Another lesson gravel racers can learn from triathletes is to prep nutrition before cramming it into on-the-bike storage. If using a sealed storage compartment, pre-open nutrition packaging before stowing it. This makes for easier hands-free or one-handed access while riding, alleviating the need to stop and use both hands to open a wrapper or bag.
Gravel bikes may lack hidden reservoirs, but storage compartments are nearly the norm on many bikes. Containers on the top tube, behind the saddle, between the top- and down tubes, and even on the front of the cockpit are so common that gravel bikes look stripped-down without a few compartments strapped or bolted on.
Don't Reinvent the Wheel
Triathletes are a strange bunch and are quick to tell you about interval workouts, what to eat, how early to go to bed, and the latest gadgets, which undoubtedly will offer a data point for going faster. If you're a gravel rider who never plans to race against the clock you can still learn a few things that will make your off-road riding experience better. Many of these type-A multisport people do their homework and can offer excellent, practical ideas for having fun when riding solo, but next to hundreds of others doing the same thing for hours at a stretch.
Thank you for reading 20 articles this month* Join now for unlimited access
Enjoy your first month for just £1 / $1 / €1
*Read 5 free articles per month without a subscription
Join now for unlimited access
Try first month for just £1 / $1 / €1
Get The Leadout Newsletter
The latest race content, interviews, features, reviews and expert buying guides, direct to your inbox!
Greg has been on and around bikes since his early teens. He got his start when tubulars and freewheels were still a thing, while working at local bike shops, and dabbling in the Philadelphia racing scene. Greg still geeks-out on bikes, cycling gear, apparel, and accessories as much now, as when he first discovered the sport. Greg has been on staff at VeloNews and Bicycling, and also was a contributor at Active.com.