Great Britain fourth in men's team pursuit at junior track worlds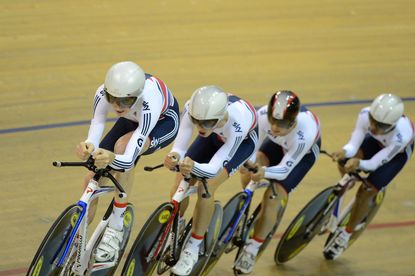 Great Britain's junior men's team pursuit squad finished fourth on day one of competition at the junior track world championships in Glasgow on Wednesday evening.
The quartet of Jacob Ragan, Ollie Wood, Germain Burton and Tao Geoghegan Hart had set the fourth fastest time in the day's early qualification round behind Australia, New Zealand and Russia respectively.
That order proved to be replicated in the final as GB rode a 4-13.371 and lost out to Russia by several seconds to miss out on a medal, despite improving on their earlier time.
"We would have been happier with a medal but we didn't quite do the time we wanted to, regardless of what the track was riding like," said Geoghegan Hart. "We still didn't quite get to where we wanted to be, and what we've shown we can do in training, but often that's the way."
"Apart from me, it's everyone's first major championships, track or road, so it's about getting the experience and learning from what we've got," he added. "It's a long week; we can put the things we've learnt in to practice some time in the future."
"The lads gave it everything they had," said junior endurance coach Matt Winston. "They couldnt have gone any quicker but we'll come back and fight another day. They've learnt quite a lot today and it's not always about winning a medal."
Australia took the gold medal ahead of antipodean arch-enemies New Zealand with an impressive time of 4-06.159. It was the first of three gold medals for the team in green and gold on the opening night; they also took the top honours in the men's and women's team sprint competitions.
Great Britain return to action tomorrow in the women's team pursuit, men's individual pursuit, men's scratch race and women's 500m time trial.
Ollie Wood leads the GB men in team pursuit final
Great Britain's ODP coach checks on his riders progress
Germain Burton refuels after the bronze medal ride
Australia's blonde bombshells storm to an impressive victory in the team pursuit
Related links
Omnium silver for Dibben at 2012 junior track worlds
Australia and Russia share spoils at 2012 junior track worlds
Thank you for reading 20 articles this month* Join now for unlimited access
Enjoy your first month for just £1 / $1 / €1
*Read 5 free articles per month without a subscription
Join now for unlimited access
Try first month for just £1 / $1 / €1