Hannah Barnes: beating the best...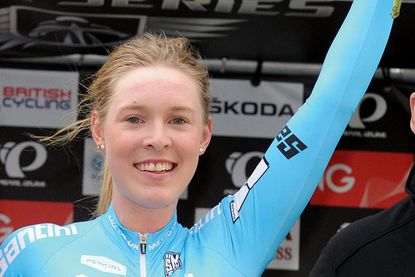 Hannah Barnes's life has changed a little in the last few weeks. With journalists from across the country phoning her for interviews "left, right and centre", she's had to adjust quickly to life as - if the Daily Telegraph is to be believed - the "fastest cyclist you've probably never heard of".
"It's quite fun!" she tells CW. "But it's quite hard work, winning. You're on the phone all the time. I can't imagine what it's like for Bradley and Cav!"
Barnes grabbed the headlines not just for winning the London Nocturne but for the controversy surrounding her victory. Initially demoted to second for 'dangerous riding', she was finally awarded the win over Wiggle-Honda's Laura Trott seven days after the event, on June 8. This doubled the impact of her impressive ride.
For a mainstream press that has often come to expect Britain's new cycling stars to come neatly packaged in Team Sky wrapping, the injustice dealt to the relative unknown from MG-Maxifuel proved quite a sensation.
"I think the whole story after it, of me winning it and then getting relegated, it was all over the papers and I think it took over the men's race, to be honest," Barnes says. "With women's cycling, normally [the press] wouldn't have really cared."
Although Barnes now describes the decision to relegate her as 'ridiculous', at the time she took the result on the chin, much like she did with a small piece of Woking tarmac three days later during the fourth round of the Johnson Health Tech GP Series. She went on to win the race, the third successive victory on her way to the overall competition.
"She's a calculated killer," enthuses her team manager Rod Freeman. "She knows exactly what she needs to do to succeed."
Junior glory days
Contrary to the press narrative after the Nocturne, Barnes isn't quite the rank outsider who upset the race favourite. Like Trott, she is a multiple national junior champion on the track, having been part of British Cycling's Olympic Development Programme (ODP) until 2011. With no women's Academy for 2012, she made the transition to the senior ranks with Team Ibis Cycles but suffered a tough year of illness and injury while based overseas in the Netherlands.
"She's always been there, this good," adds Freeman. "There have been those reasons why she hasn't shone so far."
Barnes approached Wiggle-Honda for a ride at the end of last year, after Ibis Cycles folded at the 11th hour; however, her lack of experience meant team manager Rochelle Gilmore was reluctant to offer her a deal.
"The first thing I did was ask [sports director] Simon Cope what his opinion was," says Gilmore. "He didn't think she was ready for the level of team that we were putting together, but that he would be very interested in keeping an eye on her during the season, and her results."
"I was a bit disappointed," Barnes says, "but I was still happy to be racing and making a name for myself."
Even so, Barnes, who Gilmore describes as "possibly one of the best criterium riders in the world" after watching her at the Nocturne, may still get her chance.
"She has a lot of potential," Gilmore adds. "If she could get herself to Europe, then get a result, I know we can develop her over the next few years to be able to sprint like she does at the end of a four-hour race."
Working to ride
The fastest waitress on two wheels
Despite the support of MG-Maxifuel, Barnes's sole income comes from a day job; namely, waitressing at a local country house hotel.
"It's about 40 hours a week over the winter to try and earn as much money as I can to last throughout the season," she explains. "I'm always on my feet, but they're really flexible if I've got a race on."
While Barnes's televised exploits in the Johnson Health Tech GP Series have helped her colleagues understand her needs, work still gets in the way of racing at times.
"It's the British Grand Prix at [nearby] Silverstone in two weeks, and in my contract it says I have to work," she adds. "Hopefully they'll let me off; I've got the Curlew Cup!"
FACTFILE
Name: Hannah Barnes
Age: 20
Lives: Towcester
Nickname: 'Barnes' or 'Quadzilla'
First club: Team Keyne
First bike: A green monkey-jungle bike
Guilty pleasure: Shopping, and Ben & Jerry's ice-cream
Did you know? Her first cycling jacket was a hand-me-down from Ian Stannard, then also at Team Keyne
This article was first published in the June 27 issue of Cycling Weekly. Read Cycling Weekly magazine on the day of release where ever you are in the world International digital edition, UK digital edition. And if you like us, rate us!
Thank you for reading 10 articles this month* Join now for unlimited access
Enjoy your first month for just £1 / $1 / €1
*Read 5 free articles per month without a subscription
Join now for unlimited access
Try first month for just £1 / $1 / €1
Richard Abraham is an award-winning writer, based in New Zealand. He has reported from major sporting events including the Tour de France and Olympic Games, and is also a part-time travel guide who has delivered luxury cycle tours and events across Europe. In 2019 he was awarded Writer of the Year at the PPA Awards.