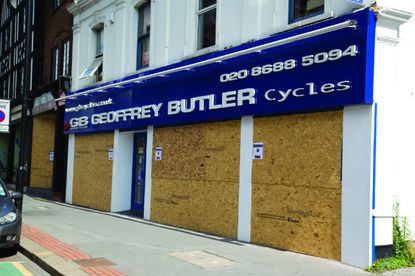 Get The Leadout Newsletter
The latest race content, interviews, features, reviews and expert buying guides, direct to your inbox!
Thank you for signing up to The Pick. You will receive a verification email shortly.
There was a problem. Please refresh the page and try again.
An independent bike dealer's full, dramatic account of how he came face-to-face with would-be looters while defending his shop during the London riots was told to CW this week.
Stephen Delaney, manager of Geoffrey Butler Cycles, decided to protect his shop personally when trouble flared on the mean streets of Croydon on Monday August 8. "I was at home at the time when I heard about what was happening, so I thought I'd better pop down to see how the shop was," Delaney said.
"It was only about 8pm, so I imagined things would be OK, but there was a really edgy feel to the area. Then, when I pulled up outside the shop, I noticed a big hole in our door. I could see we'd had some bikes and frames stolen. There was a police car nearby, but the police said they couldn't stay. Their advice to me was to board up and go.
"I thought a better course of action was to get all our stock upstairs, away from the window. So I called some of our staff to come help."
It was while Delaney waited for backup that he had the close encounters. "At about 8.30pm, as it got darker, things started becoming more tense and the looters seemed to get braver. Two people poked their heads into the shop, obviously looking to see what they could take. They didn't realise I was in there. I asked them what they were doing and they scarpered.
"I wasn't necessarily scared, I didn't panic, but my heart was pounding. One of them was a quite a big chap, so if he had wanted to try his luck, I could have been in trouble. And there were constant small groups of what you'd call opportunists walking past.
"By about 9pm, my colleagues John and George and my friend Grant had turned up, and we managed to move everything. Then we just sat in the shop. We couldn't get a company to board our windows, so we ended up filling the hole in the door with Campagnolo delivery boxes, which thankfully were really heavy," Delaney laughed.
At about midnight, Delaney got an alarm call from the company's other shop, Bike Plus, situated about a mile down the road. "I jumped in the car and raced there," he recalled. "I was actually following two white vans, and as we got nearer the shop, I realised they were going to the same place as me. They pulled up in front of the shop, but they were too late.
"Five or six people had smashed through the window of our store and started taking stuff from the window display, but amazingly they'd been scared off by a chap in his 60s who was picking up a relative from a nearby bar. When I got there, one of our bikes was hanging out the window, and three more had been taken.
"So then we had to get some more staff out, and until 6am we all just sat in the two shops, protecting them. By morning we were shattered."
Contrary to urban myth, most shops are covered by their insurance in case of a riot, Delaney confirmed. But that's not the end of the story. "It's still a massive pain to sort out. We've had to get the accountants in, get the insurance assessors in, speak to the police. But we've got to look on the bright side - we lost 11 bikes in total, £40,000 worth of stock, but that's peanuts compared to some other firms.
"It was such an odd experience. I remembering seeing one guy outside our shop in a black suit - he looked pretty well-to-do - and he was chatting to a kid in a hoodie, saying: 'You want to get down to Richer Sounds, there's loads going there.' It was bizarre. We hope it doesn't happen again, but we've got some boards for the windows just in case."
Cycle King to cycle pauper
Geoffrey Butler Cycles might specialise in exotic high-end road bikes but their near neighbour, family cycling retailer Cycle King, actually suffered far more during the Croydon disturbances.
A reported £120,000 of stock was taken by looters - comprising 600 bikes - meaning that when staff entered the store once events had cooled down there was nothing left.
We called Cycle King for an interview but understandably staff there were busy getting the store ready for its reopening last Saturday (August 27), almost three weeks after the riots.
This article originally appeared in Cycling Weekly, September 1.
Related links
Bike shops in Croydon hit by looters
Thank you for reading 20 articles this month* Join now for unlimited access
Enjoy your first month for just £1 / $1 / €1
*Read 5 free articles per month without a subscription
Join now for unlimited access
Try first month for just £1 / $1 / €1
Get The Leadout Newsletter
The latest race content, interviews, features, reviews and expert buying guides, direct to your inbox!