International field lines up for Saturday's Revolution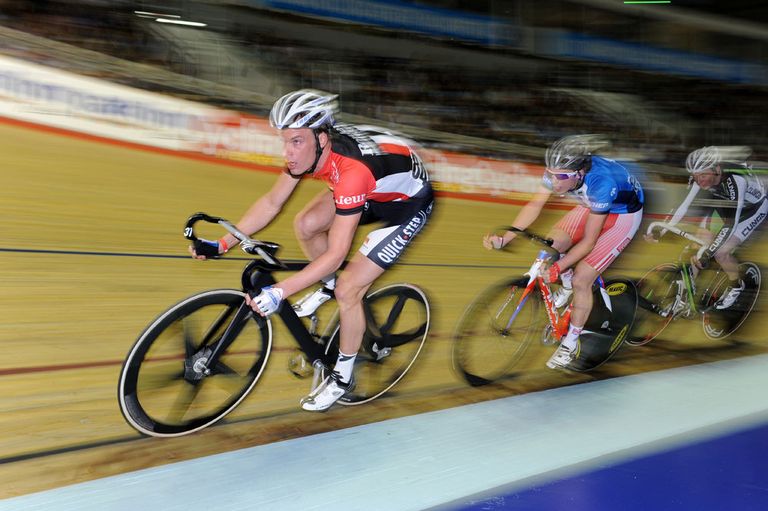 Revolution continues at the National Cycling Centre this Saturday (January 7) with the penultimate round of the Team Championship.
UK Youth lead the competition following a dominant performance from Steven Burke at the last round. Burke has now left the squad leaving James Lowsley-Williams and David MacGowan to defend the lead for the team. They will face tough competition with several six day specialists joining rival teams including Alex Aeschbach, Andreas Muller, Jesper Morkov, Christian Grasmann, Robert Bengsch and former World Champion Morgan Kniesky.
In other teams, Luke Rowe makes his neo-pro debut for Team Sky, Tom Murray links up with Canadian Points Champion Jean-Michel Lachance for Rouleur and Russell Downing returns following his Points victory in round 1, this time riding for team howies.
With only 11 points separating the teams placed third to seventh, the leader board is liable to change dramatically on Saturday as the competition heads into the decider on January 28th.
In the sprint racing, tandem sprinting will be hosted for the first time at Revolution with a GB verses Holland Sprint Omnium. Craig MacLean and Neil Fachie and Barney Storey and Anthony Kappes will take on Dutch pairs Patrick Bos and Rinne Oost and Yorick Bos and Richard Bonhof in an omnium contest that will include a Flying Lap, Match Sprint and Kilo TT.
Full details of the riders and racing can be found on www.cyclingrevolution.com. TV highlights will be broadcast on ITV4 on Monday, January 9, at 7pm.
Related links
Cavendish victorious on Revolution track return
Revolution 34 photo gallery
External link