Meet Varlo, the only Black-owned cycling apparel company in North America
With pieces like a sports Hijab, Varlo aims to be the "gateway" brand to bring underrepresented demographics into cycling and triathlon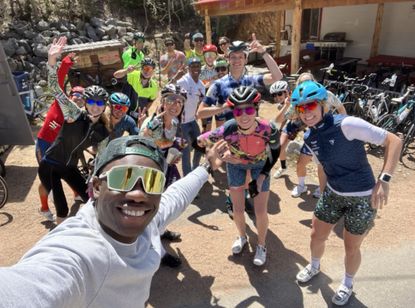 (Image credit: Varlo)
Not every day do you get to chat with someone who can speak four languages (English, Portuguese, Spanish, Yoruba), is a collegiate track and field record holder and is making waves in the cycling industry. Yet 40-year-old Soj Jibowu, founder and owner of Varlo Apparel, is about as humble as they come.
Jibowu launched Varlo Sports in early 2020 and remains a relative newcomer to the bustling and at times challenging, cycling apparel scene.
Since then, Varlo —which is a play on the word 'Valor'— has skyrocketed to success, selling out most of its collections, outfitting multiple top-tier professional endurance athletes such as pro triathlete Jason West and creating a global ambassador team of nearly 250 members from all walks of life. Also noteworthy is that Varlo Sports is currently the only Black-owned cycling and triathlon apparel company in North America.
For Jibowu, Varlo isn't really about apparel at all. It's about helping people pursue the goals of tomorrow.
"If you come into the Varlo office, we have a big sign that says, 'We do not sell apparel,'" Jibowu tells Cycling Weekly. "Since day one, our goal has been to create products and a journey to empower every single person - and as many people as possible - to achieve whatever mission is in front of them."
Humble Beginnings
Jibowu was born in Nigeria and migrated to the United States at an early age. He has always had to think about the bigger picture to make his dreams happen.
"I didn't know if I was going to be able to go to college because I didn't have the grades and my family didn't have the money," Jibowu says. "But thanks to my background in running, I was able to run track and field on a scholarship for Central Michigan University and even set a school record while there."
But it wasn't until a visit to Chicago in 2015 that Jibowu, a sprinter, was first introduced to the world of Endurance sports.
"I remember sitting in this restaurant for breakfast and all these people around me had these crazy nice bikes, and they were all super fit," Jibowu recalls.
"I was still relatively fresh out of college, so I thought I was still this pretty cool 400-meter sprinter. But then I saw these athletes and was like, 'Nah, you all are actually the cool ones.'"
A spark was lit. And while he didn't know it at the time, that morning in Chicago was the catalyst that would change the rest of Jibowu's life.
The next five years saw Jibowu competing in cycling and triathlon events around the country while working in business development in the corporate world. The idea of Varlo Sports started to take shape in 2019 but with the goal of "just doing it on the side" of his full-time job. But the market demanded something different.
"In April 2020, my business partner and I were in Miami trying to build awareness for Varlo, and my business partner asked me if I would be happy if I looked back and knew I had only worked on Varlo part-time," Jibowu says. "And I remember looking at him and saying, 'If I don't do this full-time, Varlo will not make it.'"
After that, Jibowu was all-in on growing Varlo to become the global brand it is now.
"You can't 'kind of' do things. I would never want to work with someone who is 'kind of' putting effort into a goal," Jibowu says. "I knew I would not be OK looking back 20 years from now and knowing I didn't give Varlo my all."
Jibowu is now the full-time CEO of Varlo Sports, a profitable company with eight employees.
The "Gateway" Brand
Jibowu is passionate about being an innovator in the endurance sports industry.
"The pathway for innovation in cycling and triathlon is so rich — and I don't mean just on the technology side," Jibowu says. "I mean innovation in the sense of how we foster an emotional connection to people, how we bring people into [cycling and triathlon], and how we make a difference in people's lives. I think we as an industry haven't even scratched the surface in that realm yet."
Jibowu refers to many of the pieces created by Varlo as "gateway" pieces because he aims to appeal to historically underrepresented people in cycling and triathlon.
One example is the recently-launched Nour collection, designed in conjunction with Khadijah Diggs, the first African-American woman to be a member of the U.S. long course triathlon team and the first Hijabi to represent the U.S. in any multisport event.
The Nour collection features the first-ever commercially created full-coverage triathlon suit and multisport tights, along with two sport hijabs and a full-coverage top. The entire collection sold out in just a few weeks once launched.
"[The collection] selling out tells me a couple things," Jibowu says. "It tells me that there are people who want to do [cycling and triathlon] who have not felt heard by brands before. It tells me we need more 'gateway' gear pieces that empower people to join the endurance sports community."
Jibowu went on to explain that he has a theory.
"When you look at sports as a whole, whose job is it to bring new people to your sport of choice?" Jibowu says. "Is it the governing bodies', the coaches, and the people in power's jobs, or is it more the brands' jobs to make a sport accessible and cool? And I would say it is the brands' job to paint a picture of what's possible for athletes."
Varlo is firmly rooted in being a "gateway" brand that helps athletes see that there is a welcome place for them in the endurance community and that there are people behind a brand's products who are dedicated to making those voices heard and seen.
Varlo's "Tomorrow"
"We are obsessed about tomorrow," Jibowu says. "If there's one word we overuse at Varlo, it is 'tomorrow,' but that's because we love what's ahead for us, for our athletes, and for [cycling and triathlon]."
Jibowu says he is most excited for the season ahead for Varlo's professional and amateur athletes.
The Varlo-sponsored roster spans 12 athletes, including Rach McBride, a non-binary professional triathlete and gravel cyclist, and Emelia Perry, a professional paratriathlete, paracyclist, and wheelchair athlete.
Team Varlo, the brand's ambassador program, currently has nearly 250 athletes, with 25% of members based internationally in countries such as Switzerland, Dubai, Japan, and the U.K.
Jibowu is giddy speaking about Varlo's upcoming products, too.
"I'm really pumped for the gateway products we are going to introduce very soon," Jibowu says. "I'm excited to do what we were meant to do, which is to get more people from all backgrounds into cycling and triathlon and celebrate their stories."
Even in an industry that is already quite crowded, Jibowu and the Varlo team are invested in being a brand that stands out for all the right reasons. After all, the goals of tomorrow aren't going to achieve themselves.
Thank you for reading 20 articles this month* Join now for unlimited access
Enjoy your first month for just £1 / $1 / €1
*Read 5 free articles per month without a subscription
Join now for unlimited access
Try first month for just £1 / $1 / €1