Jonathan Tiernan-Locke down after sickly season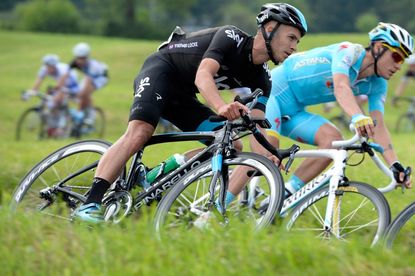 With repeated setbacks from illness and fatigue having made for a disappointing 2013 season, it could be back to the drawing board for Jonathan Tiernan-Locke who admits his high profile move to Sky at the end of last season hasn't gone to plan.
"I don't feel like I've got the best out of myself this year," the 28 year-old told Cycling Weekly. "I already feel like the best part of the season has gone by and I've made myself useful at races but for me personally, its been a bit disappointing."
When Tiernan-Locke finally put pen to paper with Sky after his victory at the Tour of Britain last year, both he and the squad's management set out to develop his endurance with a view to targeting a Grand Tour debut at the Vuelta a Espana, currently underway.
Yet with no place for the Devonian in Sky's squad heading to Spain, 'JTL' has conceded that the cumulative fatigue of training and racing at WorldTour level has forced a rethink of his approach, temporarily putting the brakes on his career.
"I've had a few months of my performances going down and recurring illnesses," he said. "I had to pull the plug on that [the Vuelta], I wasn't in the right place to do it.
"It would have been a disappointment if you'd asked me earlier in the year, but when we got to June or July I was just knackered. I think I was tired even just going into races."
It is not the first time that illness has disrupted Tiernan-Locke's season. Last year, following the wins at the Tour of the Med and Tour du Haut Var that first caught Sky's attention, he suffered various illnesses and a dip in form between March and winning the Tour Alsace in July 2012.
An inability to deal with the increased workload placed on him by Sky coach Shaun Stephens, which Tiernan-Locke says he followed "to the letter," led to concerns that the Epstein-Barr virus he had suffered from earlier in his career might have resurfaced, however a Sky medical gave the all clear.
"We're all disappointed with JTL's year, none more so than he is," Stephens told CW. "Its just difficult that we can't string three or four weeks of consistent training together before he either gets sick or gets saddle sores or that sort of thing."
Although neither he nor Stephens would agree the experiment has failed, Tiernan-Locke will likely adjust his focus to the Ardennes Classics rather than Grand Tours next season, or as Stephens put it, "there are more ways to skin a cat."
"I think now we're going to look at just going back to training as I used to train," Tiernan-Locke added. "I should be developing along the lines of a one-day rider, something which I know I can do.
"I've proved in the past that I can be competitive. Everyone has their own natural ability and if I'm not actually trying to change it, I feel like I'm not wasting my time."
Thank you for reading 20 articles this month* Join now for unlimited access
Enjoy your first month for just £1 / $1 / €1
*Read 5 free articles per month without a subscription
Join now for unlimited access
Try first month for just £1 / $1 / €1