106-year-old Hour Record holder Robert Marchand announces retirement from competitive cycling
Multiple record holder will continue to ride for fun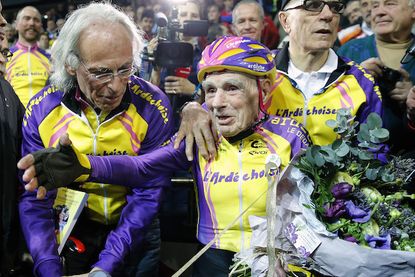 (Image credit: Chesnot/Getty Images)
One year after setting a new Hour Record for his age category, centenarian cyclist Robert Marchand has decided to hang up his wheels and retire from competitive riding at the grand old age of 106.
A multiple record holder for age-group events, Marchand has now been advised not to take on any further competitive events on medical grounds.
>>> How to get faster as you get older
"His doctors don't want him to make these big efforts anymore," friend and neighbour Christian Bouchard told French newspaper La Marne , while Alain Gautheron, president of the Cyclos Mytriens Club de Mitry-Mory where Marchand is a member, said that any further record attempts "would mean lots of pressure and lots of demands."
"If he pedals, he has to do it in relaxation, for pure pleasure. It's more reasonable," Gautheron continued, saying that Marchand is also continuing the make use of his stationery bike at his home on the outskirts of Paris.
Watch: Could you pass the UCI's pro cycling test?
http://www.youtube.com/watch?v=O66gHkI-ESs
Marchand has consistently hit the headlines over the past few years, with the UCI having had to twice create new age-group categories in which to place his feats.
In February 2012 Marchand rode 24.250km to set a new Hour Record for the 100-104 age group, before bettering this record by going more than two kilometres further in 2014.
Another Hour Record followed in January 2017 when Marchand, by then 105, rode 22.547km to set a new Hour Record in the 105+ age category.
>>> study reveals how you can stop your body getting older through regular exercise
Born in Amiens in 1911, Marchand started riding at the age of 14, but gave up the sport only to return to cycling in 1978 aged 67. Since then he has maintained a daily routine of riding and stretching, eating plenty of vegetables and little meat, not smoking, and generally avoiding alcohol.
Among Marchand's other feats have been completing a 600km ride between Bordeaux and Paris at the age of 89, and also covering 100km in just over four hours as a sprightly youngster aged 102.
Thank you for reading 20 articles this month* Join now for unlimited access
Enjoy your first month for just £1 / $1 / €1
*Read 5 free articles per month without a subscription
Join now for unlimited access
Try first month for just £1 / $1 / €1