12-year-old rider Joshua Tarling posts impressive result in 100-mile time trial
West Wales Cycle Racing Team rider Joshua Tarling clocks 4-49-14 for the 100-mile event in South Wales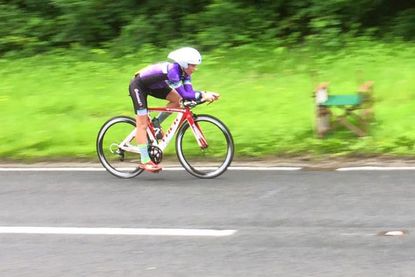 (Image credit: West Wales Cycle Racing Team)
Joshua Tarling of the West Wales Cycle Racing Team clocked a time of four hours, 49 minutes and 14 seconds for a 100-mile time trial event in South Wales on Sunday.
That's an impressive result in itself, but Tarling is just 12 years old, making it an amazing achievement.
Tarling's time in the West Wales Cyclists' League event translates to an average speed of 20.74mph, and his time was good enough for him to place 22nd among the senior categories.
>>> Eight-year-old British boy conquers the Col du Tourmalet
Tarling's father, Michael, told Cycling Weekly: "It was never the intention for him to ride the whole distance.
"The plan was for him to ride the first loop of about 50 miles then stop while I rode the whole distance. But he wanted to carry on and looked good. We were on the course in a car and so too were his grandparents and a further set of friends."
>>> Bradley Wiggins rocked up to his local 10mi time trial last night and smashed it
The fastest time on the day was set by Stephen Williamson (a3crg), who was the only rider to go under four hours on the R100/1 course, with 3-59-04.
Watch: How to beat long time trials
Earlier this year, Tarling set a 10-mile TT time of 24-55. He has also achieved notable results for his age group on the road over the past few years.
At the end of May, Tarling won the Maindy Flyers and Velothon Wales National Youth Circuit Race. He celebrated his 12th birthday in February.
Photo used by kind permission of the West Wales Cycle Racing Team
Thank you for reading 5 articles this month* Join now for unlimited access
Enjoy your first month for just £1 / $1 / €1
*Read 5 free articles per month without a subscription
Join now for unlimited access
Try first month for just £1 / $1 / €1