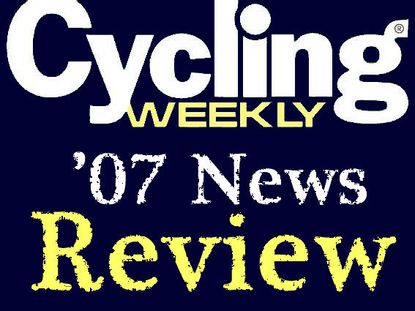 Cycling Weekly casts an eye back over the year's biggest news...
Swipe to scroll horizontally
26 FEBRUARY: The term ?from hero to zero? was invented for downfalls like Jan Ullrich?s. His career may have its temporary downs points before but by the time he announced his retirement one miserable Monday morning in Hamburg, it couldn?t have stooped much lower. Without a team, without a license and apparently damned by the doping documents of Operación Puerto, the German didn?t have a direction to turn in.
It really was a tragic demise for someone who at the beginning of their career had promised so much. His Tour de France win in 1997 had been almost robotic and appeared to herald the start of a new age of dominance.
Single-handedly he had ignited a passion for the sport in his home country and put Germany on the modern day cycling map. At his best, they held him up alongside Michael Schumacher and Boris Becker as one of the nation?s great sporting heroes. They didn?t call him Kaiser Jan for nothing.
Unfortunately for Ullrich, that one Tour win was as good as it got. Although he also went on to win the Vuelta, two world time trial titles and the Olympic road race, his career was hampered by an almost annual struggle with his weight, a recurring knee injury and the superiority of Lance Armstrong at the Tour de France. Every year it was speculated that this one could be Jan?s but invariably it wasn?t quite.
Ullrich?s very human fallibility probably endeared him to the public more. Even his 2002 positive test following -what he claimed was- recreational use of amphetamines failed to dent his popularity.
However, despite his denials, his implication in Operación Puerto in 2006 was too much to forgive. His employers fired him, prosecutors investigated him for fraud, the press vilified him and the German public disowned him. He had reached the end of the line.
Swipe to scroll horizontally
BRITISH TRACKIES HIT SEVENTH HEAVEN
1 APRIL: It?s not often that Britain can claim sporting dominance but this was no cruel April Fools joke. As the closing ceremony brought the World Track World Championships in Palma, Majorca to an end, Great Britain were celebrating an unprecedented medal haul.
France may have twice won six gold medals in the mid 1990s, but never in the history of the event had one nation gone home with seven.
The incredible British effort was led by Victoria Pendleton who racked up wins in all three of the disciplines she was entered for. First she took the team sprint in partnership with Shanaze Reade before blitzing the individual sprint and the Keirin. ?I can?t believe I?ve done all three,? she said.
Chris Hoy also significantly contributed, notching up golds in the Keirin and the kilometre time trial. Bradley Wiggins was the other big hero, coming out of the championships with world titles to his name in both the individual and team pursuit.
But it was far from just these individuals who made the 2007 World Track Championships so memorable. Former rower Rebecca Romero and the male team sprinters each claimed silvers, while Ross Edgar and Jamie Staff took bronze medals. What really hit home, though, was the incredible level of confidence, unity and shared objective throughout the team.
While more senior riders were winning medals, select younger members of the squad were gaining valuable experience for future championships. With the Olympics in Beijing next year and London Games of 2012 looming ever closer, there?s never been a better time for followers of British track racing.
Feet finding fastman: Mark Cavendish
Swipe to scroll horizontally
18 APRIL: One moment he was just another neo-pro trying to do his best in a bunch gallop. The next thing Mark Cavendish knew, he was blazing across the finish line, arms in the air, with former Tour green jersey winners Robbie McEwen and Erik Zabel trailing in his wake.
Suddenly, by winning the Scheldeprijs semi-classic in Belgium, Mark Cavendish had announced his arrival in the top echelons of pro-road sprinting. The race?s list of past winners reads like a who?s who of the gallopers and the Manxman didn?t disappoint in justifying his place on that roll of honour by claiming more sprint victories as the season went on.
Following the Scheldeprijs, Cavendish also took stage wins in the Four Days of Dunkirk, Tour of Catalonia, Elektro Tour, ENECO Tour, Tour of Denmark and Tour of Britain. By the end of the year, he?d notched up a total of eleven victories ?more than McEwen did in his debut year.
But it wasn?t all fun and games for Cavendish in stage races. His run of form got him selected for T-Mobile?s Tour de France team but events didn?t fall his way. On the occasions that he wasn?t floored by crashes on the run-in to sprint finishes, Cavendish was overwhelmed by the strength in depth of the others sprinters around him.
Watching Cavendish it was easy to forget that he is still just 21 years old and often punching well above his weight. It was only because of his meteoric rise at the beginning of the season that expectations of him were so high at the Tour. As planned, his team pulled him out when the race hits the mountains. They knew like we do: there is still a lot more to come from Cavendish in the future.
Swipe to scroll horizontally
24 JULY: The reformed doper David Millar was holding a press conference when the devastating news broke on the Tour de France?s second rest day. Alexandre Vinokourov, an aggressive animator of so many races in the past, had just tested positive for blood doping.
Millar?s initial shocked reaction must have been what was felt through the cycling world many times over. ?This is f?ing trouble,? he said. ?If a guy of his class has done that then we may as well pack our bags and go home.?
After Landis and Operación Puerto last season and then Patrik Sinkewitz earlier in the race, this was the last thing the Tour needed. Vinokourov?s positive was more than just a case of a popular ?if somewhat suspect- rider being caught with his pants down.
Not only in one fell swoop had Vinokourov tainted another vast swathe of cycling?s rich history, but he?d brought the Tour to its knees. How much more betrayal could the race take from its riders? Did it still have any credibility left? The signs seemed to suggest no.
The murmurings that the race should be halted there and then were entirely serious. German TV had already stopped broadcasting the race. Certain French papers ran obituaries for Henri Desgrange?s creation. How could it go on like this?
Yet despite another positive test from Cristian Moreni and the whole debacle surrounding Michael Rasmussen, the Tour somehow managed to limp home to Paris.
In some respects, the new low this year?s tour sunk to was needed. Many felt it had to get this bad before cycling could change its act. The same sort of thing has been said with all the big doping scandals before, but according to some sources, even the dodgiest teams are waking up to the reality. If professional cycling is to survive, it now needs to be as clean as a whistle.
The Tour in London: lovely
Swipe to scroll horizontally
7 JULY: When Mayor Ken Livingstone first announced that London was bidding to host the start of the 2007 Tour de France, he had promised one of the most spectacular Grand Départs ever. In a fine ?some would say rare- example of a politician living up his promise, many would agree he delivered.
The Westminster prologue circuit was always going to look impressive with the Houses of Parliament and Buckingham Palace sitting in the backdrop. But what really made the weekend were the hordes of fans, the summer weather and the party atmosphere that descended on the race.
Transport for London estimated that two million fans were in the capital to watch the prologue. Even more are thought to have lined the roadside through Kent for stage one.
?I never expected to see so many people,? said Bradley Wiggins. ?I was hoping for a big crowd but the numbers were amazing.? Giving the Mayor further credence, he added: ?A lot of the guys are saying this is the best start ever.?
Although the anticipated head to head between Wiggins and David Millar in the prologue was eclipsed by the domination of Swiss specialist Fabian Cancellara, both Brits showed themselves well over the weekend. Wiggins took fourth in the opening 7.9km loop round London while Millar disappointed by his 13th place, went out on a long attack the next day to eventually land him in the King of the Mountains jersey.
Logistically the whole weekend went perfectly without any of the problems that have sometimes troubled other big road races on these shores. The British press got largely behind the race and thankfully, at least while over here, the threat of doping scandals and terrorists was kept at bay.
After the race the mayor was talking of the Tour coming again: ?We will have a look at another Grand Départ soon after the Olympics?there?s also the opportunity for the Tour to come through London as one of the stage towns mid-race.?
Swipe to scroll horizontally
SHADY PAST COMES BACK TO HAUNT THE CLEAN TEAM
22 MAY: Jef d?Hont is not the first person to retire from cycling and write a book about drug taking in the sport. Far from it. What was notable, however, was that the former Team Telekom soigneur?s revelations were not just dismissed as a bunch of sour grapes. He opened a whole can of worms and fuelled a German appetite for scandal that ruled a big black line through some of cycling?s recent history and eventually resulted in one of the sport?s biggest and most progressive sponsors calling it quits.
Not only was CSC team manager Bjarne Riis forced to admit he doped to victory in the 1996 Tour, rendering that year?s result almost meaningless, but the re-launched T-Mobile team with it?s strong anti-doping stance were shaken to its very foundation. Given they were reincarnation of the Telekom team was bad enough, but the turn-around admission by sporting manager Rolf Aldag that he had also doped in his racing days added huge embarrassment.
But having just about ridden through this storm, things only got worse for T-Mobile when it was revealed during the Tour de France that Patrik Sinkewitz had returned a positive for testosterone. Luckily for the team he?d already crashed out of the Tour, so they were saved the indignity of being ?invited? to pack their bags mid-event as Astana and Cofidis were later.
Nonetheless, the Sinkewitz case could not be dismissed as easily as those concerning the Telekom team of the past. Bygones can be bygones but Sinkewitz was supposed to be part of a new guard. Initially he apologised and said he?d been acting alone but later on in the year made more revelations that implicated other former team mates of his. He claimed that even as late as last year, the T-Mobile team were involved in systematic doping at the University of Freiburg.
When Laurent Bernucci tested positive for an appetite suppressant at the end of the season, the writing was on the wall. The team suspended racing there and then and the sponsor announced their withdrawal last month.
Swipe to scroll horizontally
OLYMPIC DREAM LEAVES GRASS ROOTS HIGH AND DRY

1 FEBRUARY: One of the supposed spin-offs of hosting the Olympics is that it will leave a legacy that benefits sports and the community at a grass roots level. Funding and facilities will be improved, host areas will become utopias and the general masses will be inspired to fitness by the great sporting feats of the home nation athletes.
Or so the theory goes. The reality seems to be a lot less savoury. After being promised a big Velopark to replace the much loved but now demolished Eastway, London?s racing cyclists now look in danger of being short changed. Instead of benefiting grass roots cycling, the pursuit of the Olympic dream could leave the sport in the capital high and dry.
The big blow arrived in February when the Olympic Development Authority (ODA) revealed their plans to shoehorn the whole complex into a seven hectare site. Eastway used to occupy 24 hectares and although plans for a velodrome and BMX still track stood, the proposed road circuit was a joke. As for the off-road trails which original plans had proposed 6km of, they were practically non-existent.
Fuelling the fire of angry Eastway users has been the delay in opening the interim Eastway replacement site at Hog Hill. In the meantime London racers have had flit between non-cycling specific circuits at the Royal Docks and the Ford test track at Dunton.
Since the reduced plans were revealed in February there have been prolonged negotiations between the various parties involved. These include British Cycling, the Eastway Users Group, the London Assembly and the ODA. The general consensus now is that the outlook is looking considerably better but there?s still not enough in the way of off road trails. At the time of writing, BC were still only negotiating for a site half the size of Eastway.
Hot action: Stuart O'Grady takes Paris-Rouabix
Swipe to scroll horizontally
15 APRIL: Climate change seems to have made itself known to us in many different ways; one of them this year was a roasting hot Paris-Roubaix. Better known for the wet and cold conditions that make the spring classics that little bit more epic, the 2007 version was a dry and dusty affair in which the race was characterised less by crashes and crevaisons than riders suffering cramp. That an Australian won, perhaps says it all.
?I was on a good day but the weather helped me a lot too,? said Stuart O?Grady. ?Back home in Australia I?m used to training in 30 or 35 degress. For the European riders that sort of temperature proved a bit too much.?
The April heat wave in northern Europe affected the other Flemish classics too. The Tour of Flanders won by Allesandero Ballan was also warm while at the usually windy Ghent-Wevelgem there was barely a breeze in the air. The latter event was won by Marcus Burghardt after he and second placed team mate Roger Hammond out manoeuvred Oscar Freire in the break.
Swipe to scroll horizontally
THE MOST BORING CLASSIC EVER?
29 APRIL: Liege-Bastogne-Liege is rated by many as one of the toughest classics on the calendar. But if recent trends continue, then in the next couple of years, they?ll be settling the race with a bunch sprint.
Every year the decisive selection in the race seems to take place a little bit closer to the finish. This year the race was still being led by a 60 rider group until just 4km to go when Frank Schlek and eventual winner Danilo Di Luca finally put down the hammer in the streets of Liege.
Things weren?t much more exciting in the other Ardennes Classics when David Rebellin won Flèche Wallonne for a second time. The man they call ?the priest? followed in the wheels all race and didn?t make a single move until the final climb up the Mur de Huy. Classic wasn?t the word for either of the races.
Swipe to scroll horizontally
30 SEPTEMBER: You can?t blame organiser John Rawnsley for deciding to cancel this year?s Three Peak Cyclo-Cross. The few isolated outbreaks of Foot and Mouth disease may have occurred over 200 miles away down in Surrey but the running of this Yorkshire institution depends heavily on the goodwill of the local community.
In 2001 the area was devastated by the disease and with the perceived threat running high, Rawnsley wisely chose the sensitive option instead of jeopardising future editions of the event.
For Rob Jebb this meant he was denied the opportunity to take a record seventh consecutive win in the event. Undeterred, he packed his bags and instead headed off to Pennsylvania for the American equivalent of the Three Peaks. There at the Iron Cross event, he showed that he is still reigning king of the long distance mountain race when he won ahead of US rider Christopher Beck and CW?s own Stu Bowers.
Swipe to scroll horizontally
3 SEPTEMBER: When Jane Tomlinson was told in 2000 that she had just six months left to live, she -like many other people in her position- decided she was going to make the very most of her time.
?I didn?t want my family to be left with memories of dying but of enjoyment, especially for the kids,? she told CW in March.
Not long after being given this prognosis, Tomlinson took up running and did the London marathon. Then she found herself on a bike, competing in an Ironman triathlon and doing a monster 4,214 mile ride across America. In the process she inspired many other people with her book and raised £1.75m for charity - both through her own feats and organising events for others.
This September, seven years after being given that original prediction, Tomlinson?s cancer finally caught up with her and she died in her home town of Leeds aged 43. ?Her aim was to leave us with fantastic memories, none of us knew how fantastic they would be,? said her family.
Swipe to scroll horizontally
6 JUNE: Russell Downing has not had much luck when he?s made progressive career moves abroad. The Linda McCartney squad folded around him, iTeam Nova didn?t live up to promise and, this year, immigration officials cut short his season with US-based Health Net-Maxxis squad after denying him re-entry to America.
?This is my story all over,? said Downing. ?As soon as things start going right something comes along to spoil it.?
Downing had been racing in the States for the first part of a year on a simple traveller?s visa rather than a work one. But when he returned to the states from a short mid-season break at home, he was turned around at Philadelphia airport. Discussions at the US embassy in London didn?t go any better either. He was accused of lying to try and get into the country and told not to reapply for another six months.
Naturally Downing responded in the only way he knows how: by winning races. While these complications were going on, he took two Premier Calendar races and a round of the Elite criterium series.
Could it be magic: Malcolm Elliott
Swipe to scroll horizontally
ELLIOTT STILL HAS A MAGIC TOUCH
1 SEPTEMBER: Five years on from his return to racing, Malcolm Elliott is perhaps not quite as visible as he was in the early years of his comeback. No longer does he find himself up there week in, week out and contesting the overall competition of the Premier Calendar.
He might not be so consistent anymore but that doesn?t mean Elliott still can?t pack a punch. This year, despite his 46 years of age, he?s peaked for two of the most sought after events on the domestic road calendar. Proving his versatility, he was fastest in a tight group sprint at the end of the East Midlands CiCLE Classic, then at the Newport Nocturne he took off early and dominated the event with a long solo break.
?The older you get, you do come to appreciate things like this,? he said. ?You don?t know if it?s going to be your last ever win.?
Swipe to scroll horizontally
DI LUCA JOINS THE DODGY LIST
20 OCTOBER: The end of the year should have been a celebratory time for Danilo Di Luca. On paper it had been his best season ever. He?d won Liege-Bastogne-Liege, claimed overall victory on home soil in the Giro d?Italia and, with just one race to go, was leader of the ProTour.
But a shadow had been hanging over Di Luca. The so called ?Oil for Drugs? investigation from 2004 had reared it?s head again during the Giro and along with third place finisher Eddy Mazzoleni, he?d was heavily implicated. In addition to this, dope tests from Giro revealed abnormal hormone levels in his urine.
In July, Di Luca had to go and face the Italian Olympic Committee and was eventually handed down a four month ban for his association with a medic who had been suspended by the Italian Cycling Federation. This meant he couldn?t ride the Tour of Lombardy and, to the benefit of Cadel Evans, was kicked out of the ProTour standings. Now barred from signing for a team in the top division, Di Luca has subsequently joined the small LPR team.
Swipe to scroll horizontally
TOUR OF WESSEX BRINGS NEW FORMAT TO PREMIER CALENDAR
4 NOVEMBER: British cycling has been crying out for something like this for years. So when event promoters Pendragon Sports announced they were planning to combine their three-day Tour of Wessex cyclo-sportive with a Premier Calendar road race it seemed like a step a right one.
Following the example of events like the Cape Argus ride is South Africa or even the London Marathon, 2,000 sportive riders will follow behind the new elite stage race. The plan is that it will help bridge the gap between top competitors and ordinary club and casual cyclists. It should also make more of a spectacle of out both domestic road racing and sportives.
?We are seeking to break boundaries,? said Nicolas Bourne of Pendragon Sports. ?There isn?t currently anything else quite like this out there, and with luck it?ll be the first of many.?
Let?s hope so. The Cape Argus sportive has caught the imagination to such an extent that approximately 35,000 people now ride the event.
Swipe to scroll horizontally
21 APRIL: Crashes come as part and parcel of the job for the cyclist but for a whole team to go down in one is sheer bad luck. That?s what happened to the Recycling.co.uk team when all five of the team?s entrants got tangled up in a mass pile up 10km into the stage four of the Cinturon de Mallorca stage race.
?Simon Holt ended up with 10 bikes on him and lacerations in his legs; Adam Bonser damaged his right wrist; Ryan Bonser got bruising in his right hip and needed a wheel change, and Chris [Newton] and Graham [Briggs] got tangled up as well,? said team manager John Herety.
A ferocious chase saw Newton, Briggs and Ryan Bonser rejoin the bunch but Holt and Adam Bonser abandoned. The team?s woes were further added to when Herety himself came down with food poisoning mid-race. ?It was the first time in 18 years as a team manager I?ve had to abandon,? he quipped.
Swipe to scroll horizontally
23 SEPTEMBER: The Hovis London Freewheel seemed such a good idea that you were left wondering why no one had come up with it before. What better way was there to spend a sunny Sunday afternoon than by idly pedalling round the usually traffic clogged streets of central London closed off to all but cyclists for the day?
80,000 cyclists turned out for the inaugural event for which 14km of roads were shut down. Taking in St James Park, Buckingham Palace, the Embankment and London Bridge, it took in some of London?s most famous sights.
It felt like the summer?s Tour de France all over again, the only difference being that it was the public now on bikes. It fact the event proved so popular that the Mayor of London?s Green Transport Advisor Jenny Jones conceded: ?We will have to think seriously about making it much bigger next year just to keep up with demand.?
Swipe to scroll horizontally
17 JULY: There weren?t many things to cheer about in the second half of this years Tour but one thing that did seem worth celebrating was the emergence of the Colombian climber Juan Mauricio Soler.
Starting with his audacious stage victory across the highest passes in the race, the attacking, ungainly-looking style of the little known 24 year old added a touch of freshness to a Tour that became increasingly wearisome. He also brought back memories of the Tours of yesteryear when compatriots such as Lucho Herrera and Fabio Parra used to rule the high cols.
In winning the stage and eventually taking the king of the mountain?s jersey, Soler also helped justified his Barloworld team?s wild card invite to the Tour. Further confirmation that they were a good choice came when Robbie Hunter won the stage into Montpellier and Welshman Geraint Thomas started and finished the Tour as the youngest rider in the race.
Swipe to scroll horizontally
PUBLIC BIKE REVOLUTION IN PARIS
15 JULY: Public bicycle schemes in cities are all good and well in theory but history has generally taught us otherwise. More often than not, cities that have tried to experiment with such an idea have seen their stock of bikes rapidly slip off into disrepair, people?s homes or the local canal.
Not so for Paris though which launched it?s Velib scheme in mid-July. So far it has been a resounding success, attracting lots of use and putting into circulation over 20,000 robust bikes which can be picked up and deposited at almost 1,500 locations around the French capital.
The key to the scheme?s success is in the technology which allows automated bike stands and administers the scheme effectively. A hefty deposit will be taken from the user?s debit card should a bike not be returned and the pricing policy (free for the first half hour) works in favour of those making short journeys. So far, the biggest problem has been the accumulation of bikes in stands at the foot of hills like Montmartre and an absence of them at the top.
Swipe to scroll horizontally
31 JULY: Whether you like their argyle jerseys or not, one of the most reassuring things seen this year, were the number of top anglophile professionals willing to sacrifice a place on a ProTour squad to theoretically step down a level and join Jonathan Vaughter?s explicitly clean Team Slipstream. There?s has been a lot of gestures that the world of professional cycling is serious about cleaning up its act but this exodus has got to be amongst the most sincere. All 25 riders on the US based team are already undergoing blood and urine testing and their aim is to be the most transparent team in cycling.
Amongst those making the move are Tour stage winners Magnus Backstedt, David Millar and David Zabriskie. Although it means riding at the lower UCI Continental Pro level, the good intentions of the team seem to have impressed the Tour de France organisers and a ride in cycling?s biggest race next year might well be on the cards.
British road champ: Nicole Cooke
Swipe to scroll horizontally
3 FEBRUARY: Having spent over a month training in the country beforehand, Nicole Cooke got her season off to the best start possible when she won the three-day Geelong Tour and the accompanying World Cup race in Australia.
The defence of her World Cup title then continued to go solidly once back in Europe as she notched up several warm-up results in Italy before striking out alone on the final climb of the Bosberg for a dominant win in the Tour of Flanders.
Throughout the rest of the World Cup campaign, Cooke defended her lead well and was only toppled when the re-emergence of a knee injury and the UCI decision to award double points conspired against her in the final round. The need to have the knee operated on saw Cooke sit out of the World Championships but all in all it was yet another very solid year in which Cooke also claimed victory in the women?s Tour de France and the National Road Championships for an incredible eighth time.
Swipe to scroll horizontally
THERE GO THE MEN IN BLACK
25 JULY: There?s been lots of doping issues this year but if there was one topic that?s been particularly hot it?s been that of out of competition testing. Ever since UCI anti-doping boss Anne Gripper refereed to the ?Men in Black? ?pros training in nondescript cycling kit rather than team issue wear- there?s been a small fascination with the subject.
At first the idea seemed slightly comical. But then the lengths that some riders would seemingly go to avoid out-of-competition dope tests suddenly hit home as the lies about where race leader Michael Rasmussen had been training unfurled at the Tour de France.
Trying to justify why he?d missed several out of competition tests requested from both the UCI and the Danish Olympic Federation, Rasmussen had claimed he?d been out of touch, training where his wife is from in backwater Mexico.
Only problem was Italian TV pundit David Cassani had bumped into him out training in the Dolomites. When this came out, Rasmussen?s Rabobank team had no choice but to sack the Dane and thus eject the leader of the Tour de France. A week later Andrey Kashechkin was caught out by an out of competition test while on holiday in Turkey. He?s now claiming a violation of human rights.
Swipe to scroll horizontally
LANDIS WINS ?RACE TO THE BOTTOM?
17 MAY: It was possibly one of the ugliest incidents the whole battle with doping has ever thrown up in public.
In the courtroom at a sedate Californian University, Greg Lemond dropped the bombshell revelation that Floyd Landis? manager had attempted to blackmail him over the episodes of sexual abuse Lemond had experienced as a child.
The whole sordid incident occurred during Landis? hearing over his alleged use of synthetic testosterone at last year?s Tour de France.
Lemond was there to testify that Landis had implied to him in a phone conversation that he could confess to doping. The night before Lemond was due to appear at the hearing, Will Geohegan called him up and threatened to disclose the information Lemond had entrusted to Landis while trying to illustrate how secrets can eat away at you.
The tactic backfired spectacularly as Lemond revealed all. Although Landis sacked his manager on the spot, the damage was already done. It is now almost only a footnote to the hearing that Landis was finally found guilty of doping.
Grin when you're winning: double National Champ David Millar
Swipe to scroll horizontally
MILLAR WINS NATIONAL TITLE
5 AUGUST: David Millar has always rather fancied the idea of himself in the National Road Race Champions jersey. As a neo-pro full of fresh faced enthusiasm and the vanity of youth, it was something he used to harp on about in his column for Cycle Sport.
It may no longer be at the top of his list of priorities, but Millar finally realised his dream when he outsprinted long distance breakaway partner Dan Lloyd at the end of this year?s championship in Abergavenny. Millar then went on to record a unique double later in the month when he also claimed the British time trial title.
Millar gave the impression that the ultimate benefit of winning the British road title would be wearing the red and blue banded jersey in the Tour de France. Sadly then for Millar that won?t be happening off this win. This year?s championships took place in August this after hard hitting floods in June at their original location of Yorkshire led to their postponement. Next year?s championship should return to its June date.
Swipe to scroll horizontally
ACADEMY BOYS KEEP SHINING
19 JANUARY: British Cycling?s Olympic Academy may have already placed three of their graduates in professional teams before the start of the year but that didn?t mean they?d be resting on their laurels.
With a new intake and their new 100% Me kit sending out the squad?s unequivocal anti-doping message, the team got stuck straight into the action at the Los Angeles round of the track World Cup where Russel Hampton won the scratch race.
Further landmark results came at the Manchester round where the boys took a bronze in the team pursuit behind their more senior British counterparts. Meanwhile Alex Dowsett and Ian Stannard were knocking up victories on the road both at home and abroad.
Ben Swift particularly impressed mid-season taking various results in Europe before claiming the mountains jersey at the Tour of Britain. The real icing on the cake came at the World Championships in Stuttgart when Jonny Bellis claimed bronze in the under-23 road race.
Swipe to scroll horizontally
29 JANUARY: All too often we find ourselves complaining about the paltry sentences dished out to drivers who kill cyclists on Britain?s roads. Not in January, though, when in a landmark case, Norwich Crown Court put away the driver who knocked down top time triallist Zak Carr.
49 year old Donald Pearce from Norfolk was sentenced to five years imprisonment for causing death by dangerous driving. He had struck Carr on the A11 in Norfolk in October 2005 after a night of what was deemed to be insufficient sleep. ?This will serve as a warning to others,? said Judge Simon Barnes.
Unfortunately in the same month, club cycling was struck by another tragedy on British roads when 53 year old Mel Vasey of the Birkenhead North End CC was killed while on a club run in the Wirral. The incident was particularly poignant as it happened just over a year after four members of the Rhyl CC were killed on a club run just down the road in North Wales.
Swipe to scroll horizontally
1 JULY: The British boom in sportives showed no sign of abating this year with scores of new events coming onto the calendar. The biggest of these was the British Cyclo-Sportive, which celebrated the Tour?s arrival in Britain by following the route of Stage One across Kent. Within ten minutes of entries opening, 1000 had already been taken despite their relatively high £40 price. By the end of the day, all 4,000 places had sold out.
The British weather wasn?t on its best behaviour on the actual day but the event was heralded a success. Going on responses at the finish, Matt Seaton, cycling correspondent for the Guardian wasn?t alone in thinking: ?The Tour created a great opportunity but the idea of having a British Etape every year would be fantastic.?
Elsewhere round the country, hardly a week would go by without a new challenge event springing up somewhere. One of the most interesting was the Etape Caledonia in Scotland which enjoyed closed roads.
Swipe to scroll horizontally
CRASHES AT THE CROSS WORLDS
28 JANUARY: Combining mud and glory, the cyclo-cross world championships are always an occasion of high drama, but no-one could have predicted the number of twists and turns that characterised this year?s enthralling race.
Erwin Vervecken successfully defended both his title and Belgium?s incredible run of seven straight successes but only after bouncing back from two crashes.
Belgium?s other favourites Bart Wellens and Sven Nijs also had a dramatic day. They were taken down while in the lead when a TV camera quad flicked a plastic barricade into their path on a fast road section.
There was similar theatre in the women?s race when both Hanka Kupfernagel and Daphne Van Den Brand threw away their chances, crashing while at the front. As for Britain?s great hope, Helen Wyman, her attempt to better her fifth place of last year didn?t so much not get off the ground but end up on it. She came down in a crash on the opening lap.
Swipe to scroll horizontally
15 AUGUST: Who came blame online bookmakers Unibet for pulling out of team sponsorship after the year they?ve had? Their Swedish registered squad was pushed around like a new kid at school as they somehow became the sacrificial pawn in the power struggle between the UCI and race organisers.
Promoted to the ProTour this year after the demise of Phonak, the team had expected to ride a better quality of calendar including the three Grand Tours. Instead they frequently found themselves sitting on the sidelines as the big organisers barred them from their races - often justifying their decision through laws prohibiting the advertising of foreign betting institutions.
To their credit, Unibet tried to appease the situation and even went to the length of removing their logo from their jersey. But this still didn?t open many doors as the organisers continued to snub to the ProTour.
At a time when sponsors aren?t quite jumping up to associate to themselves with this sport, the powers that be aren?t exactly helping it.
From BMX to boards: Shanaze Reade
Swipe to scroll horizontally
BMX STAR TAKES TO THE TRACK
24 FEBRUARY: Shanaze Reade had no idea what it meant when the pistol fired two more times after starting the team sprint at the Manchester round of the Track World Cup. This, you see, was the BMX star?s first ever track meeting and ignorant of the officials trying to flag her down, she rode her whole first lap flat out before realising that Anna Blyth was no longer on her wheel.
A problem with their Dutch opponents? starting gate meant the final had to be restarted. Not surprisingly, given Reade?s extra effort, the British pair took silver.
There was no repeat of the mistake at the Worlds where in partnership with Victoria Pendleton she claimed a rainbow jersey in just her second ever track meet. Come the summer she was back on much more familiar ground and notching up another title at the world BMX championships in Canada.
?For the 2008 Olympics, BMX will remain my priority but who knows where the track will take me,? she said.
Swipe to scroll horizontally
30 SEPTEMBER: It wasn?t fun and wasn?t particularly interesting but there?s been an undercurrent of politics running throughout the season.
This was dominated by the disagreements over the ProTour between the UCI and Grand Tour organisers but things really came to a head when the UCI and city authorities tried to prevent several big names from attending the World Championships in Stuttgart.
First the UCI tried to stop Alejandro Valverde from riding following his apparently growing implication in the painfully slow moving Operación Puerto. Then it was the turn of old legend Eddy Merckx to get the cold shoulder of the organisers.
Last but not least, just before the championships started, defending champion Paolo Bettini was told he was not welcome following his failure to sign the UCI?s anti doping pledge. The motion didn?t get through the courts and Bettini got his own back by going on to win the rainbow bands for a second time.
Swipe to scroll horizontally
CUNNINGHAM THE PRIDE OF SCOTLAND
9 SEPTEMBER: Steve Peat was still recovering from injury and the Atherton siblings just narrowly missed out, but at least the home nation got one winner when the UCI World Mountain Bike Championships were hosted by Britain for the very first time.
17 year old Ruaridah Cunningham from the Scottish Borders became Britain?s first ever world champion in the fat tyred branch of cycling when he dominated the junior downhill at Fort William in the Highlands. Having qualified fastest in the seeding run, he took the gold medal by a substantial two seconds from American John Swanguen.
Swipe to scroll horizontally
24 JUNE: Britain?s success on the women?s international road circuit doesn?t always revolve around Nicole Cooke, as the women?s version Tour de France demonstrated. Although Cooke asserted her authority to win the Grande Boucle Féminine on GC, it was refreshing to see her Raleigh-Lifeforce team mate Tanja Slater take a stage win and Specialized rider Emma Pooley finish third overall. The latter then went on to place in the top ten in both the road race and the time trial at the World Championships in Stuttgart.
Swipe to scroll horizontally
13 MAY: Olympic Champion Chris Hoy was denied one last flourish to his kilometre career when he failed to break Arnaud Tournants 2001 world record of 58.785 seconds. Making his attempt on the spectacular, high altitude velodrome in the Bolivian capital of La Paz, Hoy fell short of the Frenchman?s mark by just five thousands of a second (or 2.3cm). The Scot did however come away with the consolation prize of the world?s fastest 500m. ?It?s not the one I wanted but I?m so happy I can go home with a record,? he noted.
Swipe to scroll horizontally
22 AUGUST: The Tour of Ireland made a popular return to the professional calendar with Belgian rider Stijn Vandenbergh taking the overall win. Fittingly the 23 year old made his race winning move on the iconic climb of St Patrick?s Hill in Cork which was a regular feature until they stopped running the race in the 1990s. Since then a whole new generation of Irish cyclists have come through. Rather than Stephen Roche being amongst the favourites at the start, it was his son Nicolas who was getting all the attention.
Swipe to scroll horizontally
FEILLU WINS TOUR OF BRITAIN
15 SEPTEMBER: With just 0.49 seconds splitting overall winner Romain Feillu from second place, the Tour of Britain was the closest run it?s ever been. However the accuracy of that figure was called into question by the fact that the short prologue around Crystal Palace was manually timed by handheld stopwatch after the contracted electronic timing company failed to show. There was then further problems in North Yorkshire after local authorities denied permission to race, resulting in 21-mile mid-section of the fourth stage being neutralised.
Swipe to scroll horizontally
SPAIN GETS TWO TOUR WINNERS
29 JULY: For the Spanish, Tour de France victories are like London busses. They?ve been waiting for one since Miguel Indurain retired in 1996, only for two somewhat soiled ones to suddenly come along at once. Not only did Oscar Pereiro finally get credited with last year?s win following the Floyd Landis doping hearing, but Alberto Contador took this season?s tarnished event after inheriting the lead when Michael Rasmussen was sent home. After the Tour Contador himself faced heavy scrutiny, having initially been associated with the Operación Puerto case last year.
Premier man: Chris Newton
Swipe to scroll horizontally
NEWTON WIN PREMIER CALENDAR
17 JUNE: The first half of this year?s Premier Calendar series was characterised by the overall lead changing hands like a game of pass the parcel. With each round of the series, Dean Downing, Chris Newton and Ian Wilkinson were swapping position in the overall table as if they were football stickers. Eventually experience took over and as his rivals faltered, previous winner Newton moved clear at the Beaumont Trophy in Northumberland.
Swipe to scroll horizontally
BASSO?S DOGGED DENIAL UNRAVELLED
7 MAY: What is it about dogs and doping? Five years after Frank Vandenbroucke famously claimed EPO found in his fridge was for his pet canine, Ivan Basso finally conceded that he was indeed listed in the files at the centre of Operación Puerto, coded under the name of his dog. After 11months of persistently denying involvement and claiming that he had no dog by that name, he announced to the Italian Olympic Committee: ?I am Birillo. I knew Dr Fuentes and the bags of blood are mine.? He was subsequently banned for two years.
Thank you for reading 20 articles this month* Join now for unlimited access
Enjoy your first month for just £1 / $1 / €1
*Read 5 free articles per month without a subscription