2009 Tour de France spectator's guide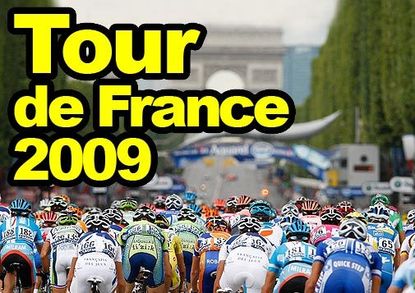 If you are planning to go over to watch the Tour de France in 2009, then you'll need to know the best places to catch the race - and the ones to avoid.
We've compiled a guide to what we think are the best places to go and watch the race - we tell you how to get to them, where to stay when you get there and the best places to go for a ride if you take your bike along.
2009 Tour de France route>>
MONACO ? OPENING WEEKEND
HOW TO GET THERE
Fly to Nice airport. It is less than 30 minutes away from Monaco by car.
WHERE TO STAY
Nice has loads of hotels to suit all budgets. Accommodation in Monaco is a bit more expensive and is already getting booked up for the Tour de France Grand Départ weekend. If you want to stay off the beaten track try www.logis-de-france.fr for charming character hotels.
SEEING THE TOUR
Thursday, July 2
The team presentation will be held in the spectacular setting of the Port Hercule. This is the event where each team is presented to the public in turn.
Saturday, July 4
The time trial stage also starts and finishes down at Port Hercule. The 15-kilometre circuit climbs up out of the centre of town, hitting the Moyenne Corniche road. The highest point is at the seven-kilometre point, then there?s an awkward section of false flat followed by the descent back to Monte Carlo.
Sunday, July 5
Stage two also starts at Port Hercule and does a small loop past the famous Casino before heading west out of town en route to Brignoles.
WHERE TO RIDE
1. Ride the time trial course [note to art: use the Cycle Sport map]. Get out on the course and see for yourself why this is about as far from the traditional Tour prologue as you can get.
2. Col de la Madone
Lance Armstrong?s famous test climb is a 12-kilometre col to the north of Menton between Peille and Sainte-Agnes. If you?re searching on the map, it?s the D22 road.
3. Col d?Eze
The hill made famous by Sean Kelly and Stephen Roche always features in Paris-Nice. It climbs out of the back of Nice on the road to Monaco and, combined with nearby La Turbie, can provide a decent test.
4. A taste of Milan-San Remo
Drive east for an hour or so, into Italy, and stop when you get to San Remo. Park up, then ride on the SP1 road to Laigueglia, which makes an excellent lunch stop. This is where the Trofeo Laigueglia (where Steve Cummings was second to Ballan in 2006) race takes place. Then ride back to San Remo on the same road. This is the final stretch of Milan San Remo, taking in the Capo Mele, Capo Cervo, Capo Berta, Cipressa and Poggio. All in all it?s a 100-kilometre ride with stunning views of the coastline.
Our sister magazine Cycle Sport rode all these routes for a feature in the December 2008 issue, which is out now.
WHAT ELSE TO DO?
If you are in Monte Carlo, you?ve got to visit the casino for a friendly game of Black Jack or a spin of the roulette wheel. The famous Casino de Monaco is open to anyone aged over 18. Entry is 10? (20? for the private rooms) also you must also present your passport. Dress smartly.
CW RECOMMENDS?
La Note Bleue ? for a nice lunch and beer
A very neat, very chic bistro bar serving excellent, but not ludicrously expensive, food. The smart terrace overlooks the beach. This is a favourite haunt of Monaco-based pros such as Brad McGee, Baden Cooke and Stuart O?Grady.
www.lanotebleue.mc
BARCELONA
HOW TO GET THERE
You can fly direct to Barcelona from airports all over the UK and on a variety of airlines. Watch out for budget airlines who might be flying to Girona and calling it Barcelona ? it?s miles away.
WHERE TO STAY
As one of the most popular destinations in Spain, it?s worth staying in or around the centre of Barcelona to give you the chance to look around. accommodation is plentiful, and there?s something to suit every budget. The city will be busy when the Tour arrives, so book early.
SEEING THE TOUR
The Tour has been to Barcelona twice before. In 1957 the city hosted two stage finishes, one won by Jacques Anquetil. The last visit was in 1965. Barcelona is the most southern point the Tour de France has ever reached.
Thursday, July 9
The Tour will take a mostly flat route from Girona to Barcelona. However, don?t bank on a Mark Cavendish win. According to the Tour?s organisers the finish will be at the top of the hill in the Montjuic quarter of the city and that will suit the Classics riders and climbers rather than the sprinters. The final route will be made public in May.
Friday, July 10
Barcelona will host a stage start the following morning, as the riders set off for their first date with the Pyrenees, at Andorra, more than 220 kilometres away.
WHERE TO RIDE
If you are taking a bike, you?ll need to hire a car or take a train out of town. Local trains are free and you can take your bikes on them. A short commute to Castelldefels, south west of the city, will open up some glorious riding in the hills inland from the coast.
You could also head north to Girona and ride where the pros train (about 1:30hr away). Most of the Garmin team live in Girona these days because the area boasts such a great variety of terrain.
WHAT ELSE TO DO
One of Europe?s greatest cities, there?s plenty to do in Barcelona. A trip up to Montjuic parc (when the Tour?s not in town) is worth the effort and will get you away from the hustle and bustle of the city. Las Ramblas is the touristy part of the city and is perhaps best avoided. If you want to eat out, the Placa Sant Jaume area is packed with good restaurants. Equally the Barceloneta area has some of the best sea-food eateries. Away from the dinner table there is loads to check out whether it?s studying the architecture of Gaudi or lying on a beach.
CW RECOMMENDS?
Avoiding Las Ramblas, it?s a tourist trap and it?s not uncommon to get ripped off.
THE PYRENEES
HOW TO GET THERE
There are a number of airports close to the Pyrenees, including Toulouse and Pau.
WHERE TO STAY
When the Tour is in town, all roads seem to lead to Lourdes because of its plentiful accommodation. Now, Lourdes may be your cup of tea, but we?d urge you to seek out some of the other gems in the region, although you?ll have to book early.
Argeles-Gazost, Bagneres-de-Bigorre and Tarbes are all far more pleasant than Lourdes. If you want to get deeper into the hills, try Luz-St-Sauveur or Cautarets.
Moving east Lannemezan, Saint-Girons, Foix and Tarascon are all larger towns that are within striking distance of the famous climbs.
Andorra is less ideal because there?s only one main road in and out and it?ll be very busy the week the Tour is due.
SEEING THE TOUR
Friday, July 10
The Tour returns to the Andorran ski station at Arcalis that has been used only once before, when Jan Ullrich won there in 1997. It?s a long slog up from Barcelona into the principality.
Saturday, July 11
The second day in the Pyrenees starts in Andorra with the climb of the Port d?Envalira, then the race heads through Ax-les-Thermes and Tarascon before climbing the Col de Port and the Col d?Agnes on its way to Saint-Girons. Not a Classic Pyrenean route but an interesting one.
Sunday, July 12
Two respected giants, the Col d?Aspin and the Col du Tourmalet have their claws filed down because the mountains are included smack in the middle of the stage where they can do less damage. There?s more than 60 kilometres from the top of the Tourmalet to the finish, but that doesn?t mean it?s not an excellent place to watch the Tour.
WHERE TO RIDE
If you stay in or near Lourdes, Bagneres-de-Bigorre, Lannemezan or Argeles-Gazost, you can climb the Col d?Aubisque, Col du Tourmalet, Hautacam, Luz-Ardiden and the Col de Marie-Blanque.
If you stay at Saint-Gaudens, Saint-Girons, Foix or Tarascon, you can climb the Portet d?Aspet, Peyresourde, Pla de Beret, Guzet Neige and Plateau de Beille, although probably not all on the same day.
WHAT ELSE TO DO
Ride your bike, ride your bike, ride your bike. The Pyrenees remain less touristy than the Alps so it?s a region for lovers of the outdoors.
CW RECOMMENDS?
Cassoulet ? if you find yourself in Foix or Tarascon, this stew of duck, goose, sausage and beans is a must. In fact it?s a bit of an obsession of ours
Steering clear of Lourdes
Riding the 100-kilometre loop starting and finishing in Bagneres-de-Bigorre and taking in the Tourmalet via La Mongie. If you?re feeling brave you could chuck in Hautacam too. Do that and you?ve done two-thirds of the 2008 Etape route.
BOURG SAINT MAURICE
HOW TO GET THERE
There are three airports near to Bourg St Maurice; Geneve, Lyon and Chambery. Geneve and Lyon are both well serviced by budget and charter airlines.
WHERE TO STAY
Bourg St Maurice is a ski resort so has plenty of accommodation from hotels to chalets. If you fancy staying somewhere else, there?s plenty more accommodation in Tignes, from budget apartments to plush hotels. It?s a nice resort with a lake and sports facilities, but be prepared to start every ride with a descent ? unless you want to tackle the Iseran.
SEEING THE TOUR
Tuesday, July 21
The Tour rides in to Bourg St Maurice for the finish of stage 16, but it would be much more fun getting to the top of the Col du Petit-Saint-Bernard to watch the riders fight it out over the second and final climb of the stage. It?s 30km to the finish from the climbs high point of 2184m so there?s bound to be someone making a bid for freedom, or an early escapee desperately trying to hang on.
Wednesday, July 22
Stage 17 leaves Bourg St Maurice and heads north to le Grand-Bornand where Linus Gerdemann won a stage in 2007. This will be the Tour?s queen stage as it covers five cols and 55.7km of climbing. If you?re legs are tired from a few day?s of riding you could hang around the team buses and get some autographs at the start, but if you fancy seeing the riders suffer, head up the first climb of the Cormet de Roseland. Make sure you leave (very) early to beat the road blocks.
WHERE TO RIDE
The riding around this area is big. Don?t go there unless you want to take in some of the most feared climbs in the Alps. Fitting a compact chain ring might be worthwhile, along with a spare pair of brake blocks.
1. Col de l?Iseran (2764m)
One of the highest roads in Europe will take you through the Val d?Isere ski resort and in to some very thin air indeed. If you go over the top and down the other side it?s a long way round and back to Bourg Saint Maurice, so you might be best taking a quick picture at the top and heading back down. Be prepared, it can be very, very cold at this elevation even in the middle of summer.
2. Cormet de Roseland (1968m)
Only used nine times in Tour history, the Roseland heads north, straight out of Bourg St Maurice. Going over the top will take you down in to Albertville from where it?s 55km back to Bourg, avoiding big climbs.
3. La Plgne (1970m)
Only used four times in the Tour?s history, a ride up to La Plagne is only 27km, and would be another out and back ride.
4. Col du Petit Saint Bernard (2188m)
Seeing as the riders are going to tackle it this year, you might as well give it a go yourself. If you want to drop over the other side, be aware that you?ll be entering Italy. The Italian side has some very tight switchbacks as we found out to our detriment when driving over in a campervan in 2007 chasing the Tour to TIgnes.
Other climbs in the area that are all a rideable distance are: Courchevel (1850m), Col de Saisies (1650m), Tignes (2093m) and Val Thorens (2197m)
WHAT ELSE TO DO
There?s a wealth of outdoor activities in the area to keep you amused during a week in the area. Lakes and swimming pools in both Bourg St Maurice and Tignes are great when the suns out and the walking in the mountains is some of the best in the world. The area has also opened up a lot of mountain bike trails, many of which can be access by ski lifts taking out all that troublesome climbing.
CW RECOMMENDS?
Raclette. It?s a big lump of cheese that will sit in your stomach for anything up to five days afterwards, but while you?re in the Alps you really should try it. If you do, make sure you have a Genepi afterwards to help break it down. Bon Apetite.
USEFUL CONTACTS
Bourg St Maurice tourist board +33 (0)4 79 12 57 www.lesarcs.com. TIgnes information +33 (0)4 79 40 04 40 information@tignes.net.
PROVENCE
HOW TO GET THERE
The south of France is peppered with airports. Marseille, Montpellier and Avignon are all close to the area around Mont Ventoux
WHERE TO STAY
Take your pick of any of the picturesque small French towns that surround Mont Ventoux. The whole area is set up for holiday makers, but you?ll want a view of the hills from your bedroom window. Nyons, Faucon, Bédion, Mazan, Malaucene and Beaumes de Venise are all possible bases
SEEING THE TOUR
Saturday, July 25
This is the big one. Just one day before Paris, the Peloton tackle Mont Ventoux. Even if the yellow jersey has a five minute lead going in to this stage there?s a chance that it could all change by the time the riders get to the top of the Giant of Provence. There?s a few lumps and bumps on the way, but it will all happen on the slopes of the
WHERE TO RIDE
Everywhere and anywhere. The riding in this part of France is some of the best in the world with quiet, virtually car free country roads cutting through lavender fields and vineyards. It really is as idyllic as it sounds. Aside from Mont Ventoux there are plenty of small climbs in the area to allow you to put together a challenging route. The Col de Peyruegue that the Tour went over in 2006 on it?s way to Gap is a short climb out of a beautiful valley west of Nyons.
There are also enough flat roads to give yourself an easy day or two if you?ve been packing the miles in. But of course what you?re really going there for is to ride the Ventoux. The climb entered in to cycling folklore long ago, and it?s easy to see why.
The climb from Bedion is the most popular but it?s also worth trying the road that climbs from Sault to Chalet Reynard. The road that drops down to Malaucene is one of the best descents you?ll find, with long straights and wide sweeping corners to get the adrenaline going. The reward at the bottom is a wide choice of cafés for lunch.
There are plenty of sportives in this area, including La Ventoux (run by www.sportcommunication.com). There?s even a 24hr race where the winner is the rider who climbs to the summit the most times.
WHAT ELSE TO DO
Provence is the perfect place to kick back, relax, and enjoy the surroundings, food and the drink. Tourists go to the area to soak up the area, so while there is infrastructure for tourists, it?s not as in your face as it is in the Alps. If it?s hot, a days canoeing in the Ardeche Gorges is a great distraction from cycling.
CW RECOMMENDS...
A day trip to Avignon is well worth the effort.
RELATED LINKS
2009 Tour de France route
2009 Tour de France: week by week guide
Thank you for reading 10 articles this month* Join now for unlimited access
Enjoy your first month for just £1 / $1 / €1
*Read 5 free articles per month without a subscription
Join now for unlimited access
Try first month for just £1 / $1 / €1
Founded in 1891, Cycling Weekly and its team of expert journalists brings cyclists in-depth reviews, extensive coverage of both professional and domestic racing, as well as fitness advice and 'brew a cuppa and put your feet up' features. Cycling Weekly serves its audience across a range of platforms, from good old-fashioned print to online journalism, and video.