4,500 mile ride across Europe to fight rare cancer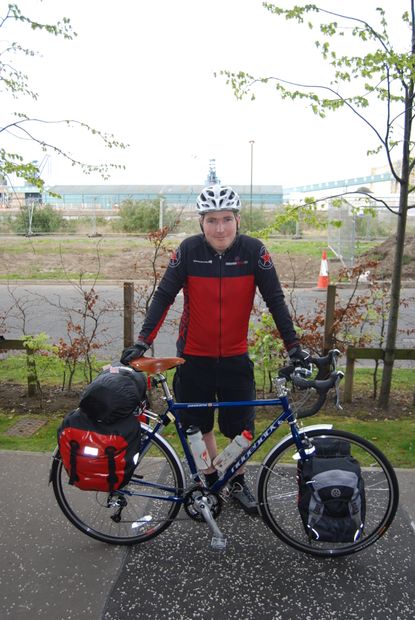 Intrepid cyclist Richard Sherwood will embark on a 4,500 mile solo trip across Europe this summer in aid of The Cancer Research and Treatment Trust, a charity close to his heart.
The journey, which will begin on June 26, is motivated by his wife Helen's battle with Gestational Trophoblastic Disease (GTD), a rare type of cancer. Triggered by her pregnancy, it was detected at the 12-week scan for what would have been their first child, and left them unable to conceive. Richard hopes to raise money for research into the little-understood causes of the cancer.
He will set off on a Ridgeback Panorama touring bike from North Cape in Norway, the most northerly point in Europe, and follow Eurovelo Route 7 down through Sweden for a month before arriving, via Denmark, in Wittenberg, Germany.
From then it's on to Passau, Austria - taking in the Czech Republic on the way - and across the Alps. After three weeks in Italy, stopping in Tivoli, Crotone and Pozallo, Richard will be on the home stretch to Valletta, Malta.
'The biggest challenge will be mental - knowing that you can't have a rest day' he says. 'Cycling in the far North, which is largely unpopulated, could get pretty lonely too' he adds. 'Physically, though, the hardest part will be over the Alps from Austria to Italy'.
Richard expects the trip to take two and a half months at an average of 70 miles a day. Given that his furthest previous ride is 170 miles in two days, he's unsurprisingly training hard, averaging 200 miles a week including a daily 20-mile loop to and from his job at a bike shop.
For more information on the trip, visit www.richardrideseurope.com.
Thank you for reading 20 articles this month* Join now for unlimited access
Enjoy your first month for just £1 / $1 / €1
*Read 5 free articles per month without a subscription
Join now for unlimited access
Try first month for just £1 / $1 / €1