ANC-HALFORDS: Paul Watson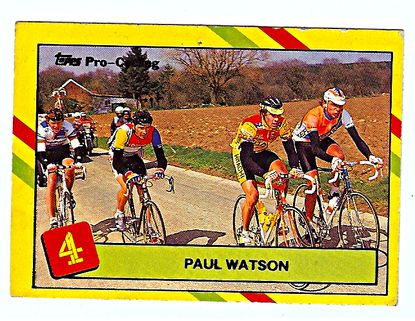 Get The Leadout Newsletter
The latest race content, interviews, features, reviews and expert buying guides, direct to your inbox!
Thank you for signing up to The Pick. You will receive a verification email shortly.
There was a problem. Please refresh the page and try again.
Swipe to scroll horizontally
'We were in the Blue Peter studio when we heard we'd got a place in the Tour,' says Paul Watson.
'The presenter, Caron Keating, came running in and said 'You're in, you're in' and we looked at each other and said 'Oh f*** what do we want to go and do that for?!' I don't think anyone, well not the riders, truly thought we'd get in it. Not that year.'
Watson, a livewire whose mind works at a mile a minute, found the lifestyle of a professional cyclist hard going. 'I loved the amateur years. No money but a good laugh. You'd come out from dinner and your sides would be hurting from laughing so much but then you turn pro and it all gets horribly serious. I don't think I was a bike rider in the true sense of the word. I was good at it but I didn't have a passion for it.'
ANC was a hybrid of the two philosophies, a mix of fun tempered by serious moments. 'We had a great team. Malc, Adrian and Joey were class riders. Shane was such a great laugh. I'd sit at dinner and think it was like the Mad Hatter's Tea Party. We felt like we were on a crusade really, all Brits together, going abroad, racing hard, trying to get involved. felt like we were on a crusade really. We were naïve.'
In early 1987 the team headed to the south of France to race and train. Watson was supposed to be picked up by the rest of the team at Newport Pagnell services on the M1, near his home in Milton Keynes. 'They say I wasn't there but I'll swear every penny I've got I was. They forgot to pull in,' he says.
Next day, Watson got the ferry and drove non-stop to the French Riviera. 'We got there at 4am, Griffo let us in to the hotel still saying it was my fault. When I woke up I was absolutely fuming.'
The next day saw the Grand Prix d'Ouverture, the traditional season-opener. 'I only had an old training bike. It was a pig of a bike. I remember being next to [Gilbert] Duclos-Lassalle [an established French pro] and he looked me up and down, looked at the bike. I thought he was going to get me kicked out.
'I was fuming still so the first break went and I went with it and ended up with third.'
Later in the spring Watson was sixth in Fleche Wallonne. 'Looking back I realise the Tour was not for me. If I could do it again I'd do the spring and autumn Classics and have the summer off. I have the ability to get it all out in one day but I'm not good the next day.'
But Watson's result in Fleche Wallonne meant he was in demand. 'We kept getting these invites to races but they wanted me and Malc there as we'd had the results in the spring. The team accepted the invites because it was building towards getting a place in the Tour but it meant I was burnt out before we even got to Berlin.
'I remember I did the Milk Race for the Lycra-Halfords team, although we were all riding together really, had one day to wash my kit and then was off to do a stage race in France.'
By the time the team arrived in Berlin, Watson's morale was gone. 'I was tired, I was ill, I wasn't getting on too well with the team managers.
'Me and Phil [Griffiths] were too similar, it was a clash of personalities, nothing major. He was hyper, I was hyper. I liked the Belgian guy, Ward Wouters, he was calming. He'd come in the room with a little card, everything laid out, what time we had to be where, that was great for me. I was like a racehorse, all twitchy.'
Swipe to scroll horizontally
"Quitting the Tour is easy - you just stop"
Watson lasted six days. 'It was fast, faster than anything we'd done before. And so hot. Humid as hell in Berlin. We weren't getting paid, the bikes were starting to fall to bits. I could have pushed on but I'm glad I didn't. I was feeling sorry for myself and I wanted to go home. Qutting the Tour is easy - you just stop, although no one wants you around once you're not part of it, and they take you to the nearest airport next day.'
The Tour ended Watson's season. 'I went on holiday. I stopped training. I was exhausted. I didn't know what to do, then Hitachi rang up, offered some pretty good money and off I went.'
He moved to Belgium and was placed in a hotel by Hitachi but his heart wasn't in it. 'I was only training an hour a day. The team manager [Jef] Braeckevelt was friendly with the hotel owner and he knew I wasn't training so I had to be cleverer. I'd ride out to the canal, have a sleep on a bench, go and get a coffee and a cake and put a spurt on so I was sweating when I got back to the hotel. A couple of weeks later Braeckevelt said to me 'Good boy, now the form will come.'
Watson struggled with the lifestyle. On a training camp in Cannes he spent an afternoon trying to persuade his team-mates to go into town for a coffee. 'It was a nightmare. I'd get one guy to put his shoes on then go and get another and by the time he was ready the first guy would be back in bed. I wanted to scream 'Will someone please come into town with me'. In the end the manager drove us into town, past all the bars and cafes so we could walk around a hypermarket. I was almost in tears.'
At the end of the year Watson met a Guardian journalist, Geoffrey Beattie, who is now more famous as a psychologist on Channel 4's Big Brother. 'It was the festive season, I got a bit relaxed and started talking. Then on January 14 there it was 'Drugs in Sport'.'
Was it a stitch up' 'Well, I definitely said it but it was cheesy the way it came out.'
The British Cycling Federation refused Watson a racing licence for 1989 on the grounds he had brought the sport into disrepute so he went to America.
He raced mountain bikes, which was fun, and lucrative, invented a bike lock, then in 1995 invented a wheel hub that runs the spokes straight into the centre of the hub without having to bend them. Visit the US Patent Office ' www.uspto.gov - and type in patent number 5429421 to have a look.
Several years later he opened a cycling magazine by chance and saw his design being marketed by Campagnolo. 'I rang the patent office and they said that it was definitely a breach, then asked me when I last renewed the patent. I didn't know you had to renew every four years. Maybe Campagnolo were writing to me in the States but I'd moved. Fifty pence a hub would have been nice, wouldn't it' I'm not upset, I'd just like recognition that it was my design.'
But Watson doesn't hold a grudge against Capper. 'I wrote to him afterwards to thank him. He bit off way more than he could chew. He ran off in the end but what could he do'
'He knew nothing about cycling but he got us to the Tour. He was pretty off-the-wall. In the team car he surrounded himself with sandwiches, bars of chocolate, bottles of coke. He'd eat from start to finish. At the training camp he went to get supplies and came back with tins of spam and sausages and baked beans in chilli sauce. He said: 'This is good stuff, this'll get you going'.'
PICTURE: In 1988, Channel 4 released a sticker album to promote its coverage of the Tour de France. By then Watson was riding for the Belgian Hitachi team. The caption on the back of the sticker read: "Brilliant climber but suffers from inconsistent form."
Swipe to scroll horizontally
Shane Sutton ' The Laughter Couldn't Last
Thank you for reading 20 articles this month* Join now for unlimited access
Enjoy your first month for just £1 / $1 / €1
*Read 5 free articles per month without a subscription
Join now for unlimited access
Try first month for just £1 / $1 / €1
Get The Leadout Newsletter
The latest race content, interviews, features, reviews and expert buying guides, direct to your inbox!
Sports journalist Lionel Birnie has written professionally for Sunday Times, Procycling and of course Cycling Weekly. He is also an author, publisher, and co-founder of The Cycling Podcast. His first experience covering the Tour de France came in 1999, and he has presented The Cycling Podcast with Richard Moore and Daniel Friebe since 2013. He founded Peloton Publishing in 2010 and has ghostwritten and published the autobiography of Sean Kelly, as well as a number of other sports icons.