ARMSTRONG SAYS ASTANA COULD SCOOP TOP THREE PLACES IN TOUR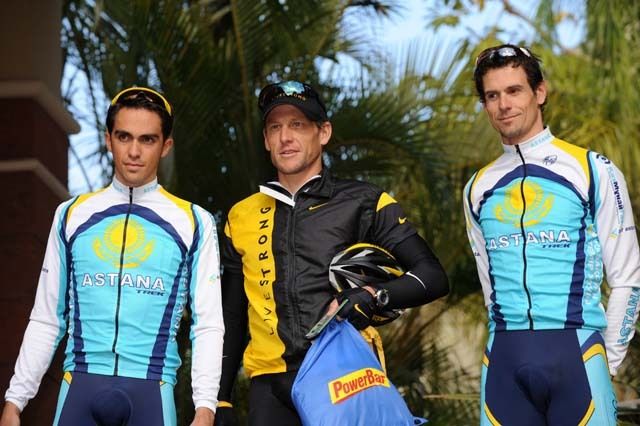 Lance Armstrong believes that it could be possible for Astana to take the top three places in the Tour de France this July. In an interview with the website The Daily Beast, the American says that any one of five riders in the current Astana line-up could be the winner.
Due to start his comeback after a three-year absence on January 20th in Australia?s Tour Down Under, Armstrong added that he might continue racing in 2010.
?We have five riders that have been in the top five of the Tour,? Armstrong pointed out.
"Theoretically any of them could be very close.
"And I think more realistically than theoretically, you could perhaps put three guys on the podium if you did it right.
?(It would) be exciting for us. Not exciting for the race. But exciting for us.''
Should Astana scoop all top three places, it would be a first in any major Tour in modern cycling history.
Three riders from the same team taking the top three places in a major Classic is not quite so unusual. The last time it took place in a Monument was when Mapei scooped all three places in Paris-Roubaix in 1996, with Johan Museeuw winning. The order of who crossed the line in what place was allegedly decided from the team car.
Apart from Armstrong himself, the other ?big four? in the Astana 2009 line-up are Alberto Contador, Levi Leipheimer, Andreas Kloden and Haimar Zubeldia, making them far and away the strongest team for major Tours this season.
Contador has won the Tour, Giro and Vuelta, Leipheimer has finished second and third in the Vuelta and third in the Tour, Kloden has twice finished on the Tour podium and Zubeldia was fifth in the 2003 Tour.
Armstrong added that he has not ruled out continuing for another year after 2009.
"I'm having fun right now and feeling strong and healthy. I certainly don't want to limit it to one year. But it could be one. It could be two.''
RELATED LINKS
Lance Armstrong exclusive interview
Lance Armstrong press conference from Tenerife
Contador becomes quickest to complete Grand Tour set
Lance Armstrong: Rider Profile
Alberto Contador: Rider Profile