Armstrong's Damien Hirst bike fetches half million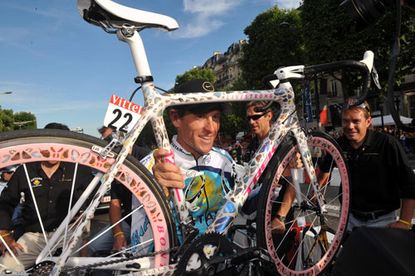 Lance Armstrong's Damien Hirst-designed 'butterfly bike' fetched a cool $500,000 during an auction at Sothebys in New York on Sunday in aid of the rider's LiveStrong cancer charity.
The one-off creation by British artist Hirst was ridden by Armstrong during the final stage of this year's Tour de France. It's selling price makes it the most expensive bike in the world.
Hirst used real butterfly wings, lacquered onto the frame of a Trek Madone.
Bono, the lead singer of Irish band U2, had approached Hirst to create the bike for Armstrong, with the view of it being auctioned for the LiveStrong cancer charity. Art fan Armstrong also has a Damien Hirst artwork in his collection.
"The technical problems were immense," Hirst said when the bike was unveiled in July.
"I wanted to use real butterflies and not just pictures of butterflies, because I wanted it to shimmer when the light catches it like only real butterflies do, and we were trying not to add any extra weight to the bike."
The project attracted some negative attention, with some animal rights activists branding the use of real butterfly wings as 'barbaric'. Hirst has often courted controversy, having gained notoriety with his infamous shark suspended in formaldehyde in 1992.
It was one of seven Trek bikes of Armstrong's up for auction at the event in New York, which in total raised $1.25 million and netted $1.125 million for LiveStrong.
Lance Armstrong poses with the Hirst bike during the final stage of the 2009 Tour de France. Armstrong finished the race third overall
Artist Kenny Scharf's planet-themed Trek Equinox TTX time trial bike, used by Armstrong during the Giro d'Italia in May, fetched $45,000
The time trial bike that was stolen from Armstrong during the Tour of California in February, then returned, raised an astonishing $130,000
Related links
Lance Armstrong: Rider Profile
Thank you for reading 20 articles this month* Join now for unlimited access
Enjoy your first month for just £1 / $1 / €1
*Read 5 free articles per month without a subscription
Join now for unlimited access
Try first month for just £1 / $1 / €1