As Oleg Tinkov plans 2016 exit, Tinkoff manager Feltrin begins search for new owner
Tinkoff-Saxo manager Stefano Feltrin begins his search for a new owner and sponsor after Oleg Tinkov reveals he will walk away after the 2016 season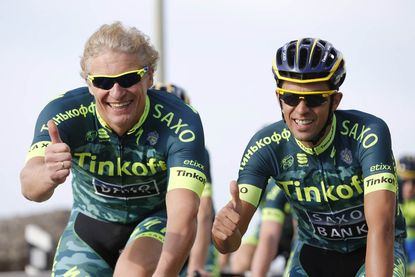 (Image credit: Watson)
Team Tinkoff has one year, or in reality only six months, to find a new owner and sponsor to continue beyond 2016 with owner Oleg Tinkov quitting cycling.
Tinkov told Cycling News that he will pull out at the end of 2016, ending a long association with the sport and leaving stars like Peter Sagan with an uncertain future.
The team's general manager Stefano Feltrin is already working to keep the team alive for 2017.
"And that's always been my job, it still is. Nothing changes," the Italian told Cycling Weekly.
"Owner and a sponsor? Yeah, for sure, I need them both. An owner without a sponsor doesn't do us any good."
Tinkov revealed over the weekend that he will pull the plug in 12 months. He said that Tinkoff Bank has got the most out of the marketing potential that cycling can offer and that the economic situation in Russia "is not great."
The often outspoken billionaire also expressed his disappointment that few other owners seem to share his thoughts on reforming the sport, telling Cycling News: "I've decided to sell the team and quit the sport because I've realised nobody wants to work with me to help change the business model of the sport."
The 47-year-old Russian said this summer that he did not need the financial support of a co-sponsor, but he fought, unsuccessfully, to keep Denmark's Saxo Bank onboard.
What is true is that Russia is taking a hit economically. Its ruble has plummeted since 2014. Now, one pound will buy you 71 rubles, double of what it was two years ago.
In the same period, Tinkov built a star-studded team with Alberto Contador, Rafal Majka and new world champion Peter Sagan. Sagan is earning an estimated €4m or £2.9m a year. The team also signed Brit Adam Blythe for the 2016 season.
Inside the Tinkoff-Saxo mechanic's truck
Tinkov also built up his staff with former Sky men Sean Yates and Steven de Jongh. It was all momentum from the December 2013 party in London, when he celebrated buying the team from Danish 1996 Tour de France winner, Bjarne Riis for an estimated €6m (£4.35m).
Tinkov kept Riis onboard until this spring, when he fired him unceremoniously and at the same time, sealed his fate with sponsor Saxo Bank.
Feltrin must now help Tinkov look for someone who can buy the team and bring in a sponsor to keep the team running. The team has five riders on contract for 2017: Sagan and his brother Juraj, Majka and two neo-professional Erik Baška and Michael Gogl.
If nothing is in the works by June, when transfer season begins to heat up, staff and stars will start looking elsewhere.
"[The team] can go ahead with a new sponsor and owner, a 1000 things can happen," Feltrin continued.
"My work? What I've always done, nothing changes. The project for the bank was three years, we knew this three years ago, also last year. Now we have one year of time to search."
The team could come full circle as embattled Riis is looking to re-enter cycling at the WorldTour level in 2017 and possibly with sponsor Saxo Bank.
Thank you for reading 20 articles this month* Join now for unlimited access
Enjoy your first month for just £1 / $1 / €1
*Read 5 free articles per month without a subscription
Join now for unlimited access
Try first month for just £1 / $1 / €1