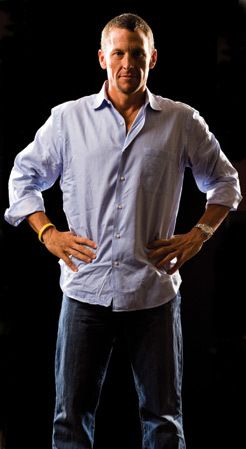 Cycle Sport's Big Read 2009 Before Lance Armstrong turned a pedal to start his comeback, deputy editor Edward Pickering travelled to his home in Austin, Texas, for this no-holds-barred interview

This appeared in the January 2009 issue of Cycle Sport
"Sometimes people want to say, 'Lance, we just want to hear you say you cheated.'"
"But why would I fucking lie? Regardless of how much you stand up and scream and jump around on the table, I'm not going to lie to make you happy."
Lance Armstrong gives Cycle Sport The Look, and it's like he's never been away.
2009 will be the second act in the life of this American. Lance has changed since he went away, but he's the same touchy, hard-assed, competitive SOB he always was. However, cycling has changed too, and like old acquaintances bumping into each other after many years, cycling and Lance Armstrong are struggling to find things to say to each other.
It still seems weird that he's back. He's from 2005. He doesn't belong here. Think of Lance, in his old Discovery Channel kit, plucked from his own time and dropped, blinking, into the middle of the 2009 peloton. A great deal has changed; cycling is in a different place.
North American cycling, especially, is in a different place. When Eddy Merckx retired three decades ago, the Belgians went on a still-unresolved hunt for his successor. But American cycling was cleverer than that. Rather than put its faith in a 'New Armstrong', the new hero was a team, two teams. Slipstream (now Garmin), and later Columbia rushed in to fill the vacuum created by Armstrong's first retirement. Top-level North American cycling became a beacon of open, ethical transparency, and for Garmin and Columbia the priority is not just riding clean, but proclaiming it from the rooftops. For all that he never tested positive, this wasn't Armstrong's thing.
For Armstrong, there is a big difference between Columbia and Garmin, and it isn't difficult to understand which team he prefers.
"I don't believe it's better to stand up all the time and say, 'we're clean, we're clean, we're clean,' and have moderate success on the road. I think for the team, the fans and the sponsors, you have to be successful, ultimately."
Winning good, losing bad. Columbia good, Garmin bad. Still the same Armstrong. Still the same competitive alpha male.
"Dying and losing, it's the same thing," he once said. And though he'll qualify that statement these days by insisting he was referring to his battle with cancer, it's clear that the competitive fury still bristles behind everything he says and does.
And as I look at him, and he Looks back at me, I wonder if it is possible for him just to do what his adoring fans expect and simply pick up where he left off.
Cycling has been good to Lance Armstrong. He rattles around his huge house in the well-to-do suburbs north west of Austin, like a pea in a pod, surrounded by the spoils of his seven Tour victories. The walls are busy with Pop Art, a few Modernist pieces, a Damien Hirst, a Francis Bacon. Which other professional cyclist owns a Francis Bacon? In fact, for a man who built an entire empire on a direct, unemotional, analytical approach to cycling, the art seems incongruous. He will later tell me that he's been collecting art for more than 10 years.
But behind the expensive furniture, art and trophies, there's only the slightest hint that this place is a home. In a side room, a pair of bib shorts and cycling jersey are drying on a clothes hanger in a side room; apart from that, it looks more like a five star hotel than a place where somebody lives.
Armstrong pads out to the living room in bare feet, a crinkled, open shirt and a pair of jeans. He's just flown back from a couple of days in Mexico, "the last chance to get away and do nothing before it gets fucking crazy". No more small talk, though. Armstrong sits down in an armchair and waits for the questions to start.
When Armstrong announced he was coming back, and the jaws of the cycling world hit the floor with a thud loud enough to shake the paintings on his walls, he reinvented himself as a nice guy. He said he'd be "completely open and transparent with the press", and ride for free, without asking for a salary. "This one's on the house," he said.
But his reinvention hasn't softened the hard edges. Nor has it changed his ethos - that the fighting and the winning are the foundations on which everything, his house, his riches, have been built.
"Am I trying to rewrite history?" he asks rhetorically.
"No. I don't have a problem with the history. Were there questions? Absolutely. Was there criticism, scepticism? Absolutely."
Armstrong often answers by asking his own questions. He's fighting for control of the interview like he fights for a wheel in a bike race.
The criticism and scepticism he refers to is well documented. Armstrong handed out severe thrashings to riders who later were found to have doped - asking how this is possible is a very fair question. The Vatican sometimes take years, decades or even centuries to confirm miracles - the miracle of winning the Tour de France clean, several minutes ahead of somebody who has been cheating, cannot undergo enough scrutiny.
"I was around not only for the seven Tours, which wasn't easy to do if you were cheating. But I put my nose in front of the peloton and stayed at the front from 1992 all the way through. My performance never suffered or diminished. I would not have risked my family's reputation, my savings, my foundation and all the people who believed in my cause," he says.
But even Armstrong sees that it looks bad.
"It's not good for cycling. Not good for me, either. Six of the top 10 were caught, and this guy beat them by six, seven minutes. How's that possible?" he asks.
"It's impossible to answer. You can't prove that negative. But special performances in cycling are questionable and in other sports they are not. Paula Radcliffe runs 2:15, nobody says anything. Michael Phelps wins eight gold medals."
But Armstrong doesn't help me, or himself, when I ask him how much he thinks he would have won those Tours by if the guys behind hadn't been doping.
"Interesting question," he says, as if he'd not given the matter much thought before.
"I've no idea. But you have other riders who got caught, or admitted [to using drugs] and came back and rode just as fast."
He's not naming names, but Richard Virenque springs to mind.
"This would lead to the conclusion that it's not so advantageous, that it's not all it's cracked up to be. What works is super talent and super hard work. Those are the big factors."
Given that the effectiveness of the cardiovascular system depends on the body's ability to process oxygen, and that EPO and blood boosting increase this ability, sometimes by large amounts, this argument doesn't wash. Bjarne Riis proved it.
And David Millar said that paradoxically, he really started training more seriously and treating cycling more like a job after he started doping.
"I left the sport with a clear conscience. I went to bed the last three years, totally fine. If people want to pooh pooh that and say that this is bullshit, you might," Armstrong says.
"I feel bad for you, though."
Armstrong is a magnet for divisiveness, disagreement, argument and controversy. His fans and detractors argue the toss in internet forums, with no fence-sitting. He could start a fight in an empty room.
And his talent for winding up his critics hasn't dimmed through his mid-30s. Of all the teams to sign for, he chose Astana, an outfit whose name was twice tainted by scandal, and then shook itself out to become Discovery Channel in disguise. He must have known that his detractors would work themselves up into a self-righteous lather. Bruyneel, Armstrong, a crack team of Grand Tour specialists hired to ride in the passive-aggressive, defensive, dice-loading style of US Postal and Discovery.
However, he says he's less involved in the team than he used to be. Discovery Channel was owned by Tailwind Sports, a company in which Armstrong had a financial interest. The company behind Astana is Olympus Sarl, a Luxembourg-based affair run by Johan Bruyneel. Armstrong informs Cycle Sport that not only has he no financial interest in Olympus Sarl, he doesn't even know what it is.
"What's it called? I never even heard that name," he says.
"I'm riding for Johan."
Bruyneel's signing policy is one of the least subtle in cycling. He hires the best riders, and uses them as domestiques. When your domestiques are as strong as your best rivals, tactics become straightforward, and suffocating. For example, Contador's domestiques at the Vuelta last year were Levi Leipheimer, second overall, and Andreas Klöden, twice second at the Tour de France. They've now got five riders who have finished in the top five of the Tour de France. If the rumours of a Vinokourov comeback turn out to be true, it will be six.
"Johan's got a good budget and he's building the best team he can. That's what you should do. You want to hire some French guys?" he asks.
The Alexandre Vinokourov situation adds another layer of controversy to Astana. Armstrong admits that the Astana name was tainted before last year's Tour and that he understood race owner ASO's reluctance to invite them to the race on their name alone. But after doping expert Rasmus Damsgaard started monitoring the team, Armstrong considered them as plausible and open as any other team.
Rehiring Vinokourov, however, would look bad. It might be difficult for Bruyneel to turn him down, since the Astana money is in cycling largely thanks to Vinokourov's popularity back home in Kazakhstan and his friends in the government. If the Kazakh government insist, Armstrong could be cohabiting with an unrepentant cheat.
"The UCI says Vino is not cleared to race. I don't know him and I don't know the situation. Obviously he's from Astana and he brought those players to the table even though he's no longer part of the team. But I think the UCI has a different take on the situation."
Cycle Sport's position on Vinokourov is clear. He was caught, was given a lenient ban by the Kazakh cycling federation, and has expressed no remorse; and we tell Armstrong so.
"Listen, if he doesn't believe he did it..." he replies.
"If you serve your time, that is all that society asks of you. The rules say, if you're banned for two years, you serve your time and you come back. That's why we have prison. That's why we have speeding tickets. You pay your penalty, serve your time, get put back into society and just as strongly as you talk about rehabilitation you've got to talk about forgiveness," he continues.
"I don't think somebody should make up some shit just so they can be forgiven."
And this is before we even get to the thorny issue of who leads Astana at the Tour. Will it be the seven-time Tour winner, who'll be knocking on 38 when he starts the race? Or the 26-year old climbing whizz kid Alberto Contador, who's won three Grand Tours already?
Armstrong is diplomatic about the leadership question. But like all diplomacy, what appears to be polite and conciliatory language on one level hides subtleties and meaning on another. Knowing what we do about Armstrong's character, he'll be relishing the fight for team leadership, and like all fights, it's one he'll want to win. Bruyneel will have to work hard to avoid repeating the 1986 race, when team mates Hinault and Lemond spent the Tour at each others' throats.
But first, he has to start the race. ASO have erred between lukewarm and cautiously positive about Armstrong's participation. The Texan has responded in kind, but his desire to be there is transparent.
"I'm not foolish - it's the biggest race in the world, and there is a certain amount of exposure that comes with that. But if that comes with hostility and distractions...Do you want to subject yourself and the cause to a lot of distraction?"
"We'll have to see. I'm in no hurry, and I don't think they are either. Everyone needs to calm down and get into the season and decide. But I love the event, and I've said that many times. I've won it a lot, I know what it means to me and what it means to win it."
"I'd like to ride it. But do I need to ride it? No. Do I need another cup to put in this room? No. Can the international [cancer] campaign be successful without it? Absolutely."
"I don't need to have a love fest for three weeks - I'm not asking for that. I think ASO understand what the race means to the sponsors and media."
And Armstrong takes the opportunity to have a dig at former ASO chief Patrice Clerc, who was recently ousted in a mysterious manoeuvre involving the UCI and ASO's owner Marie-Odile Amaury.
"Patrice Clerc believed the Tour was bigger than any individual or any group of individuals. He believed that the Tour was the star."
"But that is not the case in sport. Sports grow and thrive because of athletes. That's the way it is."
There are two separate strands in North American cycling history. The first is the original American invasion of Europe, led by Greg Lemond and continued by 7-11. Although this continued into the Motorola years of the mid 1990s, the legacy of this group of riders lies with the Garmin team. 7-11 and Garmin share the same kooky ethos, that cycling is fun.
The other strand began with Armstrong. The brash competitiveness of his early years was focused through the prism of his experience with cancer to become a win-at-all-costs mentality. The people Armstrong brought into the sport were a broader section of the public, new fans who knew nothing of the traditions of road racing and revelled in their man's domination over the cycling countries of old Europe.
At the Slipstream team launch a year ago, Jonathan Vaughters exhorted the team's fans to "cheer for humanity, and celebrate the rarity of victory and perfection". If any Armstrong fans had been there, they would probably have choked on their cans of whupass.
Armstrong, we think, doesn't like the Garmin model. He prefers to talk of Columbia, whose ethos is to ride clean, but also win a lot of races.
"[Garmin and Columbia] get different kinds of press. Columbia got press because they won the most races, which is the right kind of press. In my opinion the best situation for all of us is to be hardworking and successful. The subtext is, we're clean and here's the proof."
"The Columbia model, to me, because it's a winning model, and oh yeah, it's also a clean programme, is the way to go."
On July 26 2009, we'll know whether the new transparent Armstrong has himself followed the Columbia model and won the Tour de France. In the meantime, the cycling world will be speculating feverishly about his ability to win an eighth Tour.
When Armstrong announced his comeback, my opinion was that he'd done the physical tests, and knew full well that he was capable of doing so. Why risk taking the gloss off his undefeated record by coming back and taking a beating? If your need to win is as congenital as Armstrong's, better to back off and not participate if there is the risk of losing.
But Armstrong says he doesn't know.
Armstrong is a self-confessed control freak, who weighs his food, digests numbers and figures, and likes to know what is going on. I don't believe him, and I tell him so.
"I don't know the answer. I don't have any climbs in the US that I've tested on before, and I've not been to Europe yet. I'm not bullshitting you."
"The only thing I have is motivation, and I feel good, I tell you. When I go out training I feel very strong. I recover very well. I have the motivation of 1998, 1999. 2001. 2000," he warns.
And the first real test of Armstrong's transparency will come once he's done those tests, recorded his power output, measured his physical capacity. The Garmin team's blood values and power outputs are available to any journalist who applies to the team. CSC posted their teams' blood test results on the internet. Armstrong, to silence his critics, will also have to do so. If he is to fulfil his promise, we want to see his Therapeutic Use Exemptions, VO2 Max figures, weight, blood values and power outputs. His anti-doping expert Don Catlin has been authorised to release Armstrong's blood values, and downloads from his SRM.
But Armstrong, to my incredulity, doesn't even know his own VO2 Max.
"I've no idea. I did some tests back when I was 16, but I've not done a test in a long time. The best I can remember, it was in the low 80s."
I ask him the highest haematocrit he ever registered.
"I don't know. Maybe...45, 46," he says.
"Haematocrit is a tricky number. It varies depending on effort, dehydration, altitude. In 2003 I started the Tour at 39. Three nine. That's a compelling number. The last couple of years I've been 47, 48. Doesn't mean I've been out taking illegal drugs."
The issue of retroactive testing of samples is a thorny one for Armstrong, considering L'Equipe's infamous "Mensonge Armstrong" headline was based on journalist Damien Ressiot's linking of his identification numbers with test samples allegedly positive for EPO. He insists he will allow retroactive testing, but we're not sure if he's going to authorise his samples post-1999 to be retested, as shown in the following exchange:
CS: Are you OK with blood being stored for future testing?
LA: Absolutely
CS: Are you in favour of retroactive testing?
LA: Yes. They give you the option when you are tested - can we use your specimen in the future for experiments? I always check 'yes'.
CS: But you didn't want the AFLD to open up your samples from more recent Tours.
LA: They only offered 1999. The others have been tested.
CS: And would you be OK with them being tested again?
LA: They've already been tested.
CS: But tested again...
LA: What do you want me to do? Keep testing? The first time they came back clean. That's not enough?
CS: But the point is that if new tests are developed, it's important to go back and test old samples.
LA: That's the point of storing samples.
Something's changed with Armstrong. The fact that we are sitting in his house doing an interview at all is testament to that. He spent the latter years of his career not talking to us at all, yet he allows our interview to overrun by 15 minutes, shows us his art collection, and invites us out on his ride the next morning.
He laughs off the much-rumoured "blacklist" of journalists, describing it as "complete nonsense", although several strong sources back up its existence. Some have suggested his comeback is a charm offensive designed to lighten up his image, to blur the hard edges in anticipation of a political career.
But he's as hard as he ever was. The fight is as important as it ever was. And so is the winning. The Look has lost none of its intensity.
As we take our leave, I have a bit of a go at Armstrong about doping in cycling, telling him that there are a lot of people who watched this year's Tour in despair, and would like nothing better than to line up the dopers in a room in pairs, and knock their heads together.
"Ed, you've got to develop a thicker skin," he says. "It's only cycling. It's. Only. Cycling."
He says his farewells, turns, and walks back into the house.
I look around, at the perfect house and perfect garden, at the riches that cycling has brought Lance Armstrong. And I can't agree.
Thank you for reading 20 articles this month* Join now for unlimited access
Enjoy your first month for just £1 / $1 / €1
*Read 5 free articles per month without a subscription
Join now for unlimited access
Try first month for just £1 / $1 / €1