Barloworld's British contingent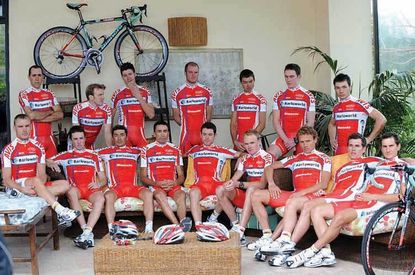 Cycling Weekly's Stephen Farrand visited a Barloworld training camp earlier this year to catch up with the British riders in red and white.
At Team Barloworld, Mario, the team?s friendliest soigneur calls Steve Cummings, Geraint Thomas and Chris Froome ?il trio Brittanico?, the British trio.
All 16 riders in the team get along pretty well, whatever language they speak, but the three British riders form an inner circle within the inner circle of the team.
The Brits each have a different accent and have different cycling talents but are proud to be British in different ways.
Cummings has a refined Scouse accent rarely raises his voice but an angry scowl on his face reveals when there is something he is not happy about.
2008 was a contrasting year for the big man from the Wirral. He was left out of the final five riders selected for the team pursuit at the world championships and Olympics but won his first races as a professional. He was an agonising second overall in the Tour of Britain but has learnt a lot about himself as a rider and is now more focused than ever before.
Geraint Thomas? accent makes it obviously he is from Wales but he feels at home on the track in Manchester, in the Tour de France and his victory in the junior edition of Paris-Roubaix indicates he also has talent for the classics.
He is still only 22 but like many riders who have come through Great Britain Academy, he has already learnt and achieved a hell of a lot. Yet there is a feeling that there is a lot more to come as he focuses 100% on the road for the first time.
Chris Froome has a rich South African accident that reveals his roots in Kenya and South Africa. He has always had a British passport but his struggle to understand Thomas? dry sense of humour and his lack of British cycling knowledge in our tongue in cheek quiz show that he is has only recently become part of the Great Britain team. However just like with his cycling, Froome is working hard to improve and is getting there, as he showed by finishing the Tour de France last year.
Thomas is starting his third year at Barloworld while 2009 is the second for Froome and Cummings. The team is sponsored by a South African multi-national company, managed by Italians but is registered in Britain. It is a mix of often conflicting new and old cycling traditions.
Last year Barloworld finished second in the Europe Tour team standings and won the individual title with Enrico Gasparotto, results that showed they were as good as any small ProTour team. They rode the Tour de France and the Giro d?Italia but Barloworld almost ended their sponsorship following Moises Duenas? positive dope test during the Tour de France.
The long-term future of the team is uncertain. Climber Mauricio Soler and South African sprinter Robert Hunter have stayed for 2009 but Gasparotto, Baden Cooke and Christian Pfannberger have all moved on.
The team was left off the initial selection of 20 teams for the Giro d?Italia, Tirreno-Adriatico and Milan-San Remo. But team manager Claudio Corti is quietly confident the team will get an invitation to all three races because they are part of the UCI?s biological passport scheme and have been awarded a wild card invitation to ProTour races.
At the team?s final training camp before travelling to the Tour of the Mediterranean, the atmosphere is relaxed and friendly but the British trio is happy to escape in the afternoon for a cappuccino and a chat with Cycling Weekly.
British team for next year?
The rumours about the planned British team are spreading through the European peloton, with some big name riders already showing they are interested in joining a British team for 2010.
Cummings, Thomas and Froome are happy at Barloworld but their contracts end this season are looking forward to the chance of riding in a British set-up.
?It?s sounds like it?s going to be a great option for the British riders,? Froome tells Cycling Weekly.
?It seems that for the first time the British riders will have a team they can call home. We?re riding for an Italian run team at the moment and so we do things the way they want them and on their terms. In a British team it would be easy to communicate, so things would run so much easier. I?ve quickly realised the Great Britain team one of the best set-ups in the world and how they do things does make a difference to your performance.?
Geraint Thomas
After an intense 2008 season that culminated with an Olympic gold medal in the team pursuit on the track, Geraint Thomas is looking forward to a full season on the road in 2009. He has proved he is one of the best pursuiters in the world. Now it is time to win his first road race.
?It feels like a new challenge because I?ve never really done a full road season. I?m pretty excited to see what I can do,? he tells Cycling Weekly.
Does it seem strange not training on the track and building up for the track world championships this year?
?Yeah it does. Nobody seems to fully appreciate the success on the track in the pro peloton and I?m back to be being an average road riders working for the sprinters and getting bottles, but hopefully that will change this year.?
What?s your best memory of 2008?
The world championships were really satisfying for me because I?d been ill and so it was a great relief to win the world title. The Olympics was special because they went perfectly and all four of us were flying.?
?A lot of people think I only competed on the track in 2008 but I did more than 40 days of racing and finishing the Giro was really satisfying, especially because I rode a strong final time trial. I did the same time as Contador and he?s not bad is he??
Have you got any specific goals for the season?
?Not a specific race because anything can happen in road racing. But after going so close in the prologue in the Elektrotoer, I think I can be up there in short time trials this year.?
?I?ve learnt from Brad (Wiggins) and Dave (Millar) that they go round the key corners umpteen times and really memorise it all. Hopefully being aware about how to get it right will make a difference between third and winning.?
Steve Cummings
Steve Cummings looks back on last season with mixed emotions. He was disappointed to miss out on selection on the track but his success on the road marked a new start to his career.
?I never thought I?d win a bike race, I honestly didn?t think that it was my job to do that. But when I won my first race, I realised there?s no reason why I can?t do that again and again if I get things right,? Cummings says.
Do you feel you are progressing and improving as a rider?
?I think I?ve made improvements during my career but it perhaps hasn?t really shown in my results until the last 12 months.?
?Since moving to Italy I?ve been lucky that I?ve really clicked with Max Sciandri. I think it?s because he?s been there and done it. He says some things and I don?t fully get what he means but then I look into the science of it, realise he?s right, and put it into practice. I think I?ve improved everything I do.?
Did you learn something from the disappointment of the Olympics?
?Yes. I was obviously gutted not to make the team but in a way I was also relieved that it means I?ve finished with the track. I?d had enough of it and I basically wasn?t fast enough, that?s it. Being out of the track squad means I can concentrate on the road. Last year I felt I was doing it for someone else and when I?m like that I don?t get the best out of myself.?
After two wins and second in the Tour of Britain, can you do even better in 2009?
?I?m not Cav, he?s a sprinter and knows he?s going to have so many chances in a season. I?m totally different to that, I have to wait and look for opportunities. I?m in better shape than ever before and so I?ll get over the climbs better and so that should lessen the odds in the finale of every race I ride.?
Chris Froome
Chris Froome officially became the third British rider at Barloworld last April when he received his British licence from the UCI. Delays by the Kenyan Olympic Committee meant he was unable to be considered for the Beijing Olympics but he made his debut for Great Britain in the world championships in Varese.
Chris, do you feel British?
?I honestly do. I was born in Kenya and lived in South Africa since my teens but my family is British and my roots are in Britain. My grandparents and my brother live in Britain.?
You?ve got a good tan, presumably from riding in South Africa.
?Yes, I was lucky to train in shorts for most of the winter because I was in Johannesburg. It definitely makes a difference to your season. I haven?t done any intervals; I?ve concentrated on building my core base. But I recently did a test and I?ve gained a small increase in power which is good.?
Did finishing the Tour de France also change you as a rider?
?It made a massive difference. My whole perspective of how much I could suffer changed after finish the Tour. I was slightly disappointed not to do better after the Tour but I think it?s made me stronger and more efficient. Now I want to ride another major Tour with a goal of more than just making it to the finish.?
What?s your first goal of the season?
?I suppose the first big target is the Giro del Capo in South Africa. It?s very important for Barloworld and it?s important for me because I?ve spent most of my cycling career in South Africa. It?s a race where I?ve done well in the past and where I was inspired to do well each year before I turned professional. Now it?s a goal for all the team and so I?d be happy if any of us win it.?
Cycling citizen's test
Chris Froome is officially a British rider last year after renouncing his Kenyan passport. But can he pass our Great Britain cycling citizen?s test?
Cycling Weekly comes up with the questions and also tests Steve Cummings? and Geraint Thomas? cycling knowledge.
Q: Who is the president of British Cycling?
Chris Froome: Uhm, the guy with the beard, what?s his name?
Steve Cummings: Brian something?.
Geraint Thomas: ?Cookson.
CW: A bad start to the test. Froome met the president at last year?s world championships.
Q: Who is the current men?s British national road race champion?
Froome: It?s one of the British-based guys but I don?t know his name.
Cummings: Rob.
Thomas: Hayles
CW: Froome clearly has yet to taste one of Killer?s attacks but is in trouble the next time they cross paths.
Q: Who did Shane Sutton ride the 1987 Tour de France for?
Froome: Shane rode the Tour? Respect!
Thomas: Don?t ask me, I was only one year at the time.
Cummings: I think it was ANC.
CW: All three should know this one. Sutton rode two weeks of the 1987 Tour but then quit as a consequence of the financial problems in the team.
Q: What is the world and Olympic team pursuit record?
Froome: Three minutes something?
Cummings: Three minutes, fifty-three something?
Thomas: 3:53.314. It?s mine.
CW: No chance of an invitation to a Revolution for Froome after that.
Q: When and where were the world road race championships last held in Britain? Who won?
Froome: (silence and slight embarrassment) I?m not doing too well, am I?
Thomas: No idea.
Cummings: Didn?t the Lampre manager win it, what?s his name?
CW: Giuseppe Saronni won in Goodwood in 1982 with a late attack on the slightly uphill finish.
Q: After Mark Cavendish, who was the most victorious professional British rider in Europe in 2008?
Froome: David Millar?
Thomas: Russell Downing?
Cummings: (with a smile) I think it was a me.
CW: Correct. Cummings won two races: a stage at the Giro della Provincia di Grosseto and the Coppa Bernocchi.
Q: Which other riders changed nationality and went on to win a bronze medal at the 1996 Olympic Games?
Froome: I know this one. It?s Max Sciandri.
Cummings: Yep, Max. (adding a near perfect impression of Sciandri as he speaks English)
CW: Froome gets one right at last! Sciandri was born in Derby and began racing in Italy. He formally became a British rider in 1995.
Q: Where are the two covered tracks in Britain?
Thomas: I?ll give you a clue, one is in Wales.
Froome: Manchester and?Cardiff, it?s the capital of Wales isn?t it?
CW: Oh dear. Froome?s poor geography will upset the Welsh cycling fraternity.
So, does Froome know enough about British Cycling to deserve his licence?
Cummings: As long as he gets ride of his African accent I think we can let him in the team.
Thomas: Yes, but he?s got some work to do. He doesn?t even know the capital of Wales!
CW verdict: Froome needs to brush up on his British cycling history but if he develops into a Tour de France contender, we?ll be happy to give him a place in the planned professional team.
RELATED LINKS
Cummings and Thomas not selected for Giro d'Italia
Giro d'Italia 2009: The Big Preview
Thank you for reading 20 articles this month* Join now for unlimited access
Enjoy your first month for just £1 / $1 / €1
*Read 5 free articles per month without a subscription
Join now for unlimited access
Try first month for just £1 / $1 / €1