Belgian rider Jeroen Goeleven dies in his sleep aged 25
The young rider was Limburg time trial champion and had previously ridden with continental team Colbra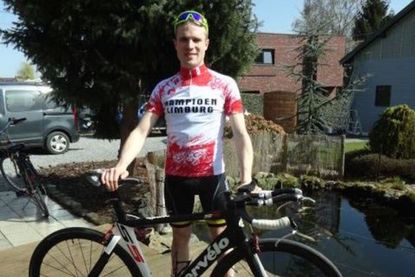 Belgian cyclist Jeroen Goeleven, 25, died in his sleep last night from what initial reports suggest was natural causes, happening only two weeks after Michael Goolaerts suffered a heart attack in Paris-Roubaix.
Goeleven, born on July 4, 1992, raced with the continental team Colbra in 2015, but in recent years with smaller teams. Only 10 days ago, he won the Limburg time trial title.
"This afternoon, I found our son Jeroen in his room," his father Danny Goeleven said in a Facebook post. "Incomprehensible, we are in deep mourning. There are no signs of suicide, that is clear.
"Again a youngster who inexplicably says goodbye. Given his young age, his death is being investigated. We already know that nothing bad will be found, he just gave so much for cycling."
Goeleven came from the country's north in Paal-Beringen. In 2016, he won the Limburg road title that he matched with the time trial title nearly two weeks ago.
"I cannot remember that Jeroen ever had health problems," said Birger Vandael who rode with Goeleven and works for Belgian newspaper Het Laatste Nieuws.
"He always was cheerful, with a very big heart for racing. He proudly announced that he had become Limburg's champion in time trial. It would become his last title. The whole cycling world is in shock."
The professional peloton received a shock as Peter Sagan (Bora-Hansgrohe) celebrated his Paris-Roubaix victory. Michael Goolaerts (Veranda's Willems-Crelan) crashed on second cobbled sector with around 150 kilometres to race and was airlifted to the hospital where he died of heart failure.
The autopsy confirmed in the following week that the 23-year-old suffered a heart attack shortly before he crashed.
With health checks in the years beforehand giving the green light, it remains unclear why Goolaerts died when he did. The same at this moment for Goeleven.
Danny Goeleven wrote of his son, "Goodbye Champion of Limburg, Goodbye Our World Champion!"
Thank you for reading 5 articles this month* Join now for unlimited access
Enjoy your first month for just £1 / $1 / €1
*Read 5 free articles per month without a subscription
Join now for unlimited access
Try first month for just £1 / $1 / €1