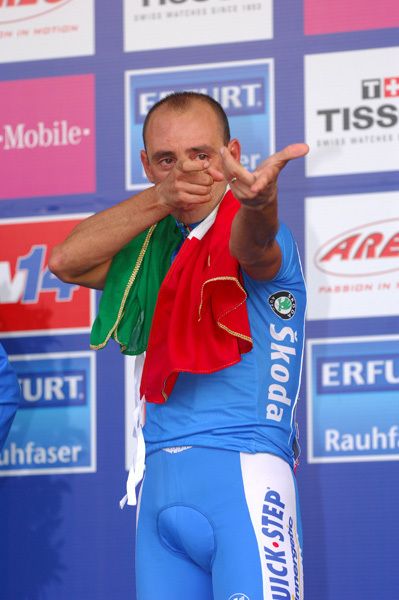 Paolo Bettini crossed the finish line firing into the air in a clear gesture to the people who have criticised and attacked him in the days before the World Championships. He repeated the gesture on the winner's podium and then in his winner?s press conference he made sure everybody understood why he was angry.
?People have been firing at me all week and so I decided to fire back,? Bettini said, only partially joking.
?It wasn?t aimed at any one in particular and if there?s anyone who feels offended, it means they knew they were expecting it. It wasn?t aimed at Pat McQuaid or the world of cycling. It was something that came from inside me. There are a lot of problems in cycling but we?ll solve them by talking and working together. The people who only come into the sport every so often and do so for economical reason should talk badly about our sport.?
?People have asked me where I find the motivation to go on after winning a lot during my career. I was given it this week?. If I had a pinch of determination to win the world title again, what happened in the last few days has given me enough to go for another year.?
Bettini admitted he was still angry about being accused of doping and criticised for not signing the UCI?s document ?for a better cycling? but pointed out that the death of his brother last year had taught him to carry on even in much more difficult circumstances.
?I?m very angry but during something much worse than I?ve been through this week, someone taught me carry on and I?m going to make trouble for another year,? he promised.
Bettini praised all of his Italian team-mates and admitted the pressure and attacks they faced before the race made them more united and determined to win.
?We?ve showed we?re a real and very united team and that when we ride together, we get the results,? Bettini said.
?I think everybody saw how the team rode. Me and Pozzato rode together and decided things together. Cunego sacrificed his chances, Rebellin rode perfectly for the team. Tosatto was the last rider to arrive in the team but gave it everything. Bertolini worked hard early on, and Ballan, Bruseghin gave their all.
"The presence of Danilo Di Luca was very important even though he could not ride and even the two reserves played their part. In the next few days they?ll realise they?ve been through the worst possible moments and so will know how to do well in the future. National coach Franco Ballerini put his faith in me and yet again I?ve paid him back.
?Italians are very proud people and were good at transforming pressure into anger. Sometimes we make mistakes when we're not under pressure but then when things get tough we give our best and don?t make mistakes. People say there are a lot of prima donnas in Italian cycling and it?s not easy to get them to work together under normal conditions but when things get tough, we show our real potential with the aim of showing our national pride.?
2007 ROAD WORLD CHAMPIONSHIPS NEWS
Bettini fires back
Comment: Stuttgart embarrassed by Worlds
Bellis: "Biggest success of my career"
Pooley: "My tenth place was earned by the team"
Bettini cleared to race by Stuttgart courts
McQuaid gives Bettini green light to race
Bettini in Worlds but Di Luca is out
Wiggins and Millar disappointed with TT ride
Bettini denies supplying drugs to Sinkewitz
Valverde can race at World Championships
Eddy Merckx not welcome at Worlds
Cooke out of Worlds, Brailsford names GB squad
British team get extra places for U23 Worlds
Boonen out of Worlds
Should Valverde ride the Worlds?
2007 ROAD WORLD CHAMPIONSHIPS COVERAGE
Bettini back on top
Bellis takes Under-23 bronze
Gold and bronze for Italy in women's road race
Cancellara retains World TT title
2007 Road World Championships preview
Elite Men Time Trial: full start list
Elite Women's Time Trial: Pooley takes eighth,
Under-23 Time Trial: Boom takes second world title in 2007
TV guide: World Champs on British Eurosport
TV guide: World Champs on BBC
2007 ROAD WORLD CHAMPIONSHIPS PHOTO GALLERIES
Elite Women's Time Trial World Championships
Men's Under-23 Time Trial World Championships
2006 WORLD CHAMPIONSHIPS
World Champs 2006: Cancellara nets gold in TT
World Champs 2006: Cooke blasts to bronze in Salzburg
EXTERNAL LINKS
Official 2007 Road World Championships website: www.radwm2007.com.
Union Cycliste Internationale: www.uci.ch.