Book extract: Butcher, Blacksmith, Acrobat, Sweep - The tale of the first Tour de France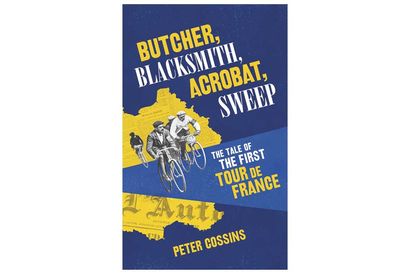 Get The Leadout Newsletter
The latest race content, interviews, features, reviews and expert buying guides, direct to your inbox!
Thank you for signing up to The Pick. You will receive a verification email shortly.
There was a problem. Please refresh the page and try again.
Cycling writer and author Peter Cossins's new book Butcher, Blacksmith, Acrobat, Sweep tells the tale of the first Tour de France. This exclusive extract highlights some of the hopeful amateurs who lined up in that ground-breaking event in July 1903, the first stage race in the sport's history and one that forever changed the nature of bike racing…
In the week leading up to the start, L'Auto listed the CV of every competitor who registered for the opening stage, its listing on 26 June typifying the paper's editorial line, which was clearly to inflate any essence of ability and to always highlight every rider's courage.
JAY (Paris), 24, on leave from his regiment. Without the assistance of pace-makers he finished fifth in Bordeaux–Paris 1899, behind Huret, Garin, Fischer and Rivierre. Also fifth in Paris–Roubaix 1899. In the last Bordeaux–Paris he finished eighth after numerous punctures. Great endurance, will certainly be one of the dangerous competitors.
GUILLARME (Troyes), 26, endurance champion of the Aube, regional record-holder for 6 hours, for the 100km (2hrs 40). Lacking soigneurs and pace-makers, and after numerous punctures, he finished 14th in L'Auto's Bordeaux–Paris 1902.
DARGASSIES (Grisolles, Tarn-et-Garonne), 30. Has never raced, but is an experienced rider and hopes to finish among the leaders. Over the course of two months, he's covered more than 3,000 kilometres.
CATTEAU (Tourcoing). An excellent roadman who will be in his pomp in the Tour de France.
MOULIN (Belle-Isle-en-Terre), 40. Winner of the Coupe des Routiers in 1900, of the routiers category in Paris–Épernay, Paris–Dieppe. Figured very honourably in Paris–Brest–Paris and Marseille–Paris. Conse- quently, an experienced and solid roadman.
This list was typical of those that appeared in the days before and after, and encapsulated the talent that would be on display between 1 and 19 July. For every Jay, there were four Moulins or Dargassies. Yet Lefèvre, who put together these pocket profiles, quickly turned the presence of these unknowns to his paper's advantage. He talked up the possibility that one of them might emerge from complete obscurity to threaten the established names and pointed to the prohibition of pace-makers on all but the final stage as a good reason to believe the playing field would be levelled between the stars and those expected to do no more than make up the numbers. It would be 'a race with equal weapons', he regularly repeated.
The example of Jean Dargassies, a blacksmith from a small town close to Montauban in south-west France, is par- ticularly noteworthy given the way he had caught the attention of Lefèvre when he had signed in at L'Auto's offices the day before this list appeared in its pages.
'Yesterday I met a competitor who delighted me,' Lefèvre begins, before going to present Dargassies' extraordinary tale. 'A very nice chap, not very big, but stocky with wide shoulders, thighs and calves like pillars, a weather-beaten face, smiling eyes, a long blond moustache, and a goatee beard.
— I'm Dargassies, from Grisolles, and I've come to ask you for information on the Tour de France.
— But haven't you read L'Auto yet? You're already signed up to ride.
— Oh! They read L'Auto in Monnetaubanne [writes Lefèvre, taking off Dargassies' southern accent], but I don't have the time. It was Gladiator's agent, the one who sold me my bike, who told me one day that there was going to be a race known as the Tour de France. So I said to myself: 'Dargassies, that's right up your street!' And I asked the agent to sign me up. And here I am now, so please let me have the details.
— Have you already raced?
— Oh, just the once. A brevet, as they call them. A hun- dred kilometres in three hours. But that doesn't count. It only featured 'clowns' who finished an hour and a half later. However, on five occasions over the past three months I've done Montauban and back in one go, which is almost 500 kilometres [in total]. And that without eating much for training purposes.
— So do you know who your rivals will be?
— No, but I'm not bothered by that. They will know me soon enough.
— You've never heard talk of Garin?
— Garin? No, I don't know him. — And Aucouturier?— No, him neither.
'So I filled Dargassies in on the details . . .' Lefèvre con- cludes, his glee at finding a neophyte ready to take on all comers, and never mind what their reputations were, very apparent in his story.
There were plenty more in the same mould as Dargassies, such as 19-year-old Elie Monge from Pierrelatte, who Lefèvre describes as 'a very good roadman but without any previous results'; 28-year-old Parisian Lucien Barroy, 'a for- mer clown acrobat who has turned to cycling, a gentleman of truly royal manner, but also the king of unfortunates. If he has a little bit of luck, he will figure very strongly in the Tour de France'; Parisian A. Lassartigues, who is 'a very good roadman. He finished second in a four-day race in Buenos Aires in 1902 and knows the route very well'; and Benjamin Mounier, 'an experienced rider who has never raced. He has arrived on the Tour de France route via Nantes.'
As well as Lefèvre's overstating of the ability of many of the riders, the inclusion of their hometown or region was also hugely important in boosting L'Auto's potential sales. Like most of the paper's readers, a significant percentage of the riders either hailed from Paris or had spent a consider- able part of their life in the French capital, where literacy rates and interest in cycling were at their highest. Yet in order to encourage the success of the Tour in the provinces, Lefèvre played up regional links, underlining the fact that this was not only a Tour de France but a race for men from all across the nation.
It was essential for L'Auto to highlight riders in this way as this would guarantee interest in the local papers and encour- age spectators out on the roadside as the race worked its way around France. This would, in turn, increase sales of the organising paper, which aimed to be the most up-to-date source of news. This policy continues in the current era, when le régional de l'étape, the stage's local rider, is still guaranteed to garner considerable attention in the French media, and especially the provincial papers.
The editorial policy of over-exaggeration, which was vig- orously encouraged by Desgrange, extended to the invention of nicknames that either played up some physical character- istic or rooted the riders to their origin, adding to their aura. Consequently, Alexandre Fourreaux was anointed and con- sistently referred to 'The Flying Carpenter', Lucien Pothier became 'The Butcher of Sens' and Émile Pagie 'The Prince of the Mines'. Desgrange also insisted on adjectival exagger- ation, so that Maurice Garin was often described as 'a giant' despite being just 1.60m (five foot, three inches). His main rival, Aucouturier, was 'The Hercules of Commentry', but only stood a few centimetres taller.
Butcher, Blacksmith, Acrobat, Sweep by Peter Cossins, published by Yellow Jersey Press. Priced £16.99
Thank you for reading 20 articles this month* Join now for unlimited access
Enjoy your first month for just £1 / $1 / €1
*Read 5 free articles per month without a subscription
Join now for unlimited access
Try first month for just £1 / $1 / €1
Get The Leadout Newsletter
The latest race content, interviews, features, reviews and expert buying guides, direct to your inbox!
Peter Cossins has been writing about professional cycling since 1993, with his reporting appearing in numerous publications and websites including Cycling Weekly, Cycle Sport and Procycling - which he edited from 2006 to 2009. Peter is the author of several books on cycling - The Monuments, his history of cycling's five greatest one-day Classic races, was published in 2014, followed in 2015 by Alpe d'Huez, an appraisal of cycling's greatest climb. Yellow Jersey - his celebration of the iconic Tour de France winner's jersey won the 2020 Telegraph Sports Book Awards Cycling Book of the Year Award.