Boston man builds 40ft snow tunnel, just to get to work (video)
Ari Goldberger discovered his path blocked by a mound of snow, so he tunnelled through it and carried on regardless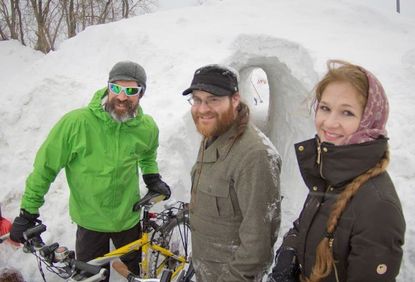 In the UK, a snow day can often be a good excuse to work from the warmth and safety of your own home, or at the very least pack the bike away find an alternative way to the office.
Across the pond in Boston, however, two wheels remains an important mode of transport, even during weather conditions that would bring our fair land to a grinding halt.
>>> Cycling in the snow: Your photos
Ari Goldberger, a 29-year-old guitar technician, found the snowy scene on February 11, when he had to carry his bike over a '15ft mountain of snow'.
But rather than let the disruption beat him, Goldberger called in the help of some friends and started to tunnel through the mound a few days later.
""Rather than waiting on hold for a million years calling the MBTA, I posted the picture online and said, 'If nothing is done about this, it's going to take months to melt,'" he told BDCwire.com.
>>> Pro cyclists in the snow (gallery)
Having reached the other side of the mountain a few days later, Goldberger found the top of his tunnel had been knocked down, this time leaving a boulder of snow in the middle.
The setback wasn't enough to stop the Bostonians, however, eventually removing the new obstructions and restoring the cycle path to its navigable glory.
Cyclists 1 – snow 0.
Thank you for reading 20 articles this month* Join now for unlimited access
Enjoy your first month for just £1 / $1 / €1
*Read 5 free articles per month without a subscription
Join now for unlimited access
Try first month for just £1 / $1 / €1