Pro cyclists in the snow (gallery)
We take a look back at some snowy bike racing scenes. Photos by Graham Watson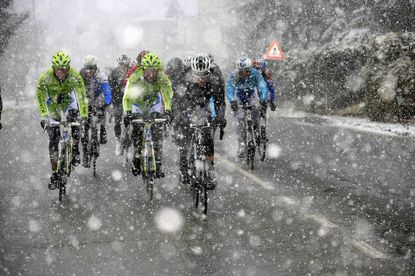 (Image credit: Watson)
With large chunks of the northern hemisphere currently experiencing heavy snowfall, we thought we'd take a pictorial look back at some of the snowy moments endured by the peloton.
Early-season races are often blighted by bad weather, particularly when they hit higher altitudes. Snow and ice can linger on in the mountains right into the start of summer - and can sometimes shape a race.
Occasionally, snowfall will lead to a race being cancelled or re-routed, but sometimes the riders just have to dress up against the elements and get on with it. A rider than can endure freezing conditions and stay upright can prevail.
And there's no denying that snowy scenery can make for a stunning backdrop for photos.
We delve into the Cycling Weekly archives to look at the 1963 cyclo-cross championships
Thank you for reading 5 articles this month* Join now for unlimited access
Enjoy your first month for just £1 / $1 / €1
*Read 5 free articles per month without a subscription
Join now for unlimited access
Try first month for just £1 / $1 / €1