Bradley Wiggins confident ahead of World Championship time trial
Bradley Wiggins aiming to go one better than last year's silver medal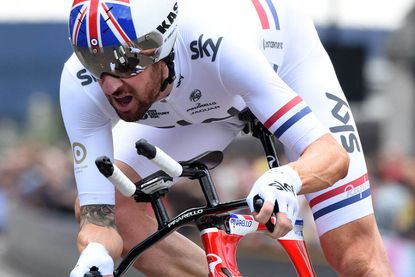 (Image credit: Andy Jones)
Bradley Wiggins (Sky) gained confidence with his performance at the Tour of Britain over a week ago - confidence that he will put to use in aiming for a World Championship gold medal. After placing second to Germany's Tony Martin in the 2013 time trial, he hopes to go one place better for the gold medal on Wednesday in Ponferrada, Spain.
"The London time trial showed me that I've got all the bands of intensity covered," the Englishman said in a team Sky press release.
"Time trialling is quite a linear thing and if that top-end's there in an effort like that you only have to scale your power down a little bit to achieve a ride that's sustainable over one hour, like we'll be doing in Ponferrada. It was a good yardstick for me, and was reassuring ahead of the Worlds."
Wiggins won the 8.8-kilometre Tour of Britain time trial by eight seconds over Sylvain Chavanel (IAM Cycling). He called the tour the hardest edition he ever competed in thanks partly to the three 200-plus-kilometre stages. "It definitely helped us prepare for what we've got coming up at the Worlds."
In Ponferrada, he will race the team time trial on Sunday in Sky's colours, unzip and switch in to GB's red, white and blue for the 47.1-kilometre time trial on Wednesday, September 24.
"This year's course probably suits me a little bit better than it did against Tony last year, and there's also an element of the unknown with where he's at right now."
Wiggins pushed his black Pinarello bicycle to a silver medal in Florence last year after his Tour of Britain overall victory. The medal almost seemed out of his hands when he clocked sixth best time at the first time check, but he moved up from there to the finish to hold off Swiss Fabian Cancellara (Trek Factory Racing) by two seconds. Germany's Martin won by 46 seconds.
"Tony's been so dominant all year and this race will be about whether he's sustained that form. He won the time trial at the Vuelta a España but he didn't look as convincing there as he did at the Tour," Wiggins continued.
"It's one of those things though, it's so unknown. I thought I'd be closer to him last year but he put 42 seconds into me, so you can't predict what other riders are going to do.
"I feel with the form I'm in though, I should be in the ball park, and we'll see where we are on the day. In the back of your mind you build yourself up mentally and I'm telling myself there is a chance I could win it."
Wiggins counts three wins this year: the Tour of Britain time trial and thanks to the 20.1-kilometre time trial victory, the overall classification at the Tour of California.
More World Championships coverage
Know when and where to watch all the best coverage from the road world championships 2014
Who's riding for who in the UCI World Team Time Trial Championships in Ponferrada, Spain
... and a few things we don't like, too
Thank you for reading 20 articles this month* Join now for unlimited access
Enjoy your first month for just £1 / $1 / €1
*Read 5 free articles per month without a subscription
Join now for unlimited access
Try first month for just £1 / $1 / €1