Brailsford speaks on allegations against Barry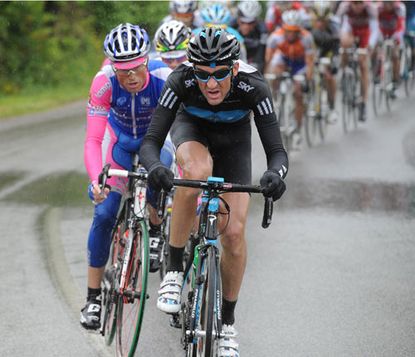 Sky team principal Dave Brailsford made himself available for questions this afternoon, following the implication of Sky rider Michael Barry in doping allegations made by Floyd Landis.
In an email in which he documents his doping history, Landis wrote that while training for the Vuelta in 2003: "I spent a good deal of time training with Matthew White and Michael Barry and shared the testosterone and EPO that we had and discussed the use thereof while training." At the time both Barry and Landis were members of the US Postal team.
Speaking outside the Sky team bus at the end of today's stage of the Giro d'Italia, Brailsford said:
"From our point of view - let's face it - the team principal of Team Sky, my whole motivation for getting involved in this in the first place, is that we believe we can race clean as a team. The whole philosophy of the performance by the aggregation of marginal gains is something we've used to great effect at the Olympic Games and it's something we want to bring to this discipline of the sport. In that respect that's why we're in the sport."
"However, I think that [for] every single rider we sign on to this team - we've had a look at their biological passports, we did our due diligence. In Michael's case, the team he came from [HTC-Columbia], I think we have a lot of respect for in terms of their ethical code.
"However, there are allegations. I think from our point of view, we'll speak to Michael. But like anything else in life, you have to establish the fact. We have procedures and the procedures will be based on fact - not allegations. If allegations can be substantiated... there's procedures to handle everything from there."
Brailsford insisted he had "nothing to hide" and was available to answer questions from journalists at any time.
"We are an open transparent team and we're here to race clean," he said. "We believe you can perform clean at the elite end of this sport. Now I could be horribly mistaken, but from the evidence that I have, it can be done and that's what we're here to do. That's one of my great motivations for being here. It's not just about the winning. It's about coming forward and doing it properly on the basis of science and technology."
Team Sky principal David Brailsford
When Cycling Weekly asked what would happen if a rider on the team had been involved in doping in the past, he replied:
"You handle it by using the facts and sticking to a process. The first part of that process is establishing the facts.
"When we have the solid concrete facts, then you know where to go and what to do and we'll act accordingly. We're in the sports to race clean and that's what we'll do."
"If Michael Barry holds his hands up - or anyone else does for that matter - and says 'actually you know what guys, I doped', that then goes automatically up to the next level which is WADA [World Anti doping Authority].
"I imagine that will then go forward, the procedure kicks in and we will take appropriate action. It's simple. Establish the facts. Then process."
Had Brailsford yet spoken to Barry about the allegations?
"He's been racing, so no, I haven't," he replied. "I'm sure he will talk at the hotel tonight and we'll establish the facts."
Related links
Landis admits he doped, and implicates others
UCI responds to Landis's accusations
WADA will investigate Floyd Landis's allegations
Thank you for reading 10 articles this month* Join now for unlimited access
Enjoy your first month for just £1 / $1 / €1
*Read 5 free articles per month without a subscription
Join now for unlimited access
Try first month for just £1 / $1 / €1