Breschel breaks with Riis' Saxo Bank to join Rabobank. Renshaw stays on at HTC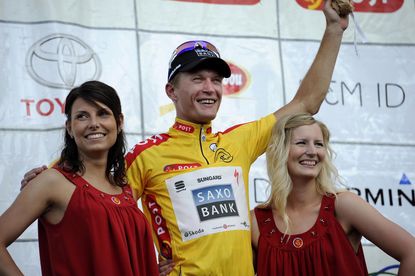 Dane Matti Breschel announced today he will leave home team Saxo Bank at the end of the year to join Dutch team Rabobank. His move comes after six years with Bjarne Riis' team.
"Team Saxo Bank has been my lifeblood," Breschel told Denmark's BT.
"I waited a long time to proceed with negotiations. I wanted to give Bjarne Riis a chance to make a move, but when we were halfway through the Tour de France and I still had nothing concrete, I was forced to take a difficult decision."
Breschel had an impressive season leading up to the Tour de France. He won Dwars door Vlaanderen, finished eighth in Gent-Wevelgem and helped Cancellara win the E3 Prijs and Tour of Flanders. A poorly executed bike change ruined his chances in Flanders and a knee-problem ended his Paris-Roubaix early.
His decision comes after helping team-mate Jakob Fuglsang win the Tour of Denmark overall yesterday and taking a stage for himself last Thursday. With his decision, Breschel will face Cancellara head on in next year's northern classics with support from Rabobank's Lars Boom and Sebastian Langeveld.
"Breschel has shown that he is one of the most talented riders for one-day races," said Rabobank's sports director, Erik Breukink, in a press release. "With him, we will be able to form a strong group."
Breschel had been rumoured to join the new Luxembourg-based team with Andy and Fränk Schleck. Instead, he accepted a €540,000 annual salary, according to BT, from Rabobank. In comparison, Riis' new Tour de France star, Alberto Contador, will earn an estimated €4.5m per year.
Cancellara may still leave Saxo Bank to join either BMC Racing or the Schlecks.
Meanwhile, we know know that Mark Cavendish will have the support in place next year for another successful season. Today, his HTC-Columbia team announced it renewed Mark Renshaw's contract for two more years, 2011 and 2012.
"I know my role and I'm happy to commit to that and be part of a successful team," said Australian Renshaw in a press statement.
"I'm for sure looking forward to more sprints with 'Cav' and hopefully I'll also get more chances to prove myself as one of Australia's top sprinters ready for the Copenhagen World Championships [in 2011]."
Renshaw took a win of his own last week at the Tour of Denmark, one month after helping 'Cav' win his first three stages at the Tour de France. After that third win in Bourg-lès-Valence, though, officials disqualified Renshaw for pushing his head three times into rival Julian Dean.
Cavendish went on to win two more times: in Bordeaux and in Paris, where Renshaw came to support the team.
He "was critical to our sprint success in the Tour de France this year and last," said sports director, Rolf Aldag. "He also has a lot of potential as a top sprinter himself, which he proved in Denmark."
Bernhard Eisel became Cavendish's critical helper for the final two Tour stages and last week, he confirmed himself with the team for two more years.
Renshaw and Eisel will face Cavendish as a rival at the World Championships October 3 in Geelong, Australia, and next season in Copenhagen - both sprinter friendly courses. They both will have more chances of their own next season after German André Greipel announced Saturday that he will leave the team at the end of the season for OmegaPharma-Lotto.
Thank you for reading 20 articles this month* Join now for unlimited access
Enjoy your first month for just £1 / $1 / €1
*Read 5 free articles per month without a subscription
Join now for unlimited access
Try first month for just £1 / $1 / €1