Why the British club 10-mile time trial has an enduring appeal
The midweek evening club 10-mile time trial is for many riders their first taste of racing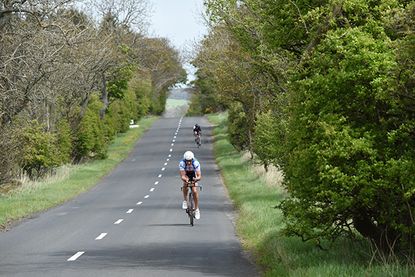 (Image credit: Andy Jones)
As an introduction to bike racing, there may be more exciting and modern events to choose from, but 'the club 10' time trial endures for good reason.
If ever there was a genuine grassroots form of bike racing, the club 10 is it.
As a low-stress and fun way to test yourself and compete against your club-mates it's perfect. Generations of racing cyclists look back fondly on this staple of the British racing scene.
Most events are held midweek after rush hour, with a Saturday morning or afternoon event here and there. The season traditionally starts in mid-to-late April, a few weeks after the clocks go forward at the end of March, allowing enough light to start around 7pm and for all riders to finish in daylight.
>>> Who's quicker? Experience vs talent in the CW time trial challenge
Midsummer 10s can start at 7.30pm, allowing riders enough time to get back from work and drive or ride to a local course. By late August evening events are petering out as the nights draw in. There are about 100,000 rides done in club events per year.
Riding alone, as hard you can yet at a sustainable pace, along a dual carriageway or around a country lanes course, is a solitary test of suffering which even pro cyclists dread. But for sheer convenience (enter on the line), frequency and cost (usually a couple of quid), nothing beats it.
For many, the best thing is how easy they are to just turn up and ride. With no pre-entry you can decide to ride on the day.
Rock up with half an hour (or a few minutes sometimes) to go, sign on, grab your number from the timekeeper, ask a club-mate to pin it on, then after a quick warm-up present yourself to the timekeeper one minute before your allotted start time.
Courses are often held on 'sporting' lanes-based circuits. There is joy to be had racing through sleepy villages on a balmy evening, then afterwards going for a drink in the local pub before clipping your lights on and riding home.
Fields are generally limited to 45 and entry is open to first and second-claim members of the organising club or clubs.
Unattached individuals can sometimes get a 'private' entry on the line, including top professionals, delighting local riders and sprinkling a little stardust on one of the most precious institutions in British cycling.
Thank you for reading 10 articles this month* Join now for unlimited access
Enjoy your first month for just £1 / $1 / €1
*Read 5 free articles per month without a subscription
Join now for unlimited access
Try first month for just £1 / $1 / €1