How British Cycling-inspired skinsuits are helping GB skeleton riders dominate in Winter Olympics
British sliders dominate practice runs with innovative new skinsuits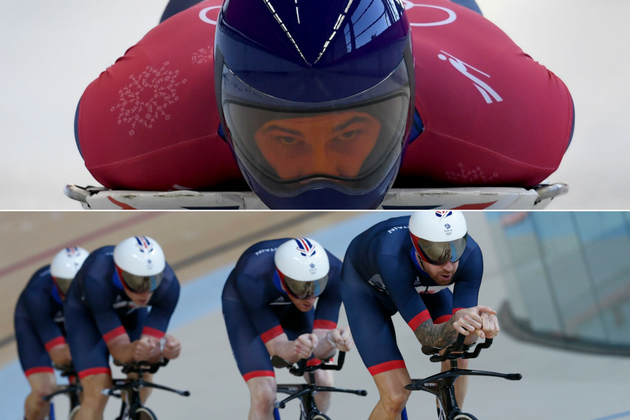 (Image credit: Matthias Hangst/Getty Images/Yuzuru Sunada)
Some of the technical innovations that have seen Britain's cyclists dominate in the velodrome at recent Summer Olympic Games are now being used by GB's skeleton riders to set scintillatingly fast times at the Winter Olympics in South Korea.
The practice runs of the skeleton in Pyeongchang have seen some surprisingly quick times from Britain's sliders, with defending champion Lizzy Yarnold going fastest in the second practice run of the women's event after Laura Deas had been fastest in the first run, while Dominic Parsons, ranked 12th in the world, set the fastest times in both of the men's practice runs.
>>> The best skinsuits for cycling: aero tested
Britain has enjoyed Olympics success in the skeleton before, having won medals in the sport in the last four Games, but this new level of success could be down to the team's new skinsuits.
As reported by The Guardian, Britain's sliders are wearing skinsuits developed by the English Institute of Sport and a company called TotalSim based in Northampton.
Watch: How much faster does a skinsuit make you?
http://www.youtube.com/watch?v=GJVYeVVfX8I
The skinsuits feature the same trip strips seen on some British Cycling skinsuits, which are used to create turbulent airflow that reduces the wind-resistance of the suits. The suits have also been custom-fitted to each athlete, with the athletes having gone through a 3D scan in the run-up to the Games to create the perfect fit.
>>> Is it a disadvantage to wear the Grand Tour leader's skinsuit? (video)
TotalSim, which specialises in computational fluid dynamics (CFD) have been working with the British cycling team for the past two Olympics, forming part of the so-called "Secret Squirrel Club" that have contributed to many of the aerodynamic gains that have helped British riders to 14 gold medals in London and Rio de Janeiro.
The skeleton competition proper gets underway on Thursday with the heats of the men's event, with the men's medals being decided on Friday and the women's medals the following day.