British Cycling launches membership geared towards cycle commuters
The organisation hopes the scheme will encourage more people to switch to cycling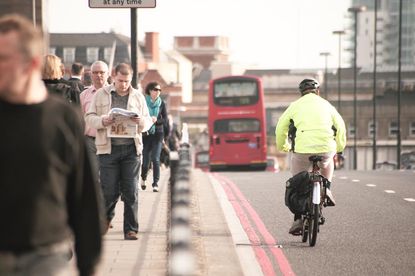 (Image credit: Richard Baybutt)
British Cycling has launched a new membership geared specifically to cycle commuters, in the hopes of getting more people on the bike.
The new scheme comes with insurance, legal support and discount at high street bike shops.
According to the national cycling governing body, the membership will also give a voice to commuters to help improve conditions for cyclists in towns and cities across Britain.
British Cycling (BC) policy manager Nick Chamberlin said: "Many people are now beginning to wake up to the fact that commuting by bike is often the quickest, cheapest and most reliable transport option for their daily commute, and what's more, in doing so they are also helping to combat air pollution and lead a healthier more active life.
"We hope that this new membership will encourage and support many more commuters to make the switch and discover these benefits for themselves."
>>> Frustration as Autumn Budget 'locks Britain into polluted, congested future,' according to cycling campaigners
British Cycling now offer four membership types – race, ride, commute and fan.
Membership of the organisation is now more than 145,000, which is a huge rise from just 16,500 in 2005.
BC commercial director Jonathan Rigby said: "The growth in our membership over the past two decades has been astonishing, and we're determined to accelerate this growth even further as we work towards our ambition of transforming Britain into a great cycling nation."
According to the latest figures from Department for Transport, four per cent of all commuting trips are cycled, with further research from the University of Cambridge, London School of Hygiene and Tropical Medicine and Imperial College London showing that this can cut your risk of dying from conditions like heart disease or stroke by 30 per cent.
The commuter membership comes with £15million third party liability insurance, assistance from British Cycling's legal support team, and retail discounts including 10 per cent off at Evans Cycles, Halfords and Cycle Republic.
British Cycling is also offering the first 100 people to sign up a free See.Sense ACE intelligent light worth £44.99, which collects information on collisions or near misses, road surface quality, journey flow, speed and dwell times.
The membership costs £37 for 12 months.
Thank you for reading 20 articles this month* Join now for unlimited access
Enjoy your first month for just £1 / $1 / €1
*Read 5 free articles per month without a subscription
Join now for unlimited access
Try first month for just £1 / $1 / €1