Frustration as Autumn Budget 'locks Britain into polluted, congested future,' according to cycling campaigners
The government has announced a £30billion fund for roads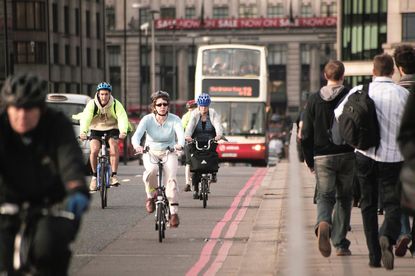 (Image credit: Richard Baybutt)
Cycling campaigners have shared their frustration after the government announced a new £30billion fund for road improvements, raising concerns about pollution and congestion.
The budget has been criticised for 'locking Britain into a polluted, congested future' and campaigners have called for more focus on cycling and walking.
Chancellor Philip Hammond announced on Monday that a new £28.8billion National Roads fund, paid for by vehicle tax, will be used to improve the roads.
Policy director at walking and cycling charity Sustrans, Steve Brookes, said: "When it comes to spending on transport, prevention is always cheaper than the cure. But sadly, this budget continues to lock Britain into a polluted, congested future which in the long-run will cost the country billions.
"With the Prime Minister's earlier announcement of a continued freeze on fuel duty, coupled with today's announcement of over £25bn for the next Road Investment Strategy, this budget will only lead to further congestion, air pollution and poor health."
>>> Benefits of cycle commutes highlighted on Clean Air day
The Chancellor confirmed the fund will include a £25.3billion investment in the Strategic Road Network, made up of motorways, trunk and A roads, calling it the largest ever investment of this kind.
It will also fund the new network of local roads, known as the Major Road Network, and larger local projects.
Local authorities will also be given £420million to fix potholes, and renew bridges and tunnels, while £150million will be given over to improve traffic hotspots like roundabouts.
Mr Brookes added: "[The National Roads Fund] is particularly alarming at a time when climate experts call for a drastic reduction in global greenhouse gas emissions.
"The Chancellor has missed an opportunity to help towns and cities thrive and relieve some of the long-term pressures on the NHS."
>>> 15 Benefits of cycling: why cycle for exercise?
Sustrans said the government should rethink vehicle tax, give authorities money to maintain existing roads for the safety of pedestrians and cyclists, and commit more money to active travel.
Mr Brooks' concerns were echoed by charity Cycling UK, who also called for the government to allocate five per cent of the transport budget to active travel, rising to 10 per cent by 2025.
Head of campaigns at Cycling UK, Duncan Dollimore, said: "The UK's dirty air crisis is already upon us.
"Our streets are congested, our public's health failing and the environment suffering – and instead of spending money on measures to address this like encouraging cycling and walking, more money is being disproportionately ploughed into motorways and highways which make up two per cent of our roads network."
Mr Dollimore added that towns and villages in rural areas are still waiting for cash to help them increase cycling and walking.
Former Olympian turned cycling campaigner, Chris Boardman said: "It is unbelievably scary when your government totally ignores the biggest threats to us all and focuses on enabling the things that are causing those threats.
"Just unbelievable."
Thank you for reading 20 articles this month* Join now for unlimited access
Enjoy your first month for just £1 / $1 / €1
*Read 5 free articles per month without a subscription
Join now for unlimited access
Try first month for just £1 / $1 / €1