BRITISH QUARTET EYEING NEW WORLD RECORD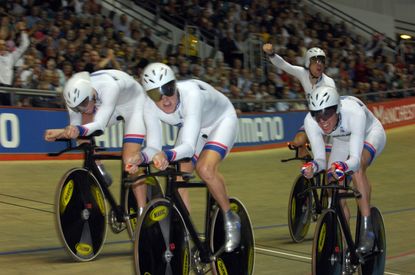 FOR years the British team pursuit squad has been focused on a number ? 3.55 minutes. It?s the time they?ve been targeting since the Athens Olympics, a time they believed would deliver them gold in Beijing.
But that number has changed in the last few months, with Bradley Wiggins claiming, if the conditions are right, they could go as fast as 3.53 minutes for the four-kilometre event.
There was a glint in his eye when he said it as if he?d pulled it out of the sky and was waiting to see if anyone would bite, but his team mates immediately backed him up, ?We?ll need all four or five of us to be on top of our game, but I think it?s possible,? said Ed Clancy.
The quartet are a close knit group, constantly cracking jokes and winding each other up, and it?s not beyond belief that they would slip a half-truth to a few journalists to see if it makes it in to print. But they may not have been joking with this one.
With the world record of 3-56.322 already in the bag, the British quartet would have to wait until the final ride before letting lose and going for a new bench mark.
In the Olympic format, three rounds are ridden, and it?s not until the final that the team can relax. ?The second round is the most important ride,? Endurance coach Matt Parker explained. The fastest eight qualifiers go in to the second round, from where the fastest two winners go in to the final, making the second round a must win ride, ?You make the final and that?s it, the final will take care of itself.?
But there is a risk in going for such a fast time in the team pursuit. When the squad broke the record in Manchester earlier this year they admitted they had been right on the limit - they had to be for such a fast ride ? and being on the limit has risks.
One missed change, one slight gap in the chain or one overlapping wheel can spell irreversible disaster, and it can happen in the blink of an eye. It happened in the final in Athens when the Brits were chasing the Aussies but there they had nothing to lose. As three times world champs in the last four years, gold in Beijing is too precious a metal to throw away.
Swipe to scroll horizontally
OLYMPIC GAMES 2008: GUIDE
Olympics cycling results>>
Cycling event schedule>>
Great Britain rider profiles>>
Cycling event guide>>
Photo gallery>>
Thank you for reading 20 articles this month* Join now for unlimited access
Enjoy your first month for just £1 / $1 / €1
*Read 5 free articles per month without a subscription
Join now for unlimited access
Try first month for just £1 / $1 / €1