Brits set the pace during stage 6 of Tour of Britain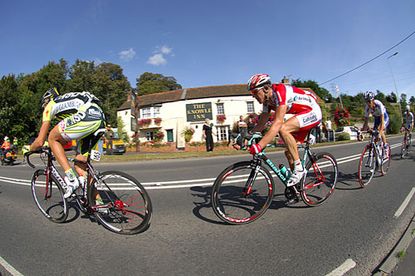 British riders were finally in the thick of the action during stage six of the Tour of Britain.
Dan Fleeman (Cervelo) had a go yesterday on home roads near Stoke on Trent and on the longest stage of this year's race, Ian Stannard (ISD-Neri), Geraint Thomas (Barloworld) and Ben Swift (Katusha) joined forces with Serge Pauwels (Cervelo) and Thomas De Gendt (Topsport-Vlaanderen).
They jumped away after just five kilometres and gave it everything to stay away but Team Columbia kept them under control and never let them gain more than three minutes.
The 183km stage turned into a pursuit match. Swift, Thomas and Stannard are world class pursuiters but Columbia were just a little stronger and were able to call on some precious help from Joker-Bianchi - Edvald Boasson Hagen's former team - and some inexplicable turns from Cervelo.
It made the difference and the break was caught with 1.5km to go, just before they crossed the river in Bideford. It was a great attempt by the Brits but Boasson Hagen won again.
Stannard gives it a go
Ian Stannard slugged down a can of Coke just after the finish line. He had been on the attack for almost 180km across Somerset and Devon but nothing could wash away the bitter taste of being caught so close to the line.
"It was a good go. Unfortunately they never let us go too clear. We managed to pull a bit out of them but it was a hard day for everybody. We made them suffer," he told Cycling Weekly.
"We were doing 50km/h on the flat, all day. It hurt but it was nice. It was good that all three British riders went for it together. We all know each other and it almost came off."
Thomas tries to soften up Columbia
Geraint Thomas won the most aggressive rider prize for his part in the attack. He went on the attack to tire Team Columbia in the hope that his Barloworld team mates can crack them on Friday.
"We wanted to put Columbia under pressure, we wanted them to have to work all day, and I knew that if I was there they'd have to keep us in check. That was the main thing," Thomas said.
"They're all going to be a bit tired now. So am I, but Steve (Cummings) and Chris (Froome) will be attacking like fury tomorrow. We're not going to give them an easy ride - they're going to have to work hard for that jersey."
Thomas admitted there was also a bit of a Team Sky combine in the break.
"I saw the group going. I saw Swifty and Stannard there, so I thought it was worth going with and jumped across," he said.
"Me, Stannard and Pauwels are already confirmed," said Thomas seemingly letting slip a possible new team-mate at Sky - Pauwels' name has not so far appeared in an official Team Sky announcement. "Swifty and I live with him in Italy, so it was a good group. Hats off to the Belgie dude (De Gendt), he was strong too."
I'm strong pre-worlds. It's been an up and down season, with the only ups, being picking myself up off the floor. But now I'm light and strong at the moment and making most of it. I've felt good all race. I felt strong, doing my bit. It's all good."
Swift cooked after a long day in the saddle
Ben Swift sat up just after the last sprint in Barnstaple with 15km when the gap came down to just a few seconds. The others kept going but did not get much further.
"It was a bit of a long shot but we all committed and with riders like Ian and G, we made it hard for the bunch," he said.
"We'd been talking about doing something all week and so went for it. Unfortunately for me, they were both still close overall and so Columbia chased us all day."
"We did 50km in the first hour and so it was a hard day out there. I was feeling the effort and when I saw on the blackboard that it was only 28 seconds, I knew we were going to get caught and I was totally finished. Then it went up to 58 seconds. I tried to get back up to them. I could have grimaced and got over the last climb but I was cooked."
Thank you for reading 20 articles this month* Join now for unlimited access
Enjoy your first month for just £1 / $1 / €1
*Read 5 free articles per month without a subscription
Join now for unlimited access
Try first month for just £1 / $1 / €1