Cadel Evans: I see something of myself in Peter Sagan
Cadel Evans got the weight of unfulfilled expectations off his shoulders with a World Championships win in 2009 - similar to that of Peter Sagan in 2015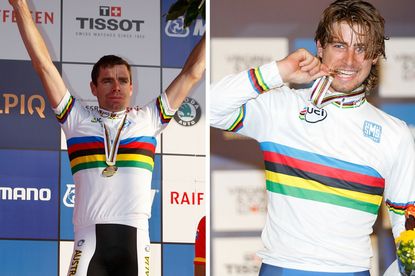 Tour de France 2011 winner Cadel Evans sees himself in new world champion Peter Sagan: someone undervalued but wins big.
Evans retired on February 1; he too won the Worlds in 2009. The title was a turning point in his career, afterwards joining BMC, winning La Flèche Wallonne and, of course, becoming the first Australian to stand on top of the Tour's podium.
Team Tinkoff-Saxo's Sagan came under fire the last two years for falling short in the big one-day monuments. However, he attacked solo in Richmond, Virginia, to win the Worlds. He now has the right to wear the rainbow jersey for one year.
When asked by La Gazzetta dello Sport about 2015's best performances, Evans said:"I'll select two, Sagan at the Worlds and Nibali in Lombardia,"
"Not because they are the last ones, and they are the freshest. They are what cycling's about.
"Behind the wins there's much character. Take Sagan. Many speak against him, they say that he never wins. A little like me, before the Worlds and Tour...But the talent came out. It was simply inevitable that someone like him would win something important."
Sagan explained earlier this month that the monuments from Milan-San Remo to Paris-Roubaix are still on his radar. They will be his main goals of the coming 2016 season.
"I'm very proud of this jersey. I can wear it, and I'm also very happy to race in it, I want to and I'll keep fighting for the best possible results," Sagan said.
"If I'm going to race, I want to do the classics. [Winning a monument is] what I want to do. I have to try."
Evans, 38, lives in Switzerland and continues working with BMC Racing as an ambassador.
"Never," Evans said when asked if he had regrets about retiring.
"I crossed the finish line, drew a line and restarted. The next day, I was on my bike. People used to see me and ask about the upcoming races. Now, they say, 'How nice to see you riding.'"
Thank you for reading 20 articles this month* Join now for unlimited access
Enjoy your first month for just £1 / $1 / €1
*Read 5 free articles per month without a subscription
Join now for unlimited access
Try first month for just £1 / $1 / €1