Call for 20mph speed limit in Glasgow
Petition created to pressure Glasgow City Council into creating 'safer streets for pedestrians, cyclists and motorist'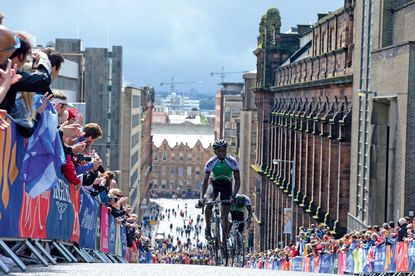 (Image credit: Andy Jones)
Glasgow residents are being urged to sign a petition to lobby the council to restrict much of the city's roads to a speed limit of 20mph.
Scotland's capital city Edinburgh is making 80 per cent of the roads in the city 20mph with the scheme starting in late 2015 and being completed by the end of the financial year of 2017/18.
Campaigners in Scotland's most populous city want Glasgow City Council to follow Edinburgh's lead and approve plans to make Glasgow the country's second 20mph city.
The local authority had said last week that it needed Scottish Government approval to implement the rollout of 20mph limits without traffic calming measures but it has since rectified its stance, saying that it is committed to introducing the speed limit in areas across the city.
Go Bike has set up a petition that is running until March 17 on the council's website (only those with a Glasgow postcode can sign) which is calling on the implementation of the speed limits.
It reads: "These lower speeds encourage more considerate driving, leading to safer streets for pedestrians, cyclists and motorists.
"Edinburgh citizens can look forward to calmer roads where walking and cycling become considerably more attractive options. Overall there will be less traffic congestion, better health, less noise, more social interaction and stronger communities.
"In the event of accidents, the lowered speed will significantly reduce the likelihood of death or serious injury. Glasgow could reap similar benefits by following Edinburgh's lead and plan for a similar city-wide reduction in speed limits."
Thank you for reading 5 articles this month* Join now for unlimited access
Enjoy your first month for just £1 / $1 / €1
*Read 5 free articles per month without a subscription
Join now for unlimited access
Try first month for just £1 / $1 / €1