CANCELLARA ANGRY WITH HAMILTON, SEVILLA AND BOTERO PROTESTS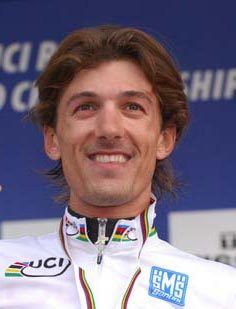 Fabian Cancellara (CSC) said he was happy to line-up with Mario Cipollini before the stage and was glad to see him back in the bunch but made it clear he was angry to see the other Rock Racing riders sign autographs before the stage and then ride the route in a kind of protest.
Tyler Hamilton, Oscar Sevilla and Santiago Botero were not allowed to start the Tour of California after the race organiser declared them ?persona non grata? because the UCI ruled they were involved in an open doing investigation.
Rock Racing boss Michael Ball has publicly criticised the organisers about their decision and has ordered the three riders to sign autographs before the race and ride every day.
The whole Rock Racing team is riding in a special version of the team kit decorated with barbed wire. Ball said the riders were being crucified by the decision of the race organisers and seemed to want to turn the exclusion into yet another controversial publicity stunt.
Cancellara made it clear he was not impressed by the move. He was careful not to name the three riders but his message was clear.
?When Mario said he was going to make a comeback I knew he wouldn?t ride some tourist races. He looks fit and looks strong. He didn?t make it over the climb but he made a personal decision to make a comeback and I don?t have any problem with that,? he said.
?I do have a problem with some other riders. They think they can ride their bikes and be at the start line but they still have problems on their shoulders and that is not good for our sport. This is not show time, it?s a hard job. We?re young riders, we fight every day and we love riding the bike and give everybody everything we?ve got so that people can think they want to ride a bike too.?
?They have to really think about what they did and not be here to make a show and say I can?t start and that?s not good. I don?t want to say names but I think everybody knows who I?m talking about.?
?When you have problems you shouldn?t be at the start of a race. When you love the bike you have to understand that. We?ve had too many problems already and we don?t need anymore like that. We need good cycling, clean cycling and nice cycling. There were so many people at the finish in Santa Rosa and we don?t need to see people at the side of the road protesting and shouting EPO at us. Cycling is the most controlled sport in the world and sometimes some people think they can still flick people but we hope we can follow the right road.?
Cycling Weekly understands Michael Ball has been told of Cancellara?s comments and is preparing a reply.
TOUR OF CALIFORNIA: STAGE REPORTS
Stage one: Haedo wins sprint
Prologue: Cancellara wins
TOUR OF CALIFORNIA: VIDEO HIGHLIGHTS
Video highlights: prologue
RELATED LINKS
Cancellara angry with Hamilton, Sevilla, Botero protests
Cancellara: "I always have to win prologues"
Wiggins and Millar unhappy with prologue rides
Tour of California: preview