CERVELO TEST TEAM LAUNCH PHOTOS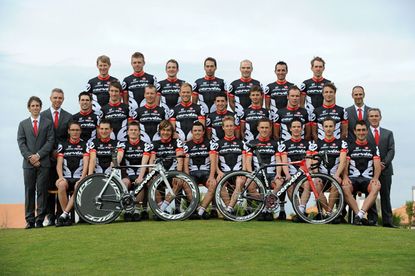 The new men and women's Cervelo Test Team held its official launch party in Portugal on Sunday (January 18).
Among the riders present at the launch were 2008 Tour de France champion Carlos Sastre and Norwegian sprinter Thor Hushovd, alongside the strong British contingent in the squad: Roger Hammond, Jeremy Hunt, Dan Fleeman, Daniel Lloyd and Emma Pooley.
Cervelo founder Phil White summed up why the bike company has taken the leap from being an equipment sponsor to owning and running a team: "We did it because we feel that professional cycling is of extreme importance to the bike industry."
"Rather than just criticise on the sidelines as a sponsor, we decided we should put our money where our mouth is and be proactive. We think it is time the industry doesn?t just fund teams they have no control over, but that it also takes an active role and responsibility for how these teams are run, and how they promote bikes and cycling in general."
Aside from the official presentation to the media, the squad was also in the Algarve to get in some training miles.
Men's Cervelo Test Team
Women's Cervelo Test Team
Out on the road in the Algarve
2008 Tour winner Carlos Sastre
Thor Hushovd
Roger Hammond
Jeremy Hunt
Olympic time trial silver medallist Emma Pooley
Dan Lloyd
Dan Fleeman
RELATED LINKS
Cervelo training camp blog: Part one
Roger Hammond: Rider Profile
Jeremy Hunt: Rider Profile
Dan Fleeman: Rider Profile
Daniel Lloyd: Rider Profile
Emma Pooley: Rider Profile
Cervelo confirm Lloyd, hunt and Fleeman
Thank you for reading 5 articles this month* Join now for unlimited access
Enjoy your first month for just £1 / $1 / €1
*Read 5 free articles per month without a subscription
Join now for unlimited access
Try first month for just £1 / $1 / €1