Chad Haga finds extra stitches in his neck six months after they were 'removed'
American pro Chad Haga is still suffering the effects of Giant-Alpecin training crash after experiencing discomfort in his neck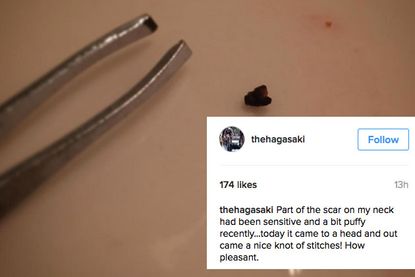 Chad Haga is still suffering from the knock-on effects of the Giant-Alpecin training crash in January, where he and five other members of the team were hit by a car in Calpe, Spain.
Haga was the most severely injured of the riders caught in the incident, suffering from lacerations to his neck and face as well as a fractured eye socket and injuries to his legs and arms.
The 27-year-old American had 96 stitches removed at the beginning of February, but it appears as though a couple were missed – and Haga discovered them this week after suffering from discomfort in his neck scar.
American Chad Haga still recovering from severe facial laceration, and says that he has been on a static bike
"Part of the scar on my neck had been sensitive and a bit puffy recently... today it came to a head and out came a nice knot of stitches! How pleasant," Haga said on Instagram, accompanied by a photo of the removed stitches and a pair of tweezers.
Haga dealt with his time in hospital in the aftermath of the crash with good humour, posting a series of light-hearted messages on social media. That has continued with this new discovery, with a macabre celebration that his stitch count has reached 100.
"I've been made aware that the emergence of this double stitch puts my total tally into triple-digits. Hooray," said Haga on Twitter on Tuesday.
Despite the severity of Haga's injuries he was back in action in March at Dwars door Vlaanderen in Belgium.
Haga later took part in the Giro d'Italia in May in support of leader Tom Dumoulin, and completed the race to finish in 78th spot.
Alicante police charged a 73-year-old British woman with reckless driving after the crash in January. The car was reportedly on the wrong side of the road. John Degenkolb, Warren Barguil, Fredrik Ludvigsson, Ramon Sinkeldam and Max Walscheid were all also injured, and Giant-Alpecin fielded reduced line-ups for a number of spring races.
Thank you for reading 5 articles this month* Join now for unlimited access
Enjoy your first month for just £1 / $1 / €1
*Read 5 free articles per month without a subscription
Join now for unlimited access
Try first month for just £1 / $1 / €1