CHANGE AT THE TOP IN REVOLUTION FUTURE STARS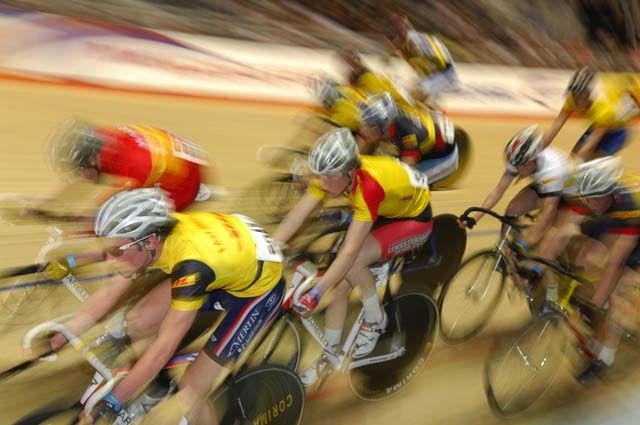 After a fairly calm start to the 2008/9 DHL Future Stars competition the leader board has taken a dramatic turn with just one event to go. In the boys competition Simon Yates now holds the leaders jersey with Chris Nicholson some 15 points behind. In the girls' events, the competition was a little calmer and despite a crash in the Points race, Ruby Miller now holds a convincing lead and is 34 points clear of second placed Harriet Owen.
Ruby has shown incredible talent and tactics in the last three races, leaving her opponents struggling to find weaknesses to exploit. Harriet did mange to out-sprint her in the Scratch race, but that was the only victory Miller conceded and, with Harriet missing points from a crash earlier in the season, she?s going to have a lot to do to make up the missing points in the last event.
Harriet commented: ?It was really fast, at the final, I?ll be keeping an eye on Ruby and seeing what happens in the racing to see if I can beat her. My crash at the first Revolution has left me short on points and I've had to really push myself to climb up to second place.?
Whilst Ruby seems secure in her victory; the battle for second place will be fierce at the final event. Just four points separate Harriet, Hannah Walker and Laura Trott. Harriet continued: ?I?m confident I can keep second even if I can?t beat Ruby but I will have to work hard to stay ahead of Hannah and Laura too ? she?s a big threat and she?s very fast.?
Girls' leader Ruby Miller
Despite leading the first two events, Sam Harrison made a late decision not to compete, saying: ?I didn?t make it to Revolution to defend the leaders jersey last weekend, I wanted to but decided to rest ahead of the Cyclo-Cross Championships where I came second. I?ll be doing the national Madison champs next time so I?ll not be competing in the future stars again. But I?ll be back next year, riding in the elite!?
This left the competition wide open for the Yates twins and Chris Nicholson. Simon Yates finished the night in the lead with Chris and Adam not far behind. Simon said: ?The racing was good. Everyone was a bit twitchy though probably because the two fasted guys Sam and Kian weren't racing and everyone thought they would have a better chance of winning!?
A series of dramatic crashes hampered the racing, Simon continued, ?(I?m) not sure what caused the crashes, but luckily we avoided them but it was a close call.?
The Scratch had to be re-started twice and eventually John Paul emerged victorious. In the Points race Richard Forrest proved himself to be a worthy replacement of Harrison and took home second place behind Simon Yates. However, despite John?s second place in the final event, neither he nor Richard were able to pose a serious challenge to the top three.
In the team competition, the North West have managed to maintain their lead and are now nearly 200 points clear of second placed Wales. Nearly 100 points behind are third place East Midlands who could be seriously challenged by the Eastern Region who are just 70 points behind them.
With all to play for in the boy?s event and a fierce battle sure to take place in the Girls event, the final Revolution looks set to host some of the most exciting future stars racing ever seen. With Olympic medal winner Steven Burke, a previous winner of the FS, we?re sure to see many of these names on the podium in years to come.
The final Revolution of the 2008/9 season will take place on February 21. Tickets and information: www.cyclingrevolution.com.
RELATED LINKS
Future Stars leaders under pressure (Revolution 22)
Track and road stars shine at Revolution 21