CHRIS HOY SCHOLARSHIP PROGRAMME LAUNCHED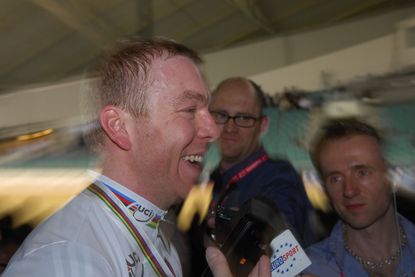 Chris Hoy today launched a scholarship programme to help find his own successor. The triple Olympic champion set out his plans at a press conference in Scone, Perthshire, where the coronations of Scottish Kings used to take place.
Hoy came up with the idea of a scholarship programme some time ago, but after his performances in Beijing he now has the corporate backing to make it a reality.
"I am extremely proud to launch this new project that will put something back into the sport that has given me so much," said Hoy. "I am excited about finding talented riders, investing in them and developing future Olympic stars. Cycling is a fantastic sport. Green, healthy and fun. I hope this scholarship will, over the next few years, encourage ongoing participation and development of riders."
Hoy outlined the programme's intention to find corporate funding to provide essential money to grass-roots cycling. The scholarship has three levels of corporate partner: gold, silver and funding partner. Initially, funds invested will be used to support two young riders to attend the UCI Sprint School in Aigle, Switzerland.
This school is a purpose-built facility that has been used in the development of riders such as Victorian Pendleton. Hoy hopes that the scheme will eventually result in the creation of its own centre, similar to that in Switzerland but based at one of Britain's velodromes.
Former Scotland and Lions rugby captain Gavin Hastings will take on the role of Patron to the fund.
"As an Olympic, World and Commonwealth Champion, Chris Hoy is one of the all
time greats of cycling," said Hastings. "As a fellow Scot I am honoured to be involved in the Chris Hoy Scholarship. In time we hope that by spotting talent and supporting aspiring cyclists we will find a successor to this great athlete.
Anyone interested in applying for the scholarship should do so through the website www.chrishoyscholarship.com.
Thank you for reading 20 articles this month* Join now for unlimited access
Enjoy your first month for just £1 / $1 / €1
*Read 5 free articles per month without a subscription
Join now for unlimited access
Try first month for just £1 / $1 / €1